The Prospects Challenge kicks off in Buffalo, New York, on Friday, Sept. 15. The New Jersey Devils will be among five teams competing at the four-day event, with their first game at noon on Sept. 15 against the Ottawa Senators and their prospects. 
Though some of the Devils' top prospects have graduated to the NHL, they will have plenty of intriguing players in attendance this weekend, including one of the best defense prospects in the world. With their roster released, let's look at some highlights and preview what to expect from the Devils in their three games at the tournament. 
Nemec Highlights Devils Defensemen
Šimon Nemec, the second overall pick in the 2022 draft, heads a group of Devils defensemen with some pedigree heading to Buffalo. Nemec had a more than solid rookie campaign in the AHL with the Utica Comets a season ago, finishing with 12 goals and 34 points in 65 games. He's just 19 years old and is considered a top 10 prospect in the world by most public scouting services. 

Nemec isn't the skater or passer that Luke Hughes is, but he exhibited some flashy passing and puck-moving ability to close out the AHL season in 2022-23. He also displayed steady progress in his development as last AHL season advanced. It'll be interesting to see how much further his game has developed after an offseason of training.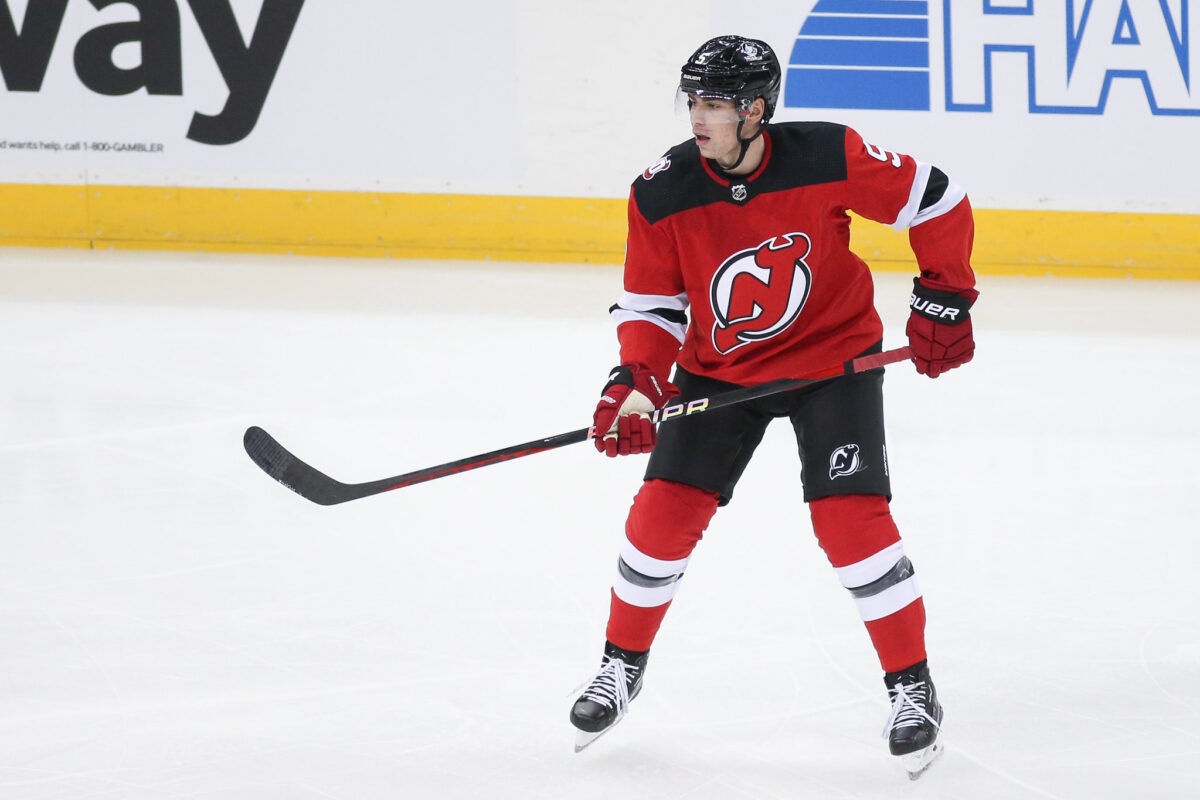 He's not the only promising Devils defenseman heading to Buffalo, though. Topias Vilén has climbed up the organization's pipeline and now looks like a prospect with NHL upside. He's the most intriguing defenseman heading to Buffalo after Nemec by a comfortable margin. 
Vilén has NHL size at 6-foot-1, 195 pounds, is a smooth skater, and showed improvement in his offensive ability a season ago with Pelicans in the Finnish Liiga, totaling nine goals and 17 points in 41 games; he also added nine points in 18 playoff games. The 2023-24 campaign will be his first on North American ice after spending the last three seasons with Pelicans, but it wouldn't surprise me if he plays NHL games if he impresses with the Comets and the Devils need a call-up. 
Related: Devils News & Rumors: Kinkaid, Rookie Camp & More
---
Latest News & Highlight
---
Also playing his first games on North American ice will be Daniil Misyul, a Devils third-round pick in the 2019 draft. Though he didn't put up many points in the KHL, he's known for his skating and puck-moving ability. The 22-year-old defender has four years of KHL experience and could stand out among the crowd in Buffalo over the next few days, given his age. 
Clarke Ready to Make a Push
There may be no Alexander Holtz, the seventh overall pick in the 2020 draft, or Nolan Foote in Buffalo this weekend. But the Devils will still have a few forward prospects worth keeping an eye on. The most notable will be Graeme Clarke, who had a breakout year in the AHL with the Comets in 2022-23. 
Clarke finished last season with 27 goals and 64 points in 74 games between the regular season and playoffs. Though Holtz is entering training camp with a leg up on Clarke, the latter will have a chance to compete for a top-nine role. He is the Devils' best offensive threat heading to Buffalo, so he has an opportunity to showcase his shot and playmaking ability. 
Joining Clarke is Josh Filmon, who had an impressive 2022-23 season with the Swift Current Broncos in the WHL, totaling 47 goals in 64 games. He will be heading back to the Broncos for 2023-24, but the Prospects Challenge will be another opportunity for him to show the gains he's made this offseason, especially after adding 15 pounds of muscle to his 6-foot-1 frame.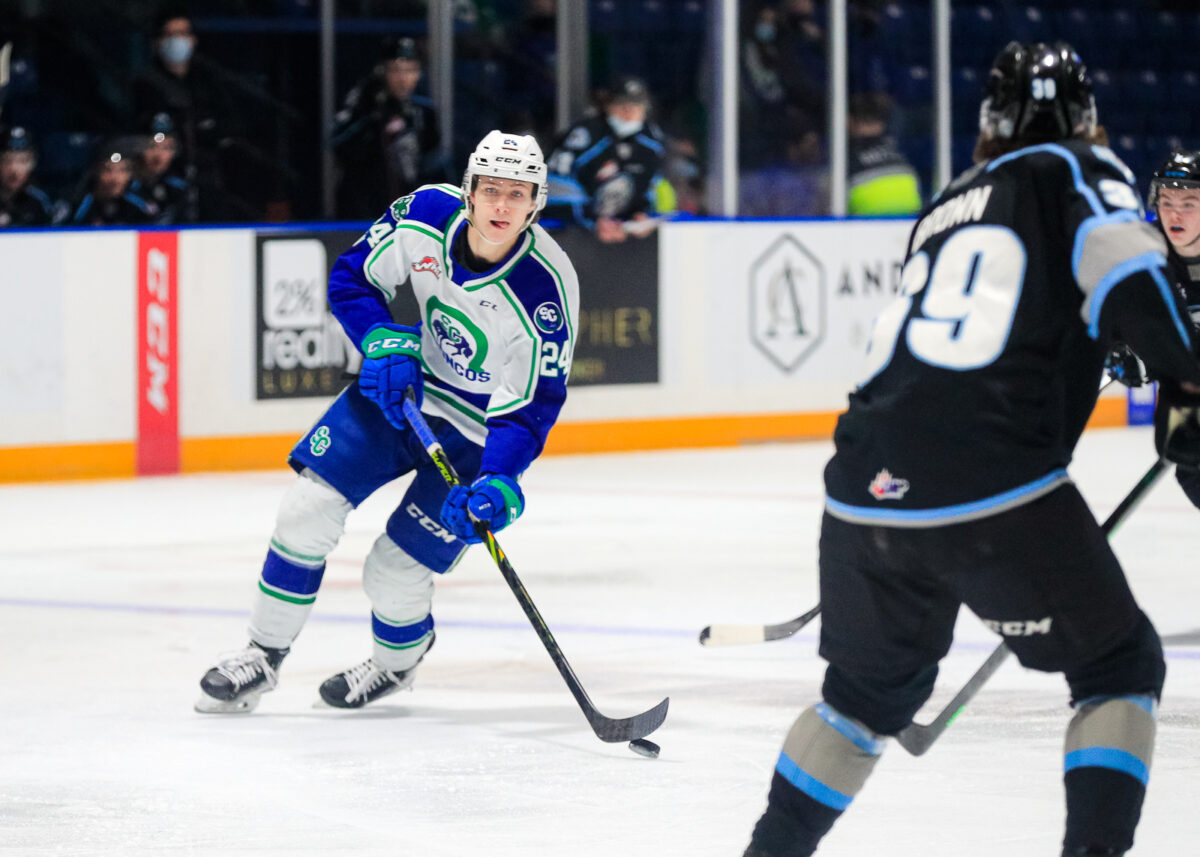 Though Devils fans won't get to see Lenni Hämeenaho, whose Liiga season just got underway, there will be a couple of 2023 draft picks heading to Buffalo. The most notable is Cam Squires, who finished with 30 goals and 64 points in 67 games for the Cape Breton Eagles in the QMJHL last season. 
Squires needs to add strength to his 6-foot-0, 170-pound frame, but his QMJHL numbers suggest he has scoring upside. This will be Devils fans' first real glimpse of Squires in game action, so it'll be interesting to see what he brings to the table. 
The same applies to Cole Brown, a sixth-round pick in the 2023 draft. He had a solid draft-eligible season in 2022-23, totaling 17 goals and 42 points in 60 games for the Hamilton Bulldogs in the OHL. His shooting ability is considered one of his strengths and is something I expect him to show off this weekend in Buffalo. 
Devils Goalies Led by Brennan
The Devils will be light on goaltending prospects at this year's Prospects Challenge. Akira Schmid will form one-half of the Devils' NHL tandem. Nico Daws is out until December after undergoing offseason hip surgery, and Jakub Málek's Liiga season is underway. 
That leaves Tyler Brennan as the Devils' top goaltending prospect in Buffalo. His WHL numbers were never great; he finished with an SV% below .900 in each of his two full seasons. And it's not like he was on a poor team, at least in 2022-23, when the Prince George Cougars finished second in their division.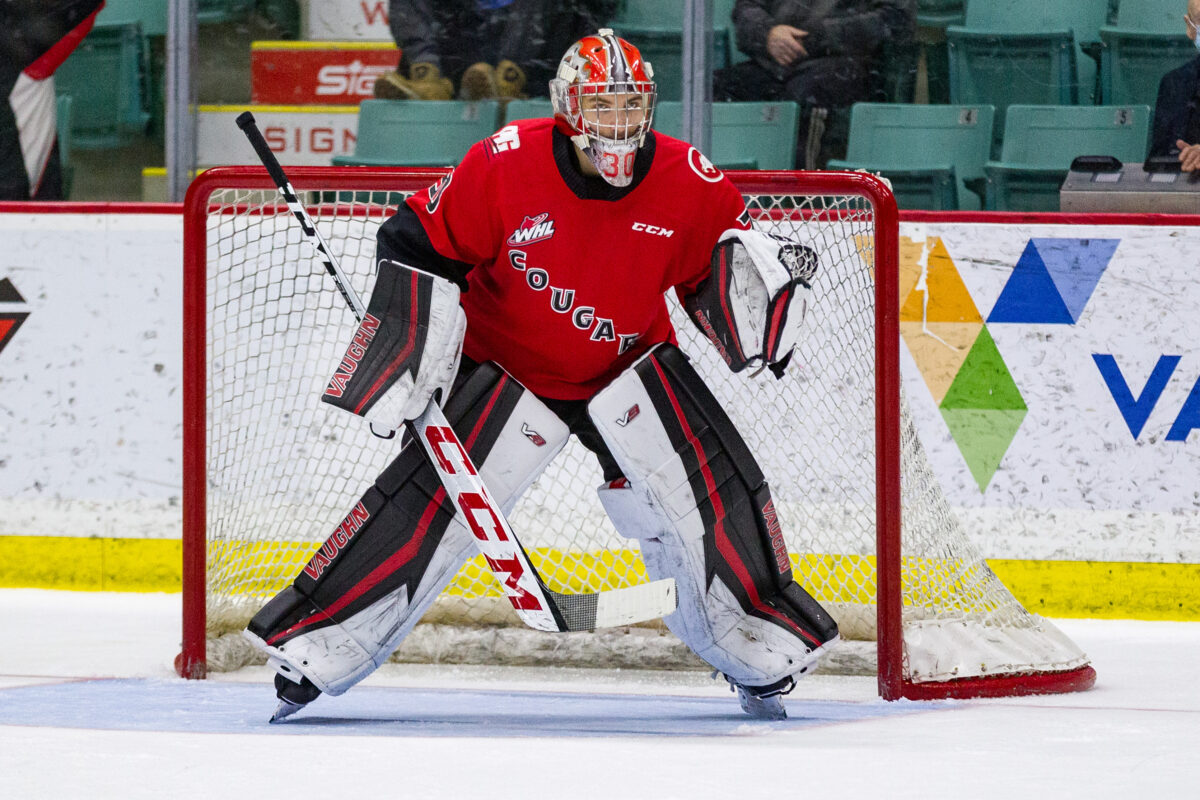 Still, that doesn't mean you should discount Brennan. He doesn't turn 20 until Sept. 27, making him quite young for a goaltending prospect. He fared well at last year's Prospects Challenge and will have some talented defensemen in front of him this year. His style reminds me a bit of Schmid's. He's quite calm and collected in net, and there isn't much movement to his game. He will be playing in the AHL this season, so this is a chance for him to head into NHL and AHL training camps on the right note. 
Also joining Brennan is Riley Mercer, the younger brother of Dawson Mercer. He's slated to return to the Drummondville Voltigeurs in the QMJHL for the 2023-24 season, but he'll at least get a look with the Devils this weekend. He fared well with the Voltigeurs a season ago, posting a .902 SV% in 22 games. I'd expect him to split time with Brennan and Isaac Poulter over the three games.
HEADING 2
There's no Dawson Mercer, Holtz or Luke Hughes at this year's tournament, but the Devils still have prospects to watch. Clarke has a legit chance at making the NHL roster, while Nemec and Vilén should be good reasons to tune into the three games this weekend:
Devils vs. Senators, Friday, Sept. 15: Noon EST
Devils vs. Sabres, Saturday, Sept. 16: 7 PM EST
Devils vs. Bruins, Monday, Sept. 18: 10 AM EST
The Devils will stream all three games via their website and in partnership with MSG Networks. Which prospects are you most excited to see?