The Toronto Maple Leafs' first-round pick Easton Cowan has only started his journey into professional hockey. The team selected Cowan from the Ontario Hockey Leagues (OHL's) London Knights with the 28th-overall pick in the 2023 NHL Entry Draft, and since then it's likely been a bit of a blur. It's interesting to recall being so young and impressionable and then entering into a situation where you are engaging your dreams. 
As Cowan engages in all these "new things," he's likely to be impressed and (at times) perhaps even a bit overwhelmed. A recent interview suggested just how much he has been in awe of some of the things that have been going on in his life. For example, he's already had his "welcome to the Leafs" moment. 
However, surprisingly, it had nothing to do with the grandeur of the organization's history. It didn't even have to do with the first donning of the Maple Leafs' iconic blue and white jerseys. Instead, Cowan's most eye-opening experience came from observing the sheer size of his teammate Matthew Knies. 
Related: Maple Leafs' Matthew Knies Set for Top-6 Role
As Cowan repeated – over and over again – Knies is big. Signed to an entry-level contract in April, the 20-year-old Knies is also really good.
Cowan Speaks About His Rookie Camp Experience
Cowan shared his thoughts on his rookie camp experience. He highlighted the impact of being surrounded by great coaching and teammates who, for a youngster like himself, are would-be mentors. He was excited to put on the blue and white jersey, and he expressed that. It's easy to tell that he's like a kid on Christmas morning — happy to just become a part of the Maple Leafs' organization. 
That said, it was a casual moment during dinner that left an indelible mark on him. In Cowan's words, "I think last night we were eating dinner, and just seeing Matthew Knies, how big he is… (Knies is) a great guy, and (we) all sat near him on the bus, so a great player too, as you guys saw it there, so I think that was pretty cool."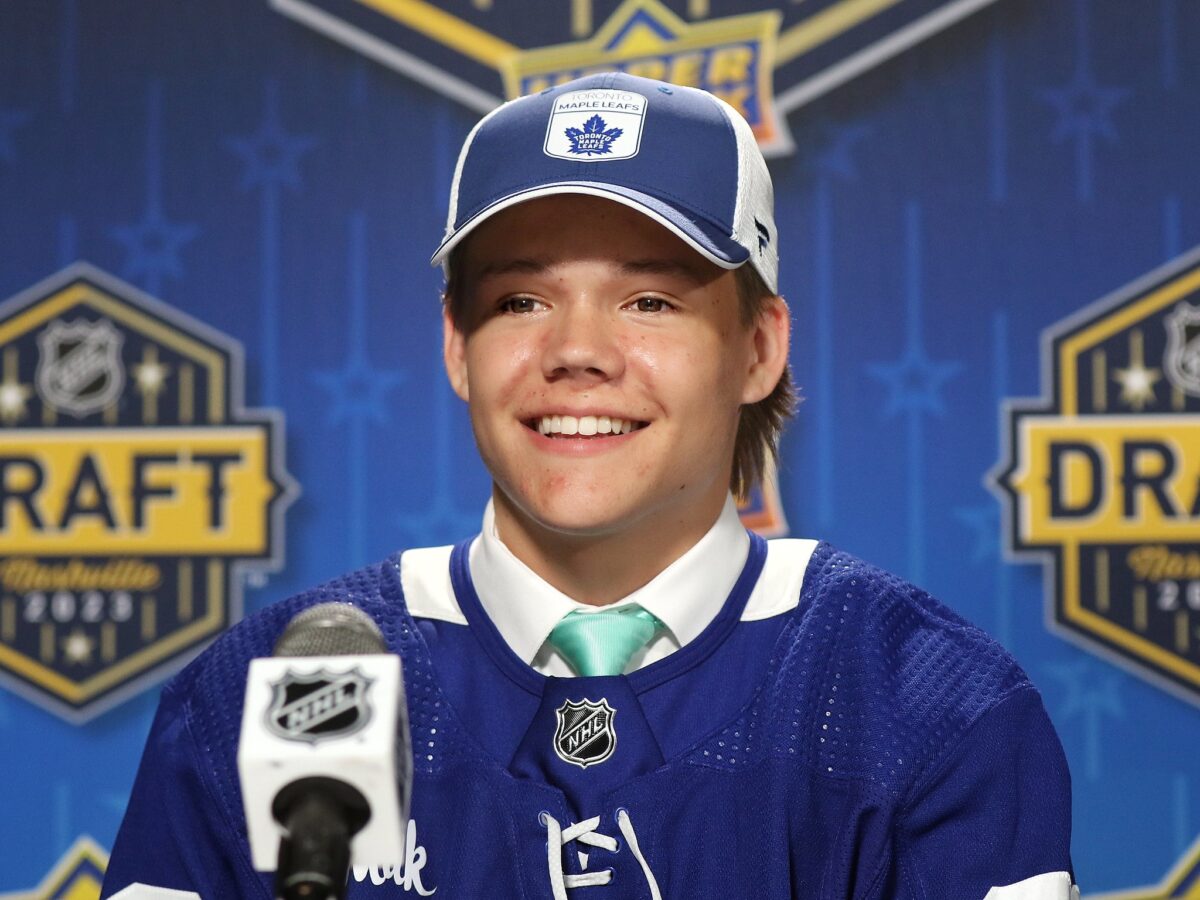 Then Cowan repeated himself by saying, "How big he is and how shifty he can be for his, you know, how big he is. So he's got really good puck skills, a very powerful skater, so kind of, look at that, and you know, obviously, you want to be there one day."
I count at least four different times that Cowan noted Knies' size, which has a nice poetic rhyme to it.
Knies Made a Huge Impression on Cowan
Clearly, Knies' imposing stature made a "big" impression on Cowan. It tells fans something about the rookie camp. The camp is not only a place for aspiring talents to showcase their skills, but it's also a place and a space where they learn from their peers. Cowan's admiration for Knies' combination of size and agility speaks tons about the kind of talent and potential that exists within the Maple Leafs' prospect pool. It also speaks about the camaraderie that can be built there.
Related: Maple Leafs' Development Camp Became Cowan's Stage
As Cowan forges his path through the Maple Leafs' organization, he undoubtedly sees Knies as an inspiration. He's also been given a reminder of the level of skill and physicality required to excel in the NHL. Cowan's awe of the experience becomes a neat little insight into how enjoyable it is to learn and grow alongside teammates who have already made significant strides in their development. 
You get the feeling listening to his comments that one day, if Cowan has the chance, he'll do the same — passing it forward.
The Traverse City Tournament Is a Place to Play, But Also to Dream
The excitement and camaraderie among the prospects are palpable, and Cowan is clearly enjoying the chance to be part of this talented group. He acknowledges the prospect-rich environment, stating, "It's cool, it's awesome to see all the prospects and prospects here, and you know we got a lot of them."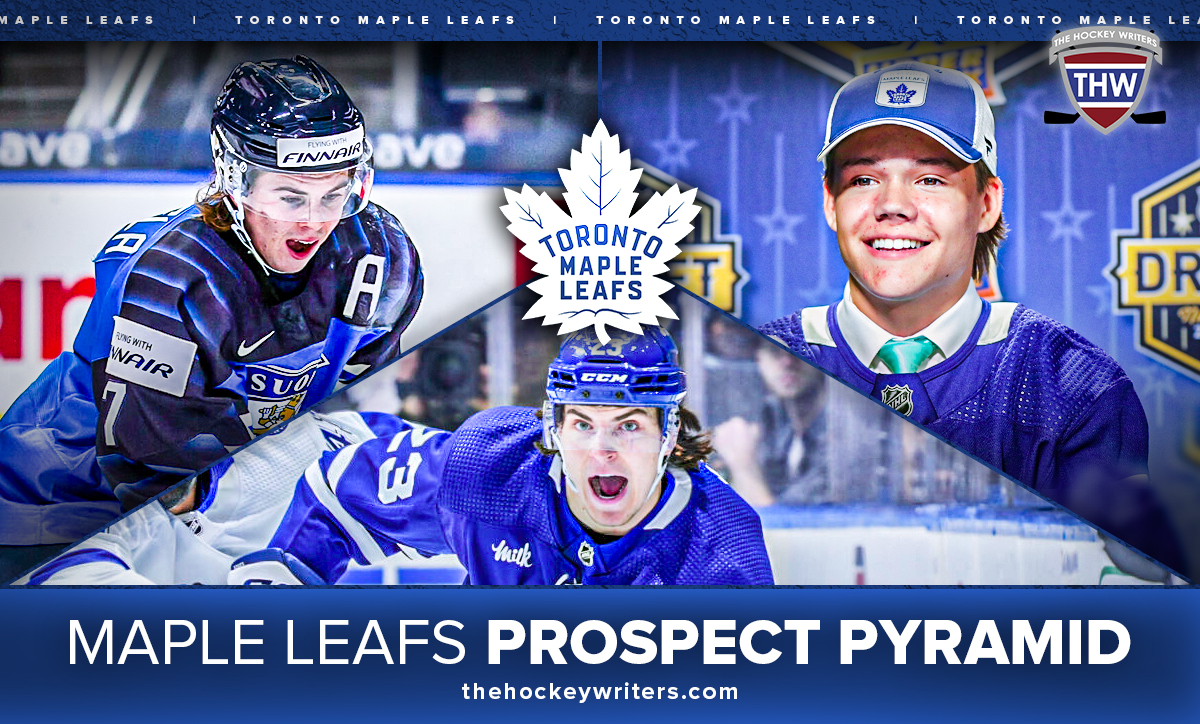 What seems so special to me is that the young players get a chance to play with each other, but they also get to dream that one day they will line-up beside their partner wearing the Maple Leafs crest on their jersey.
Cowan's perspective sheds light on the relationships and mutual respect that are being built among these aspiring NHL players. Each prospect hopes to carve out his own path to the NHL; however, together they also draw inspiration and motivation from their peers. Knies, with his imposing size and skill, left an indelible mark on Cowan. Now it's Cowan's turn to do the same by showing the size of his heart. By doing so, each reminds the other of the level of excellence needed to achieve one's goals.
The Bottom Line
For me as a former coach, Cowan's "welcome to the Leafs" moment is a reminder of the importance of building a "team" of players who will go to battle with each other game after game. It's also a reminder of why certain players never seem to want to retire. I heard Patrick Marleau once say he'd miss the guys in the room a lot when he left.
Related: 5 Tips to Be Your Beer League Best
---
Latest News & Highlights
---
Both Knies' size and Cowan's enthusiasm highlight the level of commitment both players bring to the team. The camaraderie and shared aspirations among these young prospects make their experience a promising and exciting time. 
For fans, they might be watching the future of the Maple Leafs being built.
---

---