The Edmonton Oilers are getting close to clinching a postseason berth for the fourth year in a row, their longest such stretch since making five consecutive playoff appearances from 1997 to 2001.
While Oil Country is again becoming used to meaningful spring hockey, the Decade of Darkness (10 straight seasons from 2006-07 to 2015-16 without a playoff berth) is still fresh enough in fans' memories that no one is taking this current run for granted. But that wasn't quite the case 30 years ago.
---
---
On March 26, 1993, the Oilers were officially eliminated from playoff contention when they were beaten by the Los Angeles Kings at Northlands Coliseum, making official what had been apparent for weeks, that for the first time in their NHL history, the Oilers would not be in the Stanley Cup tournament.
Oilers Spoiled by Success
To say Oilers fans had been spoiled would be a flagrantly gross understatement. Since entering the NHL in 1979 as part of the WHA merger, Edmonton had made 13 straight playoff appearances, won 29 postseason series, and hoisted the Stanley Cup five times.
How good did Oil Country have it? Consider that the Oilers finished first in their division six straight times from 1981-82 to 1986-87, the longest streak ever in the Western/Campbell Conference. Consider that the Oilers scored more than 400 times every season from 1981-82 to 1985-86, while no other team in NHL history has reached 400 goals even once. And that every season from 1981-82 to 1986-87 they iced a lineup with seven future Hall-of-Fame inductees on their roster, all in the prime of their careers.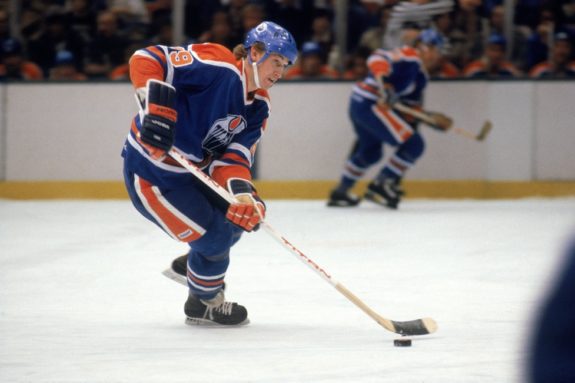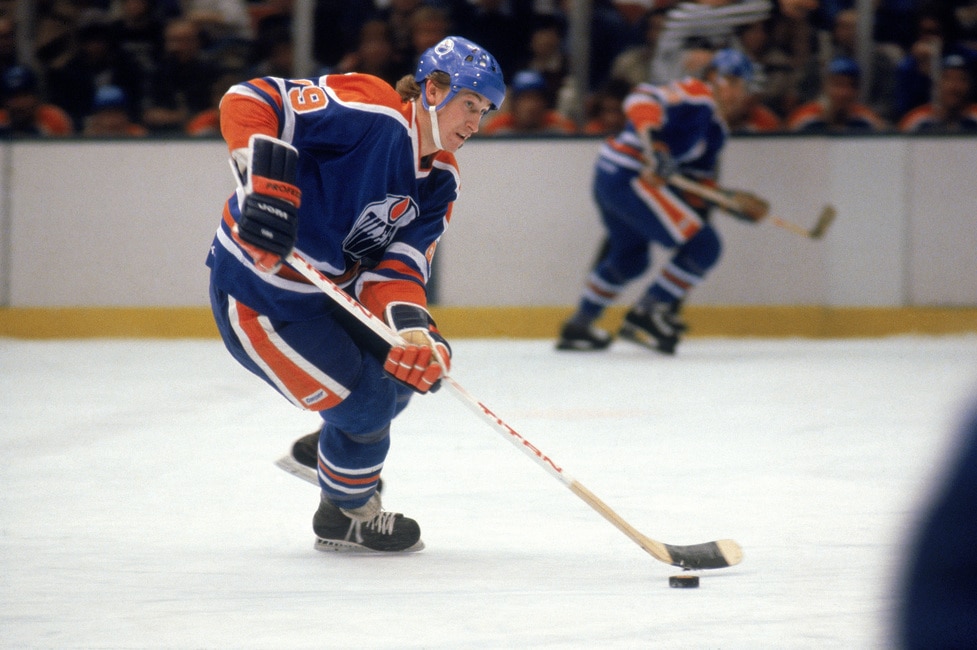 Even after the Oilers began trading away the aforementioned Hall-of-Famers, the team kept playing deep into spring. They won the Stanley Cup in 1990 without Paul Coffey and Wayne Gretzky, reached the Western Conference Final in 1991 following the departure of Jari Kurri, and got back there again in 1992 despite having shipped Glenn Anderson, Grant Fuhr, and Mark Messier out of town.
A generation of fans had been raised in Edmonton not knowing anything but success. Now for the first time, they were feeling the pain that had so often been inflicted upon their counterparts from Vancouver to Boston.
Oilers Begin Rebuilding
By early March 1993, it was becoming clear that the Oilers weren't going to be playing beyond the regular season. After losing eight of nine games, they had dropped to 12 points back of the last playoff spot with just 15 games to play.
Whether it was actually acknowledged as such, general manager Glen Sather had already begun a full-scale rebuild. On Jan. 13, Bernie Nicholls, who was leading the Oilers in points, was dealt to the New Jersey Devils for forwards Zdeno Ciger, 22, and Kevin Todd, 23. Contract holdout Joe Murphy, who totaled 35 goals and 47 assists in 1991-92, was sent to the Chicago Blackhawks for second-year defenseman Igor Kravchuk and minor-league center Dean McAmmond on Feb. 24.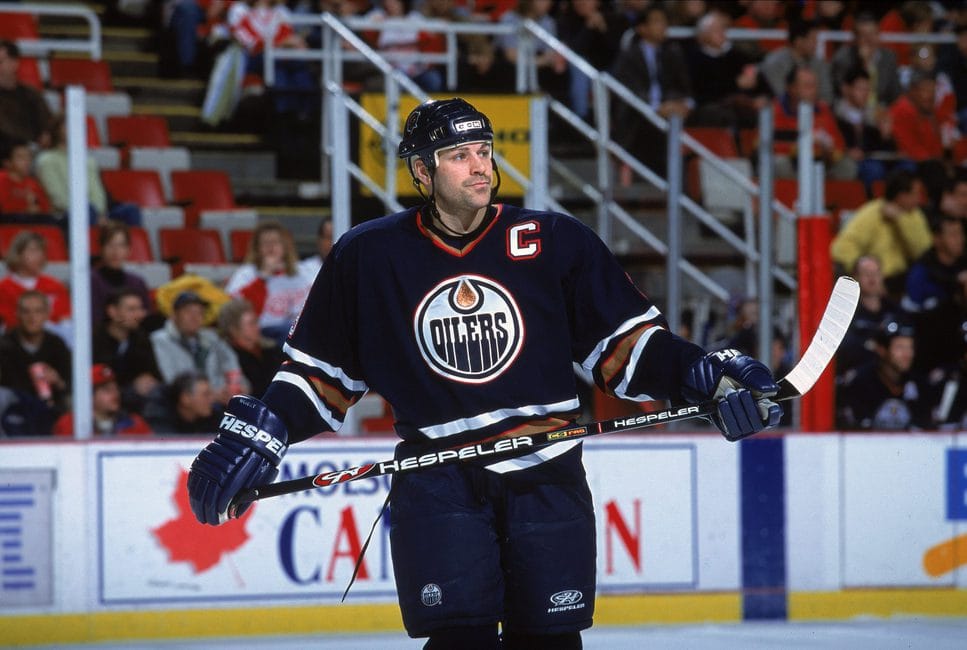 Any doubts about the direction of the Oilers ended on March 17, when Sather moved four-time Stanley Cup champion winger Esa Tikkanen to the New York Rangers in exchange for 22-year-old center Doug Weight.
Oilers' Postseason Streak Ends
Bookended by five-time Stanley Cup champion Kevin Lowe being sent to the Rangers for Roman Oksiuta plus a third-round draft pick and three-time Cup winner Craig Muni going to Chicago for Mike Hudson, the Oilers made a whopping seven trades between Dec. 11, 1992, and when the trade deadline passed on March 22.
Four days later, the Oilers' 13-season playoff streak was officially over. A sellout crowd at Northlands Coliseum, where less than 30 months earlier the 1990 Stanley Cup championship banner had been raised to the rafters, watched as their home team was thoroughly beaten by the Kings, 4-1. That result, coupled with a win by the Winnipeg Jets over the St. Louis Blues earlier in the evening, ended any mathematical chance of Edmonton reaching the postseason.
The bottom had completely fallen out in Oil Country. The Oilers dropped 20 of their final 24 games, including six straight losses to end their schedule, ultimately finishing 27 points out of a playoff spot. Any hopes that the Oilers would be able to rebuild quickly were quashed when they began 1993-94 with three wins in their first 24 games.
Oilers Get Back to the Playoffs
It wouldn't be until 1997 that the Oilers returned to the postseason. By that time, the hockey world was a much different place. The NHL no longer existed in Winnipeg or Quebec City, but it did in Anaheim and Miami. The Canadian dollar had plummeted in value, essentially making it impossible for small-market Canadian franchises to compete in a pre-salary cap NHL. The situation got so dire that Oilers owner Peter Pocklington said he would have to move the team before a successful season-ticket drive in 1996 helped assure the Oilers would stay put in Edmonton.
Related: Oilers History: The Day Edmonton Saved the Franchise
---
Latest News & Highlights
---
Having gone so long without NHL playoff hockey, and then having nearly lost NHL hockey altogether, there was perhaps a new appreciation in the Edmonton fanbase. A defining moment in franchise history was Game 3 of the 1997 Western Conference Quarterfinals against the Dallas Stars, the first playoff game at Edmonton Coliseum in five years. When Oilers Kelly Buchberger scored in overtime to cap an impossible comeback from down 3-0 with four minutes left in the third period, the crowd erupted like the Oilers had just won the Stanley Cup.
Oilers Continue to Seek the Cup
Over the last 30 years, the Oilers have made 10 trips to the postseason, advancing beyond the first round five times, past the second round twice, and played for the Stanley Cup once, losing to the Carolina Hurricanes in 2006.
There are 32 teams in the NHL, meaning that on average, a team advances beyond the first round once every four years, reaches the conference final once every eight years, makes it to the Stanley Cup Final once every 16 years, and captures the Cup once every 32 years.
When experiencing five Stanley Cups in seven years, as the Oilers did from 1984 to 1990, it can be easy to forget how rare and precious such success is. You don't need to tell that to supporters of the Toronto Maple Leafs, who haven't celebrated a Stanley Cup victory since 1967, or Vancouver Canucks fans, who still haven't seen their team win a championship in 53 years of existence.
The Stanley Cup has been awarded 31 times since the last championship parade in Oil Country. There was a time when the Oilers defied the law of averages. In 2023, Oilers fans hope the law of averages applies.