The Edmonton Oilers' recent goaltending crisis has led to repeated speculation and discussions about the team's hopes for success and how management will attempt to rectify the situation in net, often to no avail. Goaltending has been the organization's Achilles heel for years, and this season is likely to follow the same trajectory.
The projection and results for 2020-21 will live and die with the performance and efficiency of an untraditional starter in Mikko Koskinen and a struggling and aging former starter in Mike Smith. If this tandem can somehow steady the ship for any stretch of time, including in the playoffs, Edmonton will be very successful compared to recent seasons. 
History and Projections for the Oilers' Goaltending Corps
In a season embroiled in the effects of COVID-19, the Oilers have young goaltenders in their pipeline who may be forced to contribute. In the minor league system, Dylan Wells and Stuart Skinner have both showed promise, but they are not ready to make the jump to the NHL, barring some major complications in nets.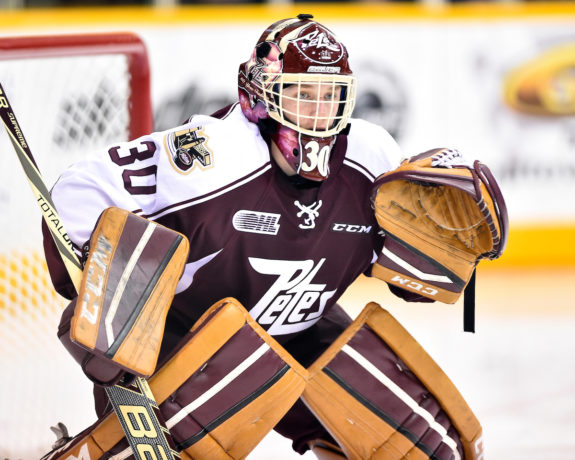 The netminder most likely to lead the taxi squad and move into the lineup in case of injury or COVID-19 protocols will be former Chicago Blackhawk Anton Forsberg, once he clears waivers. Forsberg has some NHL experience and is a respectable goaltender in the right situation, but he will not blow anyone away. His statistics are deceiving due to the tough positions he's been forced to play in, but overall he is a decent stopgap for a few games, as a backup or fill-in, in case of an emergency.
Most consider Smith to be the greatest goaltender in Arizona Coyotes history and an elite netminder in this era. However, in recent seasons, Smith's play has drastically declined, culminating in the two worst seasons of his career in 2018-19 and 2019-20. At this point, and at the age of 38, Smith is no longer a viable NHL goaltender and can only be relied upon consistently for a handful of games per season.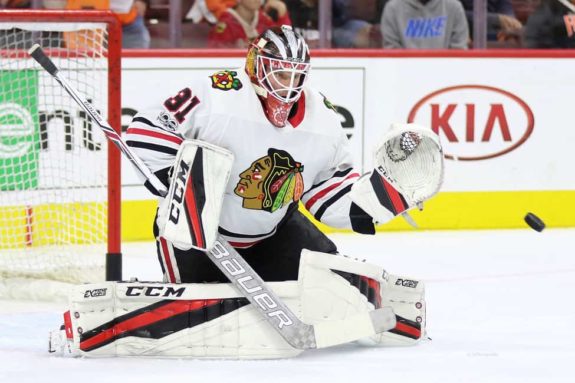 This is exacerbated by the fact that few players, especially goaltenders, have a bounce-back season this late in their career. It seems more likely that Smith is simply at the end of his, and with Koskinen as the starter, a backup with significantly higher upside than Smith is needed. I project he will have another subpar season, with a ceiling of being a replacement-level backup, in which he likely makes no playoff appearances, especially after his lackluster start against the Blackhawks in the team's qualifying-round loss last season.
Koskinen is the most interesting player on the roster, with the X-factor needed to be the key to defining the Oilers' 2020-21 season. In 2018-19, former general manager Peter Chiarelli's parting gift was signing Koskinen to a three-year contract worth $4.5 million annually, which can now be considered underrated compared to similar deals signed in recent years.
So far, the 32-year-old has shown that he is just an average starter and more of a platoon or 1A/1B goaltender rather than one who can appear and perform successfully in a stretch of games as the team's "bellcow".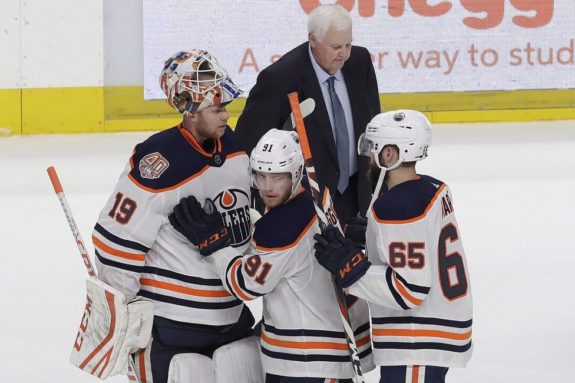 In a 56-game season, playing against the same six teams, the 6-foot-7 goaltender should have an advantage due to the limited number of games he will have to play, but at a disadvantage as those same teams will study him and exploit his weaknesses, which is especially the case with goaltenders who lack supreme athleticism and ability, such as Koskinen.
Expect Koskinen to have another regular season typical of his previous two, with maybe a slightly better result due to the reduced workload. However, I believe the playoffs is where we will see the biggest upswing in his performance, as he will be well-rested and can touch on his first career postseason experience from last season with a significantly improved roster in front of him.
Impact of Goaltending Expectations on 2020-21 Season and Final Thoughts
Based on these predictions and the goaltenders on the roster, this season will continue along the same trajectory. Edmonton's lineup looks primed to win a playoff series, compounded by the new additions who should play a significant role in filling the holes from last season. The only real question revolves around Koskinen and especially Smith.
In a shortened and more compact schedule, the backup will have an increased role and significance in the team's success than in previous seasons. The Oilers are significantly lacking in this regard with the older and struggling Smith, especially since they could have signed a plethora of goalies with similar abilities for the same price.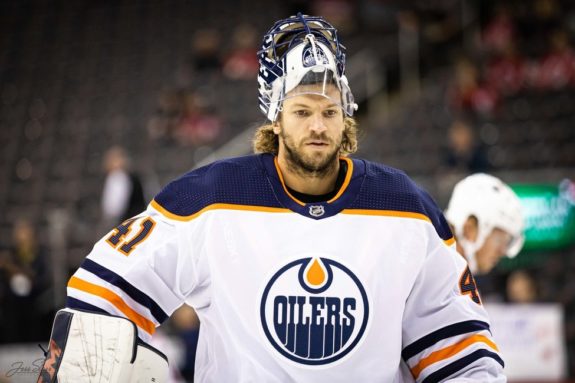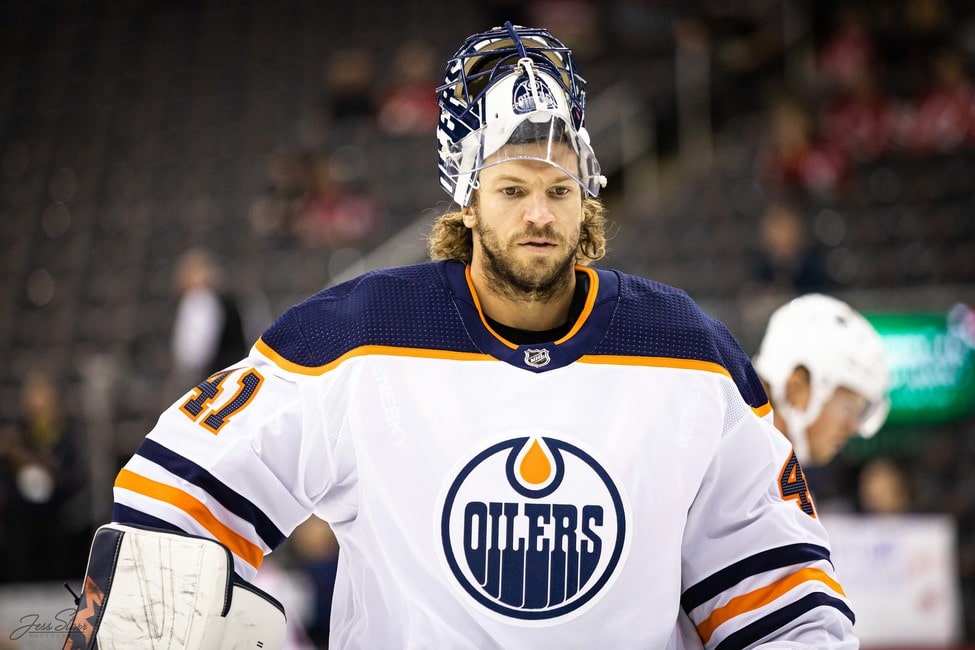 Despite the predictions above, I don't expect Koskinen to provide significantly higher value over the average NHL starter, including in the playoffs. He is a decent starter, but he can't be relied on to manage the crease for the majority of an 82-game season. I expect him to be respectable in the playoffs, but he will need to rely heavily on his teammates to succeed.
Overall, the Oilers' goaltending might be slightly improved, but I predict that it will not be a drastic enough improvement to impact the team's chances significantly. Last season, their goaltending was horrendous in the playoffs from both backstops. However, Koskinen's first career playoff games against a tough, experienced matchup played a major role in his downfall, given that he was playing at an elite level in the few games before the NHL shutdown.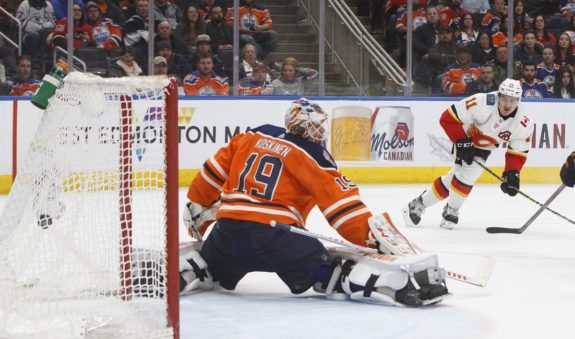 Koskinen should play well enough to win games, but he is not good enough to elevate his team. Any deviation from this projection could have a major detrimental or beneficial impact on the Oilers as an average playoff team with a second-round ceiling. If Koskinen significantly outperforms my expectations for this season, Edmonton will be true Stanley Cup contenders and will have the opportunity to exorcise the demons of the past.
---
---