As far as second round picks go, Martin Marincin hasn't exactly knocked it out of the park to this point in his National Hockey League career. While the Edmonton Oilers have yet to receive the payoff  they were hoping for when the organization decided to use the forty-sixth pick of the 2010 Entry Draft on the gangly blueliner, he has certainly shown signs of progress during the past two seasons.
After arguably being Dallas Eakins' most consistent defenceman over the second half of the Oilers 2013-14 campaign, most nights playing on the top pairing with the since-departed Jeff Petry, Marincin took a step backwards in 2015-16. Most observers felt he was a lock to make the team out of training camp, but to the surprise of many the 2014 Olympian found himself in the American Hockey League to begin the year while the trio of Brad Hunt, Oscar Klefbom and Darnell Nurse were all earning NHL salaries.
To be fair, Marincin did not have an overly impressive camp but one would think the previous season's 44-game audition might have built up some cache with the head coach and management team. That clearly was not the case and it led to the youngster spending a good part of the first few months of the season with the Oklahoma City Barons  Not surprisingly, confidence became an issue for the towering rearguard.
Off-Season Conditioning Remains A Concern
For the second consecutive off-season, Marincin essentially ignored the organization's recommendation to work on his conditioning and add some much-needed muscle to his lanky frame and that did not go unnoticed. Add to that the fact Craig MacTavish and company never really seemed on board with the 23-year old being part of the long-term solution and no one could have been overly surprised to hear his name starting to pop up in trade rumours.
Unfortunately for the Oilers, there are twenty-nine other teams who would absolutely love nothing more than to get their hands on the highly regarded blueliner, but not a single one of those teams appears willing to give up anything of real value to acquire him, and who could blame them?
While  teams across the league recognize the potential of a player with Marincin's skill-set, every one of them can point to numerous defencemen who never quite reached their potential at this level. To be perfectly honest, at this stage of the game, Peter Chiarelli would be lucky to grab anything more than a marginal prospect or mid-round draft pick for the former Prince George Cougars standout.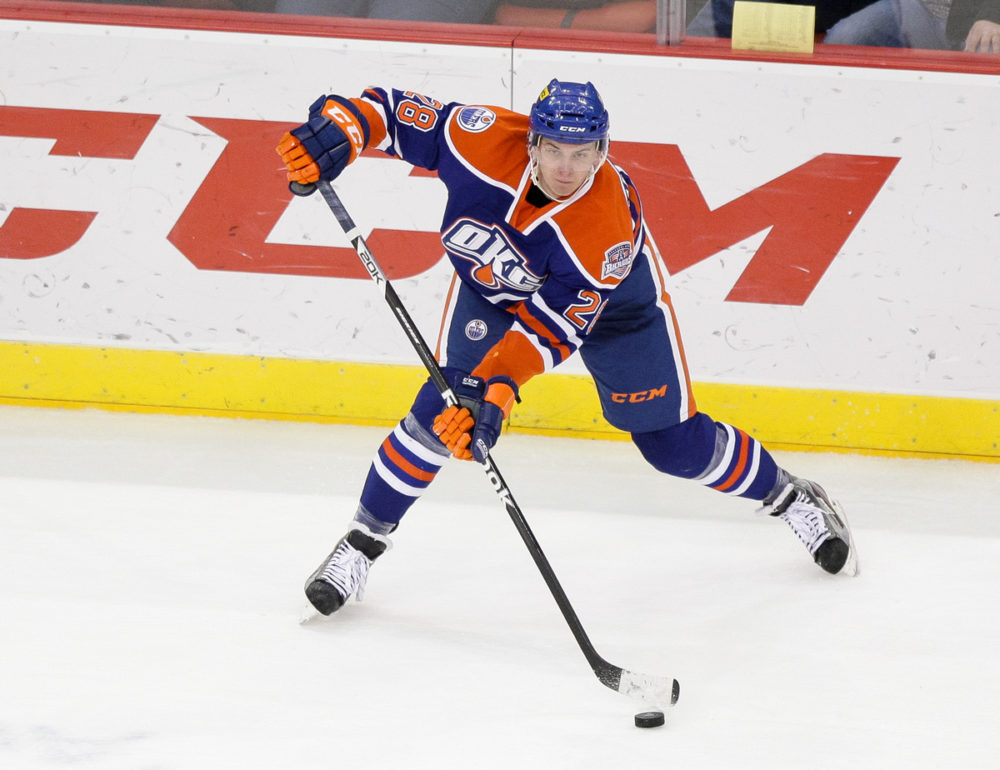 Inexperience and Opportunity
Could Marincin be used as a potential piece of the puzzle in a bigger swap? Of course, but if we are not talking about acquiring a high impact player, why on earth would one even bother contemplating such a move? There is no question the youngster has warts in his game, most notably the lack of a physical dimension in his own end of the rink.  Unless you have not been paying attention, most defencemen seem to need somewhere in the neighbourhood of 200 games before truly becoming comfortable in their NHL skin.
As of this moment, Marincin has dressed for a grand total of 85 games and all of them have come while playing for one of the worst teams in all of hockey. Can you say baptism by fire? Playing defence for the Edmonton Oilers is not exactly an ideal place for a kid to develop, but those are cards he has been dealt.
While some in this marketplace like to throw out the name of Zdeno Chara when Marincin's name is brought up as a potential building block, outside of both being defencemen of Slovak descent, there is no good reason for such a comparison to be made. One is a future Hall of Famer and the other has had a tough time earning regular duty on what is frankly just a horrible back end.
With that said, for those who watched Edmonton with any sort of regularity during the disaster that was their 2013-14 schedule, it was pretty darn obvious that this kid could play. Yes, the sample size was small and he did bounce back to earth in 2014-15,  but at no point has Marincin looked completely overwhelmed or out of place…something which cannot be said about many of the Oilers' current crop of blueliners.
Klefbom, Marincin, Nurse and Value Contracts
As far as left-handed shooting defencemen go, both Klefbom and Nurse slot ahead of Marincin on the long-term depth chart but Nurse could very well find himself in the American Hockey League to start the 2015-16 season. While Marincin is set to become a restricted free agent this summer, he is the sort of player who has "value contract" written all over him and this organization can ill afford to not take that into consideration.
With the trio of Jordan Eberle, Taylor Hall and Ryan Nugent-Hopkins already earning $6 million apiece and the new GM expected to go out and make some major upgrades to the present day roster, cap space could become an issue. The Oilers essentially have a three-year window to get their spending habits in order before having to throw a pile of cash at Connor McDavid and by that point, the hope is that this group should be among the cluster of teams who are viewed as perennial Stanley Cup contenders.
Overspending on bottom pairing defencemen in the here and now could make that a rather difficult chore, which is exactly why Chiarelli cannot spend his new owner's money like a drunken sailor over the next few months. Plugging a guy like Marincin into a third-pairing role would be ideal but the presence of both Andrew Ference and Nikita Nikitin throws a monkey wrench into the equation and is the perfect example of why this general manager needs to spend wisely, be it via the free agent and/or trade market.-