Since the Edmonton Oilers came into the NHL in 1979, they have had plenty of success in both team and personal accolades. They have had many Hall of Famers wear their uniform at some point in their career, many of who were apart of their dynasty where they won five Stanley Cups in seven attempts from 1984-1990.
Unfortunately, 1990 remains the last time the Oilers have won a Stanley Cup. While the team has had periods since then where they have struggled immensely, they have still had some great individual players, some of who were unable to win it all at the NHL level.
This list is going to look back on the top three Oilers who never hoisted the Stanley Cup. It is important to keep in mind that current players will be exempt, and longevity for the Oilers will also be a factor.
Honorable Mentions
Adam Oates
As mentioned, longevity had a major part in this list, which is why Adam Oates, who had without a doubt the best career of anyone on this list, was not able to crack the top 3. By the time Oates joined the Oilers as a free agent, he was already 41-years-old and had played in 1,277 career games over 18 seasons. Simply put, there wasn't a lot of gas left in the tank.
The Oilers posted a 36-29-12-5 record in the 2003-04 season, which was not good enough to qualify for the playoffs that year. Oates struggled that season, posting just two goals and 18 points in 60 games played, as it was evident father time had run its course. Still, it was quite something for Oilers' fans to be able to see a legend like him wear their jersey, even if it was at the end of his career.
To this day, his 1,079 assists are ranked eighth all-time, while his 1,420 points are 18th. Despite not ever winning a Stanley Cup, Oates is recognized as one of the best playmakers to play the game and was inducted into the Hall of Fame in 2012.
Curtis Joseph
Like Oates, Curtis Joseph's tenure with the team wasn't long enough to put him on this list. Unlike Oates, however, he joined the team when he was coming into the prime of his career. The Oilers were able to acquire "Cujo" during the 1995 offseason in a trade with the St. Louis Blues. Management thought so highly of him that they elected to go with him as their starting goalie that very next season and trade the legendary Bill Ranford to the Boston Bruins.
Joseph played in three seasons with the Oilers before signing a free-agent deal with the Toronto Maple Leafs prior to the 1998-99 season. He played in a total of 177 games over those three seasons in Edmonton. Joseph played in a career-high 72 games during the 1996-97 campaign in which he posted a 2.93 goals-against average along with a .907 save percentage and a 32-29-9 record.
His time with the Oilers will be remembered by his fantastic playoff performances, in which he almost single-handedly led his team to first-round playoff upsets over the Dallas Stars and Colorado Avalanche in 1997 and 1998.
Joseph continued to play for a long period of time after his tenure with the Oilers until he finally announced his retirement early in 2010. His 943 career games currently rank sixth all-time, while his 454 wins are seventh. As of now, he has not been inducted into the Hall of Fame, though his name often gets brought up before inductees are announced each year.
3. Shawn Horcoff
The Oilers had quite the find in the fourth-round of the 1998 NHL Entry Draft when they selected Shawn Horcoff at 99th overall. While a lucrative contract caused many Edmonton fans to sour on him, he was undoubtedly one of the team's best players through a very dark period of time in franchise history. His 796 career games in Oilers' silks are fifth all time, and his 447 points are 11th.
Horcoff came extremely close to winning a Stanley Cup while with the Oilers, as he was a part of the 2005-06 team that fell just one game shy of winning it all. He played a massive role in the team's success that year, putting up career highs with 22 goals and 73 points. He was great in the playoffs as well, with 19 points in 24 games.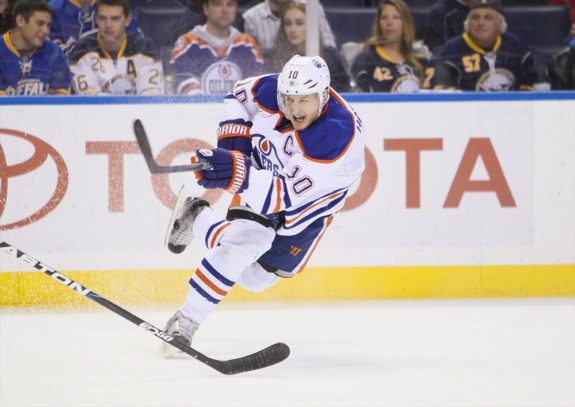 After a rough 2012-13 season in which he had just 12 points in 31 games, the Oilers traded Horcoff to the Stars, with whom he spent two seasons. He then played in one season with the Anaheim Ducks before announcing his retirement. He finished his career with 511 points in 1,008 games, as well as suiting up for 46 playoff contests in which he had 30 points.
Though he had his detractors in Edmonton, he was a very good player who likely would have had even better totals had he not been a part of some very bad Oilers' teams.
2. Ales Hemsky
Much like Horcoff, Ales Hemsky's career could have been a lot more successful if he had been on a better team. The Czech forward, who the Oilers selected 13th overall in 2001, had a very underrated career. His top-end skill was on display for years in Edmonton, but injuries often derailed him from being amongst the league leaders in points. Despite the injuries, however, he still sits ninth all-time in scoring for the Oilers with 477 points and 14th in games played with 652.
Hemsky was also a part of that 2005-06 team that came oh so close to winning it all. Hemsky led the team in scoring that year with 77 points in 81 games played. Also, he had a great playoff showing with 17 points in 24 contests. He scored one of the most memorable playoff goals in Oilers history that year, which served as the game-winner and eliminated the heavily favored Detroit Red Wings in the opening round.
After years of being the Oilers' leading scorer, injuries started to take their toll on Hemsky, and the team chose to trade him at the 2014 NHL trade deadline to the Ottawa Senators. After finishing that season with the Sens, he spent three seasons with the Stars and had a brief stint with the Montreal Canadiens. By the time his career was wrapped up, he had played in 845 games and collected 572 points.
1. Ryan Smyth
One of the Oilers' all-time fan favorites is Ryan Smyth, who the team landed with the sixth overall pick at the 1994 draft. What "Smytty" didn't have in top-end skill, he made up in heart, as he proved over and over throughout his legendary career that he was willing to do whatever it took to win. As of now, he is second in Oilers all-time games played with 971, fifth in goals with 296, and sixth in points with 631.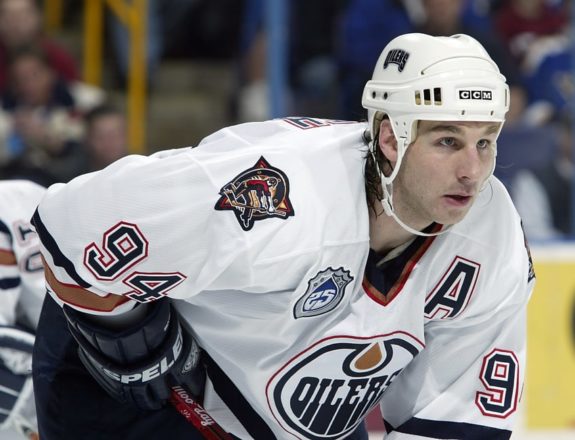 He also played a huge role in the 2005-06 teams' success, scoring a team-high 36 goals. He was fantastic in the playoffs as well, with 16 points in 24 games. His willingness, throughout not only that playoff run but his entire career, to battle in front of the opposing team's net was on display often, as he truly made a living in the crease.
The Oilers made the difficult decision to trade Smyth to the New York Islanders at the 2007 trade deadline. It was clear that day just how much playing for the Oilers meant to Smyth, as he said during an emotional press conference that day he was going to go win a Stanley Cup and bring it back to the fans in Edmonton.
Unfortunately, the Islanders did not win a Cup that year, and as a result, Smyth decided to join the Avalanche that next season. After two seasons with the Avs, he played with the L.A. Kings for two additional years before requesting a trade back to Edmonton, where he played three more seasons before retiring.
Smyth finished his career with 1,270 games, managing to score 386 goals and 842 points. He also suited up for 93 playoff matches where he had 59 points. Unfortunately, Smyth never won the Stanley Cup, which is an absolute shame given just how much effort he put in on a nightly basis. Even without the Cup, however, he is one of the best Oilers of all time, and is still beloved by Edmonton fans.
Storied Franchise
When thinking about both the best individual Oilers as well as the best Oilers players of all time, most would think back to the Wayne Gretzky-led teams that dominated the 1980's. However, as this list shows, despite not having the same team success, this franchise has continued to produce some very talented players over the years.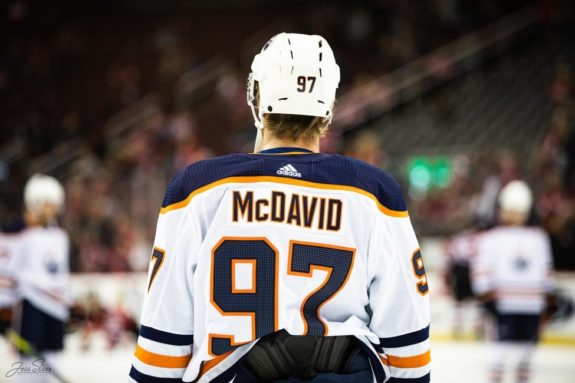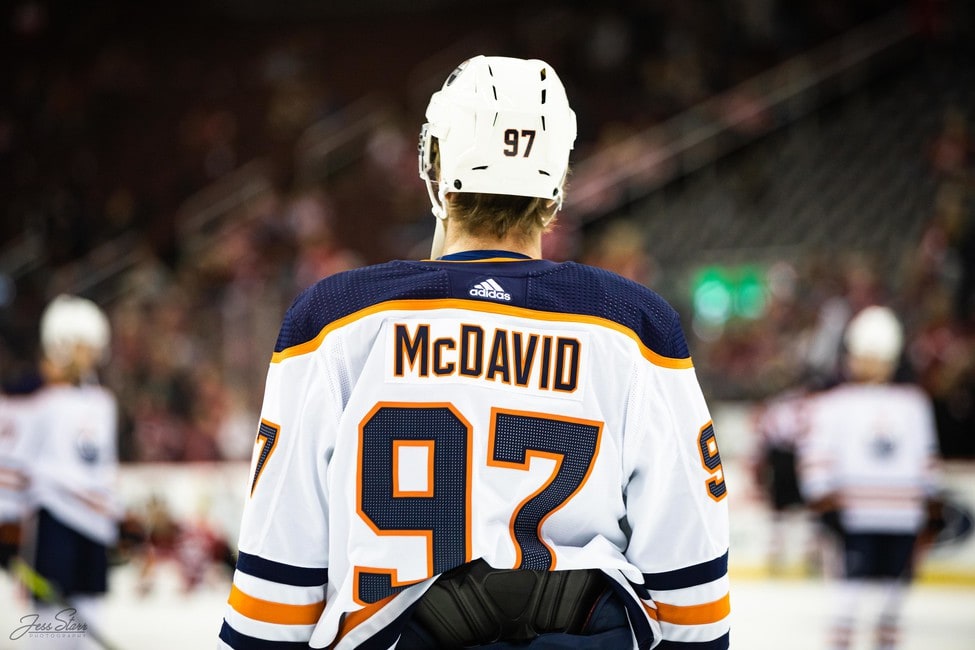 Currently, they have two of the league's top players in Connor McDavid and Leon Draisaitl. While it hasn't come together yet, Oilers' fans are praying that they will soon be able to hoist a Stanley Cup in Oilers' silks and avoid ending up on a list like this when their careers are said and done.
---
---
Colton Pankiw is a former Jr. A hockey player who now provides his knowledge of the game through writing. He's been a very active and reliable source for nearly two years at The Hockey Writers. He is a credentialed writer for the Calgary Flames but also does features on other teams throughout the league. Other writing contributions include: Yahoo Sports, Las Vegas Chronicle, Oil On Whyte, and Markerzone.com. Colton is also a co-host of both Oilers Overtime and Flames Faceoff podcasts. Any interview requests or content info can be made through him on Twitter. Take a look at his work here.