For what has seemed like an eternity, the Edmonton Oilers have iced players of insufficient skill and capability on their blue line.
Gone are the glory days of old which featured solid defensemen such as Chris Pronger, Sheldon Souray, Tom Gilbert and Ladislav Smid, who have over time since been replaced by duds such as Anton Belov, Corey Potter and Mark Fistric.
In the present day, the composition of the Oilers blue line remains largely similar to that of years past; a jumbled combination of young and old, experience and immaturity and offensive and defensive defenders who have failed to have combined success season after season.
However, despite what many in the hockey world may be aware of, the Oilers have quietly been piecing together an incredibly promising pack of young defenders who appear poised to be impact defenders at the NHL level.
Who Are These Stellar Studs?
Darnell Nurse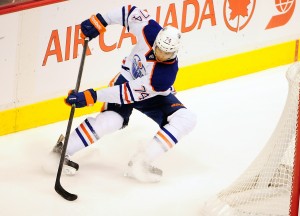 Chances are you have heard this name before.
Darnell Nurse, the Oilers 7th overall pick in the 2013 NHL Entry Draft, is Edmonton's top defensive prospect.
Currently in his fourth season with the Ontario Hockey League leading Sault Saint Marie Greyhounds, Nurse played his first two NHL games earlier this season before being returned by the Oilers to the Canadian Hockey League.
Nurse is a big, booming body at 6 foot 4, 205 pounds who is sound in his own end who also has the ability to produce offensively. 31 points in 33 games so far this season with the Greyhounds, as well as 132 points in 215 career games is an indication of his scoring touch.
A star on the international stage, most recently at the 2015 World Junior Hockey Championship with Canada, Nurse projects to be a future top pairing defender with the Edmonton Oilers. He can skate, shoot, pass and play the body, all qualities necessary for a successful career at the NHL level.
NHL Arrival: 2016-17
Oscar Klefbom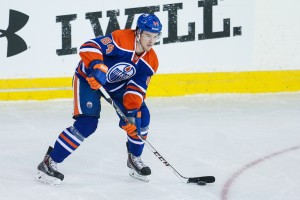 For Oscar Kelfbom, his NHL career and hockey legacy have already begun to be written.
Selected by the Oilers 19th overall in the 2011 NHL Entry Draft, Klefbom has already played a significant number of games at the NHL level at the age of 21 and looks like a future star.
Now in his first full season with the Oilers, Klefbom has played 42 games with the Oilers, recording 2 goals and 12 points. However, what is more impressive is the amount of ice time Klefbom has been assigned, regularly playing upwards of 25 minutes of ice time per game.
Although this amount of responsibility isn't exactly ideal, Klefbom has accepted it in full stride and has been the Oilers best defender on a number of nights this season.
[Klef-BOMB: Edmonton's Exploding Star]
In terms of the future, Klefbom looks to be a future top pairing defenseman with the Oilers who could certainly be paired up with up and coming star Darnell Nurse.
Jordan Oesterle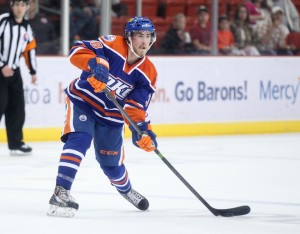 Jordan Oesterle is a name who many have not heard of, however he is quickly making a name for himself within the Edmonton Oilers' organization.
Recently, Oesterle was re-called by the Oilers and was fortunate enough to be able to play his first NHL game. At the young age of 22, Oesterle is a 6 foot, 185 pound native of Dearborn Heights, Michigan. It was in Michigan where Oesterle began to make noise, as he played three successful seasons at Western Michigan University of the NCAA.
Oesterle's progression has been so impressive in fact, that Jordan has reached the NHL in his first season of professional hockey. Through 49 games with the Oklahoma City Barons of the AHL, Oesterle was a stand out on the back end, recording 6 goals and 21 points as a rookie.
Although he has managed to play in three games with the Oilers so far this season, recording one assist, a full time position for Oesterle at the NHL level will likely come later in the future.
Joey Laleggia
Joey Laleggia is one Oilers prospect who most have yet to hear of, yet he is making huge strides in the NCAA with the University of Denver.
Currently in his fourth season in the NCAA, Laleggia has quickly become not only one of the top players on his team, but in the entire NCAA, as he was recently named as a nominee for the Hobey Baker Award, given annually to the top ice hockey player in the National Collegiate Athletic Association.
Most recently, Laleggia was again named the NCHC player of the month for February, in which he led all NCAA defenders in scoring with 3 goals and 13 points.
In what will be his final season with the University of Denver, Laleggia has recorded an impressive 35 points, including 12 goals in a mere 31 games, numbers which lead his team among defensemen.
One aspect of Laleggia which may pose a threat to an NHL hockey career is his size, as he is only 5 foot 10, 185 pounds. However, players such as Boston Bruins' Torey Krug have shown that size isn't everything, as you can be of smaller stature and still make a significant impact at the NHL level.
In all likelihood, Laleggia will likely see some time at the professional level following the conclusion of the 2014-15 NCAA season. Although the AHL would be the most likely landing spot for Laleggia, the NHL would certainly not be out of the question considering the Oilers' dismal place in the standings.
Laleggia will be one Oilers prospect to keep an keen eye on, as he is quietly becoming an elite defenseman and a top NHL prospect.
NHL Arrival: 2017-18