Last Sunday night, when the Edmonton Oilers were shelled by an injury-depleted Buffalo Sabres squad, it felt like the sky was falling. The players were upset, the fans were upset, and head Coach Todd McLellan was furious. The team cancelled (moved) their mandatory off day in order to get themselves right back on the ice and into a better mindset. It was just one game. In fact, it was game three of the NHL season (in which there are 82). The Oilers had just won a home and home against their biggest rivals. It was a letdown. Games like that happen. They had another one to make things right.
The Ups and Downs of the Regular Season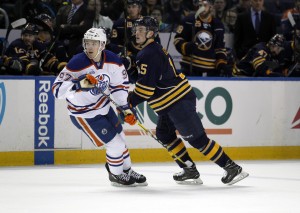 The biggest issue for the Oilers wasn't their performance against the Sabres, but how they would respond in their next game. Even the best teams have off nights every now and then. That's the beauty of a long season. There's a chance to redeem yourself. Now, obviously, no one wants to let valuable points slip away, and no one would be happy with the manner in which they lost that game, but it's impossible to go 82-0, and it's very probable there will be some ugly nights along the way. The win over the Carolina Hurricanes almost made the Sabres meltdown seem silly.
Cam Talbot bounced back with a good performance, Kris Russell had a strong game, and the Oilers got contributions throughout their lineup. Perhaps the biggest question mark surrounding the Oilers this season, especially after the trade of Taylor Hall, was who would score goals besides Connor McDavid? The Captain had zero points against the Hurricanes, and his team still won. Anton Slepyshev scored his first, with Jordan Eberle and Tyler Pitlick notching the other two. The Oilers were outplayed at times, there's no question. But they didn't allow the game to get away from them like they did against Buffalo.
The Oilers staked themselves to a 3-0 lead and almost let it slip away. But Talbot held down the fort, and the fact that they staved off the comeback is a great sign moving forward. Maybe the Oilers of the past would have crumbled. Going into the third period up by three, only to have the Hurricanes score two in the span of a couple of minutes would have sent the team into a tailspin. But not this season. And perhaps that is worth more of a reaction than an ugly game.
Next on the docket for the Oil? The return of a familiar face.
---
Complete Oilers Coverage From THW
---
Welcome Back Old Friend
Dreger: "Based on what I've heard, Hitch has been relatively pleased w/ Nail Yakupov." #stlblues #Oilers

— Chris Nichols (@NicholsOnHockey) October 20, 2016
It seemed like just yesterday when the Oilers traded former first overall pick Nail Yakupov for a draft pick and a prospect no one had ever heard of. But it was a divorce that everyone in the hockey world saw coming. Yakupov wasn't fitting in, he wanted out, and thus the writing was on the wall. The return was meagre considering Yak's age and draft status, but the market simply wasn't there for him, and the Oilers got what they could. He needed a fresh start and the team needed to move on. But now, just five games into the season, he's back to where it all started.
"I feel great," Yakupov said after Wednesday's practice. "I'm really excited to be back, because I was here for a long time and I'm looking forward to playing a game against my old team in this building. I didn't expect to come to (the Blues), but it turned out really well for me because I enjoyed coming to this team and this organization. I haven't been (with St. Louis) for a long time, but I already feel comfortable and the guys have been really, really good to me. I haven't felt any pressure or had any problems." [NHL]
Yakupov has a goal and assist through four games, and appears to be fitting in well. On the part of the Blues, the expectations weren't extraordinarily high, which was probably the best case scenario for both the team and player. If he plays great, that's a huge bonus for the Blues. If he doesn't, they won't have buyers remorse because they didn't pay a hefty price. You can be sure however that Yakupov would love to have a big game against his former team tonight.
The challenge for the Oilers will be more than a motivated Nail Yakupov. The Blues are 3-0-1 on the season, and play a heavy game. They have a lot of big bodies who can score, and the Oilers will have to deliver a much better game than they did against Carolina if they want to win. This will be an interesting test for Edmonton, to see if they did, in fact, get "tougher to play against" with their recent moves.
As for the crowd's reaction to Yakupov? Hopefully, there won't be any booing. Based on his draft status, and subsequent trade value, he could be viewed as a disappointment.
I know #Oilers fan are passionate but please tonight don't BOO Nail we're better than that i hope he lights it up & we get the win #STLvsEDM

— #RussellMania (IG) (@deemer1972) October 20, 2016
But Yakupov was never going to succeed in Edmonton under the current circumstances. The ship had sailed a while ago. It's frustrating to be sure, but the best you can do is hope for the kid to do well in the NHL. He didn't mail it in while he was an Oiler. There were so many mitigating circumstances surrounding the situation. The team failed just as much as the player did. It's over now, and there are no take backs. The Oilers have possibly the best player in the league in Connor McDavid, and it is more productive to celebrate what you have rather than lament what you've lost.