It has certainly been an eventful off-season for the Phoenix Coyotes.
They have had to deal with the dark prospect of moving up to the Great White North, they have had to deal with a crush of media attention paid to the whole situation, and yet they are still expected to keep a close eye on the development of their young hockey team.
Even with all of these distractions, the Coyotes went into this year's NHL Draft with a clear cut objective: hang onto your picks, and make the most out of every one of them.
The Coyotes certainly made the most of their picks, taking a good mixture of physical defensemen, scoring threats, and the occasional shot in the dark. After two days in Montreal, the picture of the franchise came into much clearer view.
Without further ado, let us meet the newest members of the Phoenix Coyotes organization.
Round One
6th Overall Pick: Oliver Ekman-Larsson, Defenseman, Karlskroma, Sweden
Oliver was a member last season of Leksand IF in the SWE-2 league, and he had a very good campaign, scoring 17 points, building an incredible +44 mark during the season, and racking up 32 PIM over the course of the 39 game season.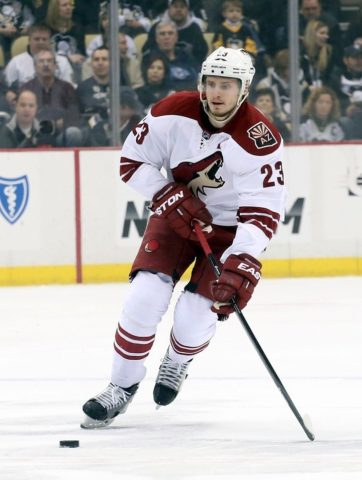 Watching video of this young man, you can quickly see what the Coyotes saw in him. He was the second rated defenseman in the entire draft, and his soft touch on passes, as well as his stellar defense, make this a pretty understandable ranking. He is a great puck handler, and he is a very talented skater as well.
To put his potential impact into perspective, one need look no further than the opinion of Max Giese of McKeen's Hockey, who had this to say about Ekman-Larsson:
"The Nicklas Lidstrom comparisons are appropriate, as Larsson controls the flow of the game with his dynamic skill, vision, and poise with the puck. He is a beautiful player to watch that quarterbacks the play coming out of his own end and has the ability to orchestrate plays through his stellar passing game".
This is some high praise, and it is not without reason. Oliver is the right fit for a Phoenix team who is trying to continue to build around a young core, and he should be a valuable asset to their blue line group.
Round Two
36th Overall Pick: Chris Brown, Center, Houston, Texas
Chris Brown is a very raw talent, having played last year in the US Development Program. He tallied 38 points (20 G, 18 A) in 62 games, and also racked up an enormous 120 penalty minutes in the process.
He is known as mostly a goal scorer, but his high number of PIM suggests that he also plays with a chip on his shoulder, and that the middle of the ice certainly is not safe for anyone thinking he will give them free reign simply because of the position he plays.
Brown has committed to playing at the University of Michigan this fall.
Round Three
91st Overall Pick: Michael Lee, Goalie, Fargo, North Dakota
Coming from the hockey crazed state of Minnesota, it is entirely reasonable to expect that Lee has played the game, and played it often.
That is clearly the case, judging by the glowing report that Scott Burnside recently posted on espn.com about this young man. In it, he describes Lee's decision to leave Minnesota, and also how his down-home nature is a tremendous asset to anyone trying to make it into the NHL.
On the ice, Lee is set to play next season at St. Cloud University, and he also is under strong consideration to play for the US team at the World Junior Championships in December.
Round Four
97th Overall Pick: Jordan Szwarz, Right Wing, Burlington, Ontario
Jordan has played for the Saginaw Spirit of the OHL for the last two seasons.
In the 07-08 campaign, Szwarz has 33 points (12 G, 21 A) in 65 games played. He also had 56 penalty minutes.
In the 08-09 season, he busted out quite a bit, scoring 17 goals and adding 34 assists, and also got 76 penalty minutes levied against him. He also helped out immensely in the playoffs, adding eight points in the team's ten games.
According to HockeysFuture.com, he can fight through checks even though he is slightly undersized, and he possesses great intelligence that he can deploy readily at any time.
105th Overall Pick: Justin Weller, Defenseman, Daysland, Alberta
Justin played for the Red Deer Rebels in the WHL the last two seasons, notching seven assists in 81 combined games. He also has 70 PIM over that time.
Round Six
157th Overall Pick: Evan Bloodoff, Left Wing, Nelson, British Columbia
Evan played for the Kelowna Rockets in the WHL last season, notching 21 points (12 G, 9 A) in 71 games. He also had 77 penalty minutes, and then in the playoffs, he scored three goals and added three more assists.
James started out for The Hockey Writers covering the Atlanta Thrashers in 2009, and has also covered the Chicago Blackhawks, served as NHL Correspondent, and is now a Managing Editor and the site's NHL Central Blogger. He also writes for The Golf Writers.