To say that Olli Maatta has struggled in recent seasons is quite the understatement. Since emerging in 2013-14 — his rookie year — Maatta has looked like a shell of himself. Are these issues caused by his multitude of injury and health issues at such a young age? Maybe. But he's been healthy for quite some time and his inability to find his game within head coach Mike Sullivan's system is becoming problematic for the defending Stanley Cup Champions.
Maatta averaged roughly 0.4 points per game in his rookie season. His production has steadily declined in each of his following seasons, and he's currently clicking at 0.1 points per game with one goal and six total points through 47 games this season. Point production aside, his play in the defensive zone is quite concerning. His footwork, positioning, and indecisiveness has led to costly turnovers and an inability to effectively defend opponents on the rush and in front of his own net. Consider the following goal from Tuesday night when the Nashville Predators visited PPG Paints Arena.
Maatta is easily bullied — for lack of a better term — around his own crease. There are plenty of examples that show him missing an assignment or simply not playing an opponent's body and stick appropriately. These are fundamental issues that need to be addressed. Keep in mind, Maatta is still only 22-years old, but his steady decline is certainly something to be concerned with.
Blue Line Pairing Issues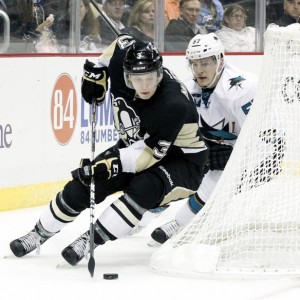 So far this season, Maatta has played primarily alongside Trevor Daley. Daley — at least for the first half of 2016-17 — hasn't performed up to his standards set last season when he exceeded expectations with the Penguins. However, the issue may not be Daley's play as much as it is his defensive partner in Maatta.
Daley is a risk taker, and I mean that in a good way. He's an offensively-minded defenseman that looks for opportunities to join the rush. When watching him play with Maatta, he looks hesitant to play his game and it ultimately leads to breakdowns. If a player like Daley isn't performing on instinct, he's likely overthinking and second guessing himself.
This is precisely why Brian Dumoulin and Daley were so successful last season.
Daley and Dumoulin played roughly 402 minutes together last season at even strength. During that time, both players emerged as major contributors in their respective roles. Dumoulin was arguably Pittsburgh's best defensively-minded blueliner while Daley generated a ton of offense from the backside. Maatta played with Kris Letang, who ultimately carried him in a big way. The numbers represent that notion perfectly.

(Courtesy of Corsica.Hockey)
The blue dots on the above chart represent Maatta's ice time alongside each Penguins' defenseman last season. I left Justin Schultz and Rob Scuderi off, as Scuderi has moved on and Maatta and Schultz barely logged any minutes together. I can assure you, both of those individuals reflected a similar snapshot.
With Letang, Maatta's shot differential was in the mid-50's at even strength, meaning the Penguins owned roughly 55-percent of all shot attempts with that pairing on the ice. Without Letang, Pittsburgh suffered a negative shot differential in almost every case. Something you won't see on that chart is that the Penguins allowed 54.85 shot attempts per hour when Maatta was on the ice without Letang, as opposed to 49.91 per hour when Letang accompanied him.
Simply put, when Letang isn't carrying the load, Maatta has been a liability. This season, even Letang hasn't been able to shoulder the load alongside him so it leaves the Penguins with a tough decision. Where do you play him and even more importantly, do you consider trading him?
Does Olli Maatta Need a Change of Scenery?
There's a short list of Penguins — namely Maatta and Eric Fehr — who haven't quite fit the mold since Sullivan was hired in December 2015. Sometimes, no matter how talented an individual is, they aren't suited for a certain system. That could be exactly what we're seeing with the young, 22-year-old blueliner these days.
It's never an easy decision to trade a defenseman with this kind of ceiling, but in this case, it likely benefits both Maatta and the Penguins.
Maatta could excel in a more defensive system. With Pittsburgh, defensemen are expected to create offense and are often hung out to dry. When an opponent is able to conquer Pittsburgh's forecheck and transition up ice quickly, Maatta's lack of speed is put on display and often exploited. A more conservative approach would give him the opportunity to succeed, just as he did with the Penguins a short three seasons ago.
I'm still convinced that Maatta will be a very good defenseman in this league for a long time. However, it doesn't seem Pittsburgh provides him the right situation to grow into the player he's capable of. Unfortunately, he's holding this defensive corps back right now, which is obviously an issue for both the Penguins and Maatta himself. General manager Jim Rutherford should be open to moving him. Or, he could be exposed in the expansion draft this summer and potentially picked up by Las Vegas.