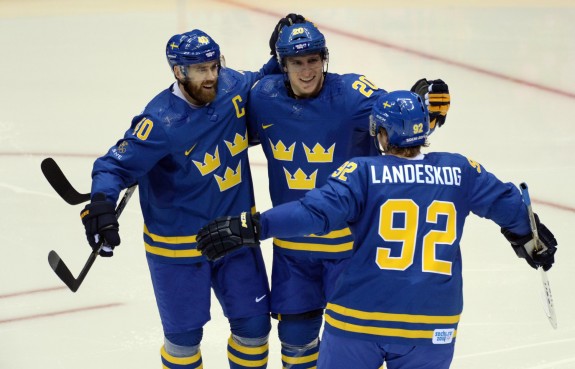 Do you hear that  *sigghh* coming from the Rocky Mountains?  No, it isn't the Westerlies coming to give us a bite of wind chill; it's the collective exhale of the Colorado Avalanche and their fans. With 79 points heading into the stretch run, statistics say the Avalanche have a 100% chance to make the playoffs (good thing hockey is played in a computer!).  This means the Avalanche were not just a feel good story at the beginning of the season, but have likely accomplished the goal they set at the beginning of the season; and it's only February.  Now it is time to focus on a more substantial goal: playoff success. The Olympics provide a great litmus test to determine how players will perform under the pressure in an elimination game.  Although the tournament has been relatively disappointing for the Avalanche representatives, overall team success has allowed all but Varlamov to advance to the semi-finals. With players on three of the four remaining teams, Colorado will soon be home to at least two Olympic medalists and perhaps even a champion. The games to follow will not only mimic the intensity of the Stanley Cup Playoffs, but also teach these relatively inexperienced Avalanche players how to win on hockey's biggest stage. With only two games remaining, let's examine how these three can immortalize themselves with Olympic glory.
Landeskog Looking to Lead Sweden
Landeskog has represented Sweden twice at World Championships  but this is the 21-year-old's first Olympic games. So far, his international experience has been a success. Even though he was the second youngest player in the tournament, Landeskog was named Sweden's alternate captain at the World Championship in 2012 and in 2013 won a gold medal in his home town. After an injury prevented Henrik Sedin's participation in the Olympics, Landeskog was once again given the alternate captain duties for Sweden despite being the youngest player on the team. "I think the World Championships were a lot of fun for me and a little overwhelming playing two in my home town Stockholm", Landeskog told the Avalanche website. "You could call it a warm-up for the Olympics".
A herniated disc forced captain Henrik Zetterberg to withdraw from the tournament in the preliminary round, putting even more pressure on Landeskog to lead the country's medal hopes. So far, so good. With a 5-0 win against Slovenia on Wednesday, Sweden is through to the semi-finals and is set to play the rival Fins. However, with only one assist in the tournament Landeskog will have to pick up his offense if he hopes to win gold in Sochi. Lucky for the Swedes, Landeskog seems to elevate his game when it matters most. He was Colorado's best player during their playoff run in 2012, highlighted by this rush that kept them in the race. Sweden hopes this Landeskog is yet to come.
Stastny Adjusting to New Role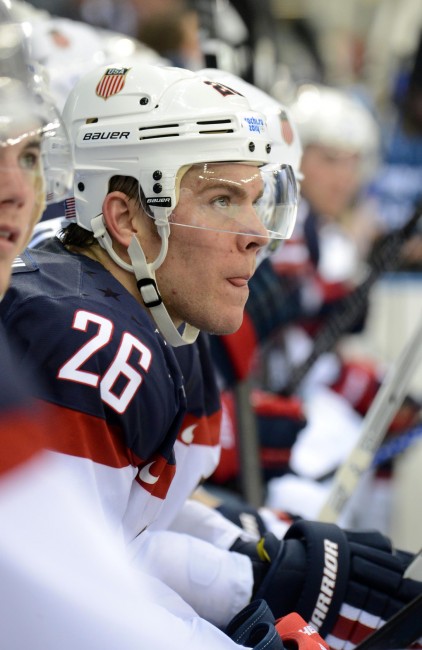 Paul Stastny is the veteran of this group at age 28. The former silver medalist is enjoying his second Olympic games, but this time around he has been asked to play a much different role. In Vancouver, Stastny spent most of his time on the top line with Zach Parise and Jamie Langenbrunner. In Sochi, he finds himself on the fourth line between Max Pacioretty and T.J. Oshie. Though the change might prove to be a challenge for most players, Stastny's versatility is what has made this transition a smooth one. Even in a top six role with the Avalanche, Stastny is always matched against the opposition's top line because of his defensive reliability.He showed his offensive ability with two goals in a blowout victory against the Slovaks in preliminary play, but has since failed to register a point. Like Canada, The United States' ability to roll four lines is what makes them medal contenders. Stastny will have to out-duel Canada's fourth line, one which will likely feature his Avalanche team mate, for the USA to advance to the gold medal game.
Duchene Hopes to Capitalize on Opportunity
After starting the tournament on the outside looking in, Matt Duchene's play seemed to have earned him a permanent spot on Canada's roster heading into the quarter final. But instead of flanking Ryan Getzlaf and Corey Perry, Duchene found himself once again watching the game from the press box. With John Tavares sidelined in a nail biting win against Latvia, Duchene has another opportunity to prove himself on the Olympic stage. Due to Babcock's resiliency to keep Kunitz with Crosby, look for Duchene to center the fourth line in Tavares' place with Patrick Sharp and Rick Nash. A move back to his original position could be just what the doctor ordered for Matt. "It's a big opportunity for myself now, a chance to play center, to play where I'm comfortable," he told NHL.com's Dan Rosen after practice on Thursday. Unlike Landeskog and Stastny, Duchene has played a minimal role in Canada's success (or lack thereof, depending on who you talk to) until this point. Look for the lack of pressure to work in Duchene's favor when matched up against the American's third defensive pairing. If he is able to utilize his game breaking speed and expose players like Brooks Orpik, he could become a real difference maker for Team Canada.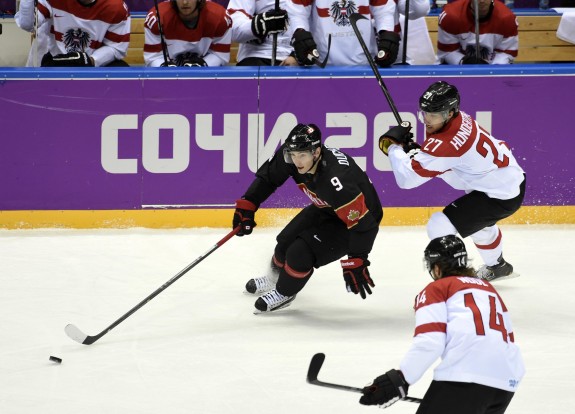 Whatever the outcome, the Avalanche and their fans will have to opportunity to watch how their young stars perform in meaningful games for the first time in four years. The outcome will provide a glimpse of what to expect in the Spring.