Jim Neveau, NHL Correspondent
Author's Note: Yes, the title is an homage to the opening lyric of the classic song "Hotel California" by The Eagles. Yes, you are cool if you knew that.
Can the Red-Hot Coyotes Hold Onto the Pacific Division Lead After This Trip?
Phoenix is currently in the throes of a six game winning streak that has propelled them into the top spot of the hyper-competitive Pacific Division. While the Dallas Stars have been struggling as of late, the Coyotes have rebounded nicely from a stretch that saw them lose five of seven games. They have been getting some fantastic goaltending from Ilya Bryzgalov, great offensive play from Keith Yandle (more on him later), and they have been stepping up their game against some really solid teams.
Naturally, the big question facing Phoenix as they head into this five game road trip is whether or not they can maintain their position atop the division. San Jose is charging fast, and even though Dallas has been struggling lately, they are still very much in the hunt. When you throw in the Kings and Ducks, you have five teams who all have a legitimate shot at making the playoffs.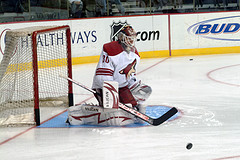 Looking at the Coyotes' upcoming slate of games, staying in the catbird seat is going to be a big time challenge. They start out this evening in Nashville, and after that they two really tough games against Eastern powers Philadelphia and Tampa Bay. Then as if things couldn't get any more difficult, they will travel to Columbus to battle the resurgent Blue Jackets, and they wrap up the trip against the stumbling but still dangerous defending Cup champion Blackhawks.
If they can come out of that trip with at least six of the possible 10 points, the trip would have to be considered a success whether they maintain their division lead or not. It's going to be difficult, but the likelihood is that they'll stay within a point or two after this murderer's row of opponents.
Is This Team's Ownership Drama Finally Nearing an End?
According to Rebekah Sanders of the Arizona Republic (who has been providing great coverage of the city of Glendale's attempts to the deal finalized), the city has issued their bond statement to investors, and once they get enough pre-orders, they will open the bond sale and the process should be completed within a day.
After that bond sale, the NHL Board of Governors will undoubtedly have a largely formal vote to approve Matthew Hulsizer as the new owner of the team, and the long drama that has spread out over two years will finally have come to an end.
As mentioned in Sanders' report on Friday, the remaining wild card in the bond issue is the Goldwater Institute. The conservative think tank has been threatening the deal with legal action ever since it was approved in December, and if it finally goes through there is a possibility that they will file a lawsuit to block it on the grounds that it represents "unconstitutional corporate welfare."
At the City Council meeting where the deal was first approved, and now through consulting with various legal groups, Glendale is very confident that any legal challenge by Goldwater would fail, and that the new lease agreement to keep the team in Arizona is on sound legal footing.
Next week seems like it's going to be the big deciding factor.
Should the Coyotes Give Ilya Bryzgalov a Break?
If Bryzgalov makes the start against the Predators tonight (as has been reported), it will mark his 19th consecutive game between the pipes for Phoenix. He has been on fire lately for the Coyotes, and he has been a huge driving force in their success in recent weeks.
With each passing start, however, the questions about whether or not head coach Dave Tippett needs to keep his goaltender fresh become more and more prevalent. Granted, Ilya has had plenty of time off this season while dealing with various issues that have kept him off the ice, but at the same time Tippett is going to have to give some serious thought to inserting Jason Labarbera into the lineup.
It would seem to be an ideal situation for Tippett to do just that when the Coyotes play back to back games against the Flyers and Bolts. He would probably sit against Tampa, simply because he played really well against the Flyers last season and he gave up three goals in only 23 shots against the Bolts in their meeting in Phoenix.
Is Keith Yandle A Viable Norris Candidate?
Currently listed in the fourth spot on ESPN's Norris Trophy rankings, Yandle is obviously having a season to remember for Phoenix. He has the most points of any defenseman in the league with 50, and he plays very solid defense for one of the more defense-minded clubs in the league. His 24 minutes of ice time are often put to good use.
Ranked ahead of him on ESPN's list are Kris Letang, Nicklas Lidstrom, and Lubomir Visnovsky. All three of these players are having stellar seasons of their own, so it's going to be difficult for Yandle to crack that top three. What may play to his advantage in at least being a finalist would be if the Ducks were unable to make the playoffs. Obviously a post-season appearance isn't a make-or-break element to a player's candidacy for that award, but it definitely would add some clout to Keith's resume.
If a betting man were to take a look at it, they would probably say that if Yandle can be in the lead of the points race among defensemen at the end of the season (and if his plus-minus doesn't plunge faster than a bowling ball dropped off a balcony) will be among the three finalists vying for the award in Las Vegas in June.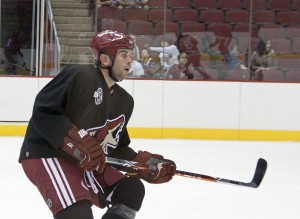 At any rate, Keith is establishing himself as one of the best young offensive defensemen in the league, and he has been a huge shot in the arm to a Phoenix offense that hasn't exactly been known for their prowess in that department.
Should the Coyotes Pick Up Sheldon Souray?
According to reports today, the Oilers have put Souray on re-entry waivers in the hope that another team will pick him up and save the organization some cash. If another team were to put a claim in on Sheldon, they would be on the hook for half of his salary for the rest of this year and all of next year, the final year of his contract.
There are two things that are keeping teams from claiming Souray: his $2.7 million cap hit next season (it was originally $5.4 million but the amount would be cut in half if a team claims him from Edmonton) and his recent injury woes. He only played 37 games last year with the Oilers, and he has only played 26 games with the Hershey Bears this season while missing time with a broken hand.
When he is on his game, however, Souray can be a tremendous asset to a team, especially on the power play. In the 2008-09 season, he scored 12 power play goals and picked up 11 assists on the man-advantage en route to a 53 point campaign.
The question then inevitably becomes this team: will a team take a player on this guy and get the Oilers off the hook for at least part of his salary? Any team that would claim him would have a $2.7 million cap hit, but they would only have to pay him a real salary of $2.25 million since his contract was front-loaded. The Rangers had scouted him earlier this season, but had decided they didn't like what they were seeing and backed off.
If he is fully healthy, one team that should definitely take a look at picking up Souray would be the Coyotes. He fits a couple of key criteria for them: he is a very good power play guy (much like Mathieu Schneider, who they picked up at the deadline last year), he is a cheap guy who's entering the final year of a front loaded contract, and he is a veteran presence that can help mentor some of the younger guys on this team.
One thing working against the idea of Souray heading to the Valley is simply their ownership situation. While Hulsizer will probably be in place before the February 28th deadline, the team is still not one that is willing to make risky moves with their money, and even though Souray's real salary isn't that much for next year, it still ranks as a huge chance on the Coyotes' radar.
Honestly, the team should just go ahead and do it, for this reason: they don't really NEED Souray, but he would be a nice complimentary piece. He could really help captain their power play if he can regain some of the form that he's lost over the past few seasons, and while that's a big if, it's a risk that this team should be willing to take.