The other day a buddy and I were chatting about some of the various decisions the Toronto Maple Leafs had made in regard to the NHL Draft and the early stages of NHL Free-Agency. The discussion was fairly positive, and in the end, we both liked the general direction and feel for the Blue & White. My friend is a goalie, and over the course of our conversation, he asked me my opinion about the future of James Reimer in Toronto. Of course, I told him he'd have to read it on THW like everyone else, but essentially I said there were three potential scenarios for the immediate future of James Reimer pertaining to the Toronto Maple Leafs:
Maple Leafs Trade Reimer before Arbitration Date:
I doubt this scenario will unfold for a few reasons; With no specific insight or knowledge that isn't already available for public consumption, I get the impression that the Toronto Maple Leafs are quite content to have James Reimer backing up Jonathan Bernier for the season. From the club's perspective, there is no real urgency to trade the goalie. Just because Reimer asked for a trade doesn't mean the team has to comply, and there's nothing to suggest the Maple Leafs will make a bad deal just to get JR out of the room. Secondly, there is a time crunch in getting a deal done before arbitration. The arbitration date issued for the Reimer-Leafs negotiation is scheduled for July 28th, leaving the Maple Leafs brass with a little more than a fortnight to make a deal.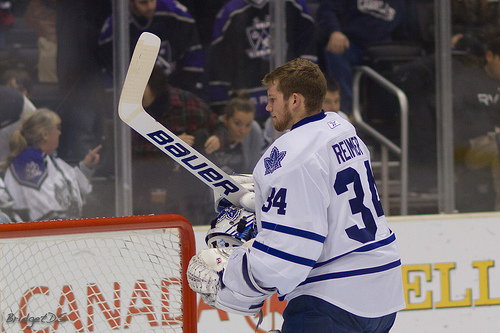 That's not an impossible timeline to work on, but it certainly does put unnecessary stress on Leafs management making any potential transaction. I do think that the Maple Leafs could very well trade James Reimer this year, but I'd only expect that to happen when Toronto can get a deal that they're comfortable with. In trying to deal Reimer before his arbitration date, the Leafs are working from a position of weakness. Shanahan and Nonis won't deal Reimer until they're able to do so from a position of strength and leverage over other teams. And that opportunity is unlikely to present itself before July 28th.
Salary Arbitration…Starts year in Toronto…Traded midseason:
Should the Toronto Maple Leafs and James Reimer end up in salary arbitration, there's one other scenario I could see unfolding. It seems pretty plausible that the Maple Leafs would accept the arbitrators ruling (expected to be over $2-million), but still continue to look for potential trades centering on Reimer. Personally I don't think the mend in the Leafs-Reimer relationship is beyond repair, but the goalie has been pretty vocal about his desire to be a starter, even if it means a change of scenery.
James Reimer's trade request should come as no surprise. He believes he's a #1 and wants a fresh start to prove that.

— Darren Dreger (@DarrenDreger) June 30, 2014
And we all remember what Randy Carlyle said about James Reimer.
I expect Reimer to open camp with the Maple Leafs, but don't be surprised if the Leafs continue to shop around for a trade, sending the disgruntled goalie out of town. Potential landing spots for Reimer could include Buffalo, Minnesota, Ottawa, San Jose, Washington, and Winnipeg.
Salary Arbitration…Reimer stays for 14/15 season…Becomes UFA: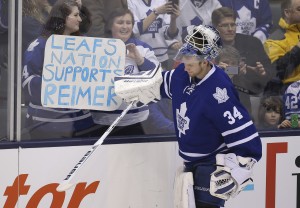 This is probably the most realistic situation. James Reimer has already field for salary arbitration, so it's pretty obvious he feels he should earn more than the $1.6-million qualifying offer tendered by the team. Popular opinion suggests that in arbitration, Reimer would likely be awarded north of $2-million. With a lack of immediate NHL ready/proven goaltenders in the system and with the departure of Drew MacIntyre, the Maple Leafs aren't exactly in a position to walk away from the arbitrator's ruling, even if it is more than the team is willing to pay Reimer. Now if the Maple Leafs were to go out and sign, say a French-Canadian veteran UFA goalie who's a sure fire future hall-of-fame'r, well than that changes things a little bit. But with a very shallow pool of UFA goalies available, and without a viable goaltending prospect ready for the NHL (even as a back-up), it seems as though the Toronto Maple Leafs and James Reimer will be spending another season together. But in this scenario don't expect him to be here beyond 2014/15, because in this situation Reimer plays out the year and then becomes an unrestricted free agent.
What will the future hold for James Reimer? We'll just have to wait and see.