There are several Arizona Coyotes prospects who are primed to make a jump into the NHL straight out of training camp.
As a small market team that operates well below the salary cap, the Coyotes are almost always unable to afford the league's top free agents. This means that the majority of their talent must come from within the system.
As the Coyotes' Development Camp closes today, General Manager Don Maloney and Coach Dave Tippett will have a few months to think about which prospects they want to consider for promotion to the NHL.
Max Domi (LW) 5'10", 200 lbs.
It's no secret that Max Domi is the top Arizona Coyotes prospect. After being drafted 12th overall last year, his performance in training camp nearly earned him a spot on the roster. However, the front office wisely sent him back to the OHL last season.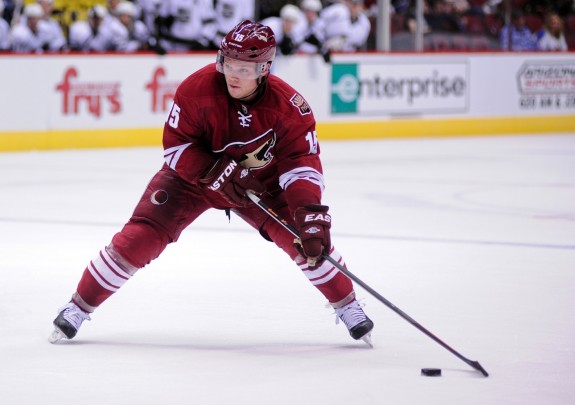 Domi's style of play relies more on speed and high-end talent than physical aggression. He uses his unbelievable speed and above-average hockey-IQ to make plays all over the ice. This is what makes him such a dangerous offensive threat. Despite his relatively small size, he can freeze defensemen and blow right by them towards the goal.
His scoring prowess is what has drawn so much excitement from the team. Fans and opponents alike will know every time that Domi is on the ice. His speed and hockey intelligence give him the ability to  It has been years since the Coyotes have rostered a player with as much offensive potential as Domi.
The offseason loss of winger Radim Vrbata means that the team will need to find extra firepower if they wish to remain competitive with the rest of the Pacific Division. The odds of Domi making the NHL out of training camp are very high simply because the Coyotes are in such dire need of offense.  
Henrik Samuelsson (RW) 6'3″, 208 lbs.
Henrik Samuelsson is another one of the Arizona Coyotes prospects whose father was an NHL tough-guy. He was spent his formative years learning how to play at the Ice Den in Scottsdale.
Samuelsson's offensive value comes from his ability to play the game as a power forward. His skills are a great complement to Domi's speed and finesse. Although he has played as a center throughout his career, it is very possible that the Coyotes transition him to one of the wings.
Last season was Samuelsson's second consecutive standout year with the Edmonton Oil Kings. He centered their first line and was team's top scorer. Despite his high scoring potential, critics are worried about his skating ability.
Henrik Samuelsson's potential is incredibly high, but his ceiling for this season is severely limited due to his skating ability. Even though he has the skills to eventually become a Top-6 winger, he will be competing for a spot on the bottom lines.
Although the Coyotes are in dire need of offense, Maloney might choose to keep Samuelsson in the AHL this season. He needs to learn how to play against bigger and faster competition. His confidence should be at an all time high after winning the Memorial Cup. A dominating season in the AHL should allow him to ride that wave onto the Coyotes roster next year.
Lucas Lessio (LW) 6'1″, 200 lbs.
Lucas Lessio was drafted in the 2nd round of the 2011 NHL Draft. It has taken him a couple of years to develop his game to the professional level, but he seems primed to make the jump into the NHL.
Lessio's main strength is his ability to move the puck around and score. He is a relatively fast skater with silky smooth puck skills and a high level of hockey intelligence. One of the most promising aspects of his game is that he mixes a finesse game with power hockey.
His size allows him to play a physically aggressive game with flashes of offensive brilliance. Despite several lingering injury issues in the OHL, he was a point-per-game player. Last season was his first full season since 2011012. It was also his first experience with professional hockey. Apparently he did not need much of a learning curve because he still scored 54 points in 69 games.
Lessio has a very good chance of making the Coyotes roster due to their lack of depth at the left-wing position. His presence on the ice would add an immediate boost of offense. 
Tyler Gaudet (Center) 6'3″, 200 lbs.
Tyler Gaudet is one of the more intriguing Arizona Coyotes prospects. He went undrafted and was signed by the Coyotes early last season. His breakout performance with the Soo Ste. Marie Greyhounds caught the attention of the Coyotes scouting department who quickly signed him to an entry-level contract. After the OHL season, he played two games with the AHL Portland Pirates.
Gaudet projects to be a center on the bottom lines of the roster. He plays with an aggressive chip on his shoulder that should fit right into the Dave Tippet system. Although he has not shown the scoring ability of Domi or Samuelsson, he is responsible defensively and can produce a significant amount of offense.
The Coyotes have a lack of depth at the wing, but they have several centers who can play bottom-six roles. Kyle Chipchura, Rob Klinkhammer, and Joe Vitale can all fit into the slot that Gaudet is competing for.
The most likely scenario for Tyler Gaudet is that he returns to the AHL. Gaudet's development should not be forced. He cannot be expected to jump directly from the OHL onto the grinder lines of a team in the Pacific Division. The Coyotes should give him time to acclimate his game to the professional level and then promote him when the timing is more appropriate.
Final Thoughts
For the first time in several years, there are several young Arizona Coyotes prospects who can realistically earn a spot on the roster. Don Maloney has left several slots wide open for competition.
Domi, Samuelsson, Lessio, and Gaudet should all be invited to Coyotes training camp this Fall. A lot will ride on how they perform during those few short days.