Just because the NHL season has come to an end, doesn't mean that there isn't anything newsworthy going on.  In this day and age of technology, more and more fans are turning to social media for breaking news and updates about their favorite teams.  News comes fast and furious.  It is in very high demand.  Because of this, the presence of dynamic social media is that much more important.  What can sometimes get lost in the shuffle is knowing where to go to get breaking news and updates.  It's for this reason that we have decided to provide you with a comprehensive listing of different Columbus Blue Jackets related social media outlets that provide fans with the most up to date perspective.  Columbus does a tremendous job with this aspect.
The news does tend to be a little lighter than normal in the summer.  However, updates can happen at anytime.  There are contracts being negotiated. There are player evaluations being done during both development and training camp.  Listed below are the must follows when it comes to keeping up to date with all things Blue Jackets.  If you have any suggestions of good follows, let us know!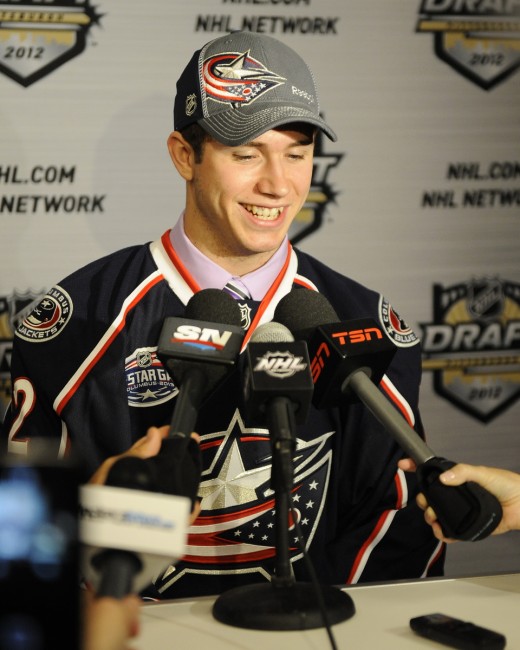 The Columbus Dispatch
As the main traditional newspaper provider in Columbus, The Dispatch provides world class coverage of the team.  The coverage is led by long time Beat Writer Aaron Portzline.  He has been with the Blue Jackets since they came into existence in 2000.  He does an excellent job getting the inside scoop and asking the tough questions.  He has a blog called Puck Rakers which helps keeps fans informed of team news.  He also has a weekly online chat and a podcast which is called Cannon Fodder.  Portzline is also joined at The Dispatch by Reporters Shawn Mitchell and Michael Arace.  Together, they do a great job keeping fans informed and in the know.
#CBJ talks w RFA Ryan Johansen have not progressed beyond initial offers from each side. They're galaxies apart on term / money. #stilljuly

— Aaron Portzline (@Aportzline) July 8, 2014
 Columbus Blue Jackets
The team website for the Blue Jackets is always packed with news, updates, videos, and so much more.  If fans missed anything, this website is the place to go.  The Blue Jackets in the summer do a show called CBJ in 30.  It gives fans the chance to ask questions of Radio Play by Play Man Bob McElligott by using Twitter.  Below is an episode of CBJ in 30.  One of the more underrated writers is on the site.  Rob Mixer gives live game updates as well as other newsworthy material.  It is a must to visit this website.
Fox Sports Ohio
Fox Sports Ohio is the exclusive local television home of the Columbus Blue Jackets.  Calling the Play by Play is long time broadcaster Jeff Rimer.  Joining him this year will be former Blue Jackets player Jody Shelley.  They do a nice job of bringing the game as though you were in the stands.  Shelley can be seen often between the benches on the telecast, giving the broadcast a new perspective of the game.  When the game is not on, Fox Sports Ohio has a great team of writers led by Rick Gethin and Alison Lukan keeping fans informed.  They also do a nice job of taking fans behind the scenes and bringing in a different perspective.
Jarmo Kekalainen shared that #CBJ development camp helps establish that Blue Jacket identity off ice and on.

— Alison (@AlisonL) July 10, 2014
 Springfield Falcons
The Falcons are the main AHL affiliate of the Columbus Blue Jackets.  This year's roster is going to be very young, but very talented.  They can be followed on their main homepage, or on their Twitter account.  Mike Kelly is their Director of Broadcasting, and is a great follow for Falcons related news.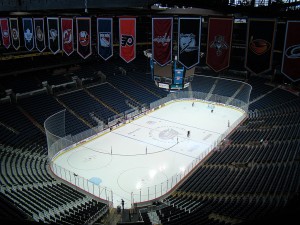 Other Follows
Blue Jackets fans have many other resources available to them for different angles of the team.  Whether it is The CBJ Artillery connecting fans, or DKM Hockey offering great (and funny) insight on their podcast, or various accounts such as The Union Blue, Union and Blue, or Reddit informing fans, there is something for everybody.  I haven't even mentioned Arch City Army bringing the environment to Nationwide Arena, or the Jacket Backers who are all over the community volunteering, and taking road trips to see the Blue Jackets play.  No matter your taste, there is room for you somewhere.
When it comes to social media surrounding the Columbus Blue Jackets, the fans are the biggest priority.  The connection between the fans and the City of Columbus is a close one.  Social Media ensures that this connection stays close.