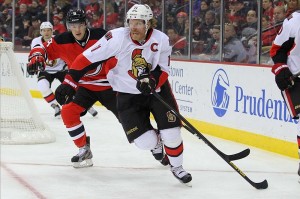 It's no question that this upcoming offseason will be an interesting one for the Ottawa Senators. With over twenty-two million in cap space available next season, the Senators have the ability to make a major splash come July 5th.
The Senators have sixteen players that need to be resigned and it's likely we will not see some of them back with this organization. With Ottawa being so close to the contract limit they will have to be careful with whom they sign and resign. Below are nine of the sixteen UFA's and RFA's on the Ottawa Senators current roster and my opinion on whether they stay or go.
Daniel Alfredsson – Stay
Whether or not Daniel Alfredsson returns next season will be the biggest story for the Ottawa Senators going into the summer. While he is certainly getting up there in age, his compete level and willingness to win is as high as ever. He has been a crucial part of the Senators this season providing much-needed offense and is one of the best leaders in the National Hockey League. With the Winter Olympics happening next year in Sochi and a Winter Classic happening between the Vancouver Canucks and the Ottawa Senators, it would make sense to see Alfie come back for one last season. With the Senators expected to have a very strong team next year, one would think Alfie comes back for one last chance at the Stanley Cup. If Alfredsson wants to play, he will.
Guillaume Latendresse – Stay
Latendresse has been an important player for the Senators this season. While not providing the offense that was expected of him, he has the ability to play on all four lines and can chip in with a key goal every once in a while. He has looked his best this season on a line with the two rookie Swedes, Mika Zibanejad and Jakob Silfverberg.  While not necessarily the most physical player on the team, he works hard along the boards, wins battles, and scores the majority of his goals in front of the net banging home rebounds. If he can stay healthy, he has the potential to be a good complementary winger on the second line or a great player to have in the bottom-six.
Peter Regin – Go
Peter Regin has had a season to forget. After a strong campaign in 2010, Regin has failed to produce consistently and has really lacked confidence. It's a shame a player with such a high skillset as Regin wasn't able to find his game. It seemed as though anytime it looked like he was regaining his stride he would get injured. If there weren't so many players competing for a limited number of spots on the Senators roster, then Regin would most likely be given another chance.
Mike Hoffman – Stay
Mike Hoffman has not only had a fantastic season in Binghamton, but he looked really solid in the three games he played with the Ottawa Senators recently.  Currently injured, it will be interesting to see where he fits into the team next season.  His potential is that of a top-six winger and his best asset is no doubt his speed. If he can refine his defensive game and generate offense consistently in the NHL, then he will be an important part of the Senators for years to come.
Erik Condra – Stay
Erik has established himself as one of the best penalty-killers in the National Hockey League. While he lacks in the offensive department, he's your prototypical fourth-line winger. Erik has been one of the big reasons why the Ottawa Senators penalty killing has been so successful this season. He is second amongst forwards on the Senators in takeaways as well as shots blocked only behind the captain, Daniel Alfredsson. Bryan Murray will resign Erik Condra because he is an important piece of this hockey club and brings so much more to this hockey club then offense.
Sergei Gonchar – Stay
It wasn't too long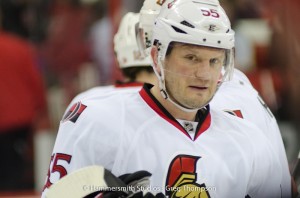 along ago Senators fan were booing Sergei Gonchar at Scotiabank Place. That has definitely changed this season as Gonchar has been Ottawa's best defenseman since the Erik Karlsson injury at the start of the season. He has been a great mentor this season for young Patrick Weircioch and shown he still has some gas in the tank. If Gonchar is resigned, it will most likely be short-term because of the amount of NHL-ready defenders the Ottawa Senators have in the minors.
Mike Lundin – Go
Out of all the restricted and unrestricted free agents the Ottawa Senators have, he will be the easiest to let go. Lundin has played eleven games this season and likely will not play anymore. With one point on the year and the emergence of Patrick Wiercioch, Eric Gryba, and Andre Benoit; it's almost a guarantee he will not be back. He is a victim of the amazing organizational depth this team has and has done anything to warrant another contract from the Senators.
Patrick Wiercioch – Stay
A year after a near career ending injury, Patrick Wiercioch has been one the Ottawa Senators biggest surprises this season.  Fifth on the team in points, nobody was expecting such high offensive production from the rookie this season. He will be an important fixture on the Senators blueline for seasons to come and will drastically improve the teams powerplay as he matures over time. While not great defensively, he still has tons of time to work of his defensive game and learn to use his size more effectively.
Andre Benoit – Go
Benoit has had a very good season for the Ottawa Senators but plays victim to the numbers game. The Senators have too many defensemen as it is, and it appears that Benoit is the odd man out. While it's unlikely he gets a contract with the Senators, he will likely be in the NHL next season as he has proved he can play at this level.