TAMPA, Fla. — Rookie Brady Tkachuk had a goal and an assist, and Ryan Dzingel scored a tiebreaking goal during Ottawa's four-goal third period as the Senators rallied to beat the Tampa Bay Lightning 6-4 on Saturday night.
Matt Duchene, Bobby Ryan, Colin White and Mark Stone also scored for the Senators. Craig Anderson stopped 24 shots.
Mathieu Joseph had two goals and an assist for the Lightning, and Victor Hedman scored in his return from an injury. Braydon Coburn also scored and Andrei Vasilevskiy made 28 saves.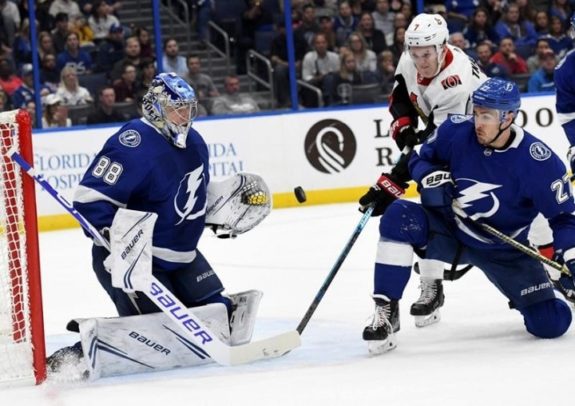 Tkachuk, the No. 4 overall pick in the 2018 draft, was credited with his fourth goal of the season when Lightning defenceman Dan Girardi's clearing attempt near the goal line wound up in the net early in the third.
The 19-year-old Tkachuk assisted on White's tying power-play goal at 8:41. Dzingel made it 5-4 from the low left circle with 9:30 left, and Stone added a power-play goal during the final minute.
Joseph put the Lightning up 4-2 from the right circle at 14:32 of the second. The rookie forward also scored his first career goal against Ottawa on Nov. 4.
Hedman, who missed seven games with a shoulder injury, tied it at 2 by splitting a pair of defenders skating in from the right wing boards and scoring a power-play goal from the slot just 39 seconds into the second.
Related THW Content – Senators' Weekly: Goaltending, Borowiecki & More
Tampa Bay went up 3-2 when Coburn's soft, knuckling shot from the blue line eluded Anderson with 10:45 left in the second.
The Senators needed just three shots to take a 2-0 lead 7:21 into the game.
Duchene had a wraparound goal at 4:58 before Ryan made it 2-0 on a rebound 2:23 later.
Joseph had his shot at 8:49 of the first go off Ottawa defenceman Thomas Chabot and in.
NOTES: Lightning D Anton Stralman and LW Adam Erne were scratched with upper-body injuries. … Tampa Bay C Brayden Point, struck in the face by a puck Thursday, played. … The Senators played their 1,000th road game.
UP NEXT
Senators: Play at Florida on Sunday.
Lightning: Start a four-game trip Tuesday night at Buffalo.
Mark Didtler, The Associated Press