This time five years ago, the Ottawa Senators were embarking on what would become a two-and-a-half month journey to the Stanley Cup Finals. That year – 2006-07 – they comfortably made the playoffs, finishing fourth in the East. The team came three wins away from winning the Stanley Cup, and memories from that run still populate Ottawa's consciousness. This year, rather than easily securing a playoff spot, the Senators had to back into the NHL's second season, losing their last three games and winning just four of their last 10. Though, it must be said, the team still surpassed expectations in what was expected to be a rebuilding year.
Because of that idea that the Senators snuck into the playoffs this year, and partly due to the fact that the team was in its early stages of rebuilding,
media and hockey fans alike expect the Senators to give the Rangers little trouble. No, they are not quite the 2006-07 team that went all the way to the finals, but are they really that far off?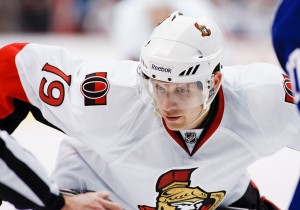 First line
Colin Greening-Jason Spezza-Milan Michalek vs. Daniel Alfredsson-Jason Spezza-Dany Heatley
Obviously, it's pretty hard to top the 07′ top line of Alfie, Spezza and Heatley, but this year's top line isn't that far off. Spezza has had a tremendous year; in fact, he's even been mentioned in Hart Trophy talks. With a better commitment to defense this year, he's just as good, or perhaps better than he was in 07. On the wing, Milan Michalek isn't quite the goal-scorer Heatley was in 07, but he's put up respectable goal totals this season, and he's a better all-around player than Heatley. Of course, Colin Greening isn't anywhere near the player Alfredsson is, but at least he brings a bit of grit to the top line, something that 07 line lacked. Which line would you prefer? Of course it'd be the Heatley line, but this year's top line packs a solid punch as well.
Second Line
Nick Foligno-Kyle Turris-Daniel Alfredsson vs. Peter Schaefer- Mike Fisher-Mike Comrie
Mike Fisher was at his best in 07, and while he was certainly more established at that point than Kyle Turris is now, in terms of offensive skill the two are fairly equal. Fisher had above-average shutdown abilities, but Turris isn't incompetent in his own end. You would perhaps take Fisher over Turris, but on the wing, it's a different story. Yes, it's hard to remember Peter Schaefer being a decent hockey player, but he was at least adequate on the wing for the Sens back then. Despite that, Nick Foligno has proven to be a pretty consistent player for Ottawa, and he provides a bit more than Schaefer did. And Alfredsson, even in his advanced age, is far superior to the 07′ Mike Comrie.
Third Line
Zack Smith-Jesse Winchester-Chris Neil vs. Antoine Vermette-Chris Kelly-Chris Neil
This year's third line brings quite a bit more energy and grit, but that's about it. Vermette and Kelly were a fairly good shutdown pair on that line, and Neil was a great agitator, and still is. The 07′ line, of course, could also score, and there's no question they have more offensive ability than this year's line. That said, if Smith and Neil are at their best, this year's checking line could be a pain.
Fourth Line
Erik Condra-Jim O'Brien-Kaspars Daugavins vs. Christoph Schubert-Dean McCammond-Patrick Eaves/Oleg Saprykin
The 07′ line wins, well, just because I had to pick one. They brought a bit more experience, but in terms of of skill, both lines lack it. Jim O'Brien has improved leaps and bounds this year, and has been heralded for his defensive work, but lacks any offensive finish, and Condra and Daugavins leave a lot to be desired. Again, the 07′ line wasn't much better.
Defense 1
Filip Kuba-Erik Karlsson vs. Chris Phillips-Anton Volchenkov
Phillips and Volchenkov were one of the better shutdown pairs in the league that year, if not the best. Both were at the top of their game and complemented each other quite well. Despite the fact that Kuba and Karlsson provide much, much more offense, and that Karlsson has emerged as a Norris candidate, the Phillips and Volchenkov pairing has the advantage here.
Defense 2
Jared Cowen-Sergei Gonchar vs. Wade Redden-Andrej Meszaros
It's hard to imagine the better pairing being the one that has Wade Redden, but there was a reason he was offered a massive deal by the Rangers. He was a good defensema. Really, he was! This one isn't that close, but Cowen has looked great at times this year, and Gonchar has played much better than last season.
Defense 3
Chris Phillips-Matt Gilroy vs. Tom Preissing-Joe Corvo
Phillips looks like he's lost a step this year, but he's still a perfectly adequate 5-6th defenseman, and Gilroy can skate with the best of them. That said, the Preissing and Corvo pair worked fairly well for the Senators that year. The 07′ defense group as a whole was better and certainly more solid, but this year's is different. They provide quite a bit more offense than the 07′ group could, and if Paul MacLean can keep the youngsters composed, they won't be that far off.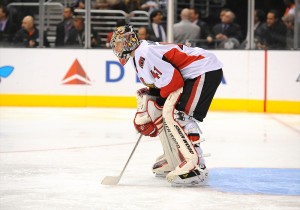 Goaltending
Craig Anderson vs. Ray Emery
Probably not a popular belief, but I don't necessarily think Emery was that impressive. He was a decent goalie, sure, but he certainly had the benefit of a much better defense than Anderson has now. And it's not as though Anderson hasn't been there. He almost single-handedly beat the Sharks while he was with the Avalanche in the first round of the 09-10 season, and he's had a very solid season this year – he's won games for Ottawa that they've had no business winning, and is perhaps the biggest reason this team made the playoffs.
On most occasions, you'll take the 07′ line, but on the whole, there's not a whole lot of disparity. No, the 2011-12 Senators might not be a Cup contender yet – they may even get swept in the first round – but it certainly looks good going forward. When you think about it, they're really not that far off from the team that captivated the nation's capital in the 07′ playoffs.