Move over Sid, because Ovechkin's found a new match with Big Z and the Boston B's.
The series between the Boston Bruins and Washington Capitals is going to reveal itself as more of a match between the slick offense of Alex Ovechkin and the 6'9'' wall of D that goes by the name Zdeno Chara.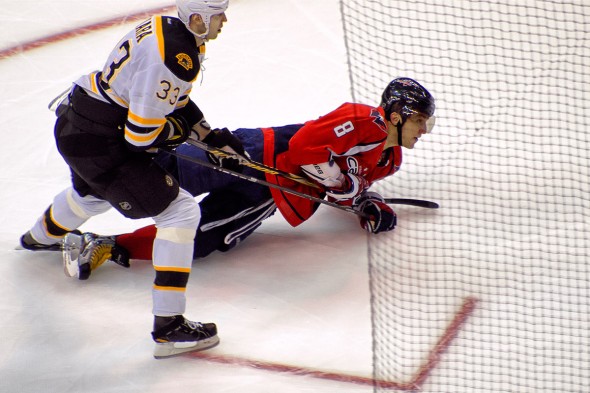 This week Ovechkin claimed that he "loved" playing against the 255-pound defenseman. Chara returned the pleasantries when asked about playing Ovechkin saying "it's something that motivates me". So the feeling's mutual. They love playing each other and respect the hell out of one another, but when Alex added, "it's going to be fun," I'm just not sure he chose his words wisely.
Fun may be a stretch for the snake-bitten goal scorer who is coming off a season in which he scored the fewest goals in his career. But the playoffs present a blank slate for the former Art Ross Trophy winner. In order for Ovechkin to get back on track he doesn't have an easy start peering down the ice…and looking up at Chara who looms seven inches above him.
If the regular season series holds true these two will be grand marshalling a hit parade. During the regular season Ovechkin had 11 hits in just three games, while Chara popped the Caps 15 times in four games this season.
But where it counts – on the scoreboard, there's no winner. Chara and Ovechkin were both blanked in the matchups this season and in fact Ovie hasn't scored on the Bruins since November 5th 2010 and Chara not having scored on the Caps since October 21st 2010. These are two droughts that will undoubtedly be ended in this playoff series…we hope.
The Washington Capitals have had trouble finding the net with their fewest goals as a team since the 2003 season. Over in Boston the team has allowed the second-fewest goals against behind the conference leading New York Rangers. For Washington to have any success in this series Ovechkin will have to first get past Chara and then get the puck by last year's playoff MVP Tim Thomas. The Bruins maintain a tight defense, but don't get the wrong idea, they can score too, which is bad news for 22-year-old Braden Holtby who will be playing his first NHL playoff game in this series, only having played  a total 21 NHL games.
There's not a whole lot in common between Chara and Ovechkin who have proven themselves as the antithesis of one another with Ovechkin being a blueline invading force and Chara having the ability to knock pucks off sticks and knock bodies onto ice, they do have one thing in common. They both love a unique beverage during the game, check it out:
Boston and Washington city area waitresses be advised, don't ask – "is Pepsi okay?"
Matt Stephen is a writer, not a fighter. He is both a beer and fantasy league veteran and has written about hockey online and in print for The Hockey News. He now covers the spectrum from the White House to Mike Green. He carries a picture of Ovechkin in his wallet.