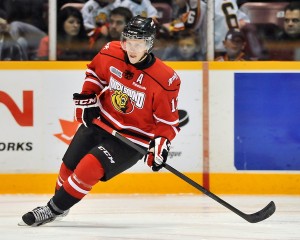 The Grimsby, Ontario native was once living the dream of potentially becoming a National Hockey League player. However a serve concussion has largely derailed the dream. That reality is starting to set in for Jarrod Maidens as the Ottawa Senators rights to him are set to expire without a contract offer.
Rising prospect
For the 2009-10 season Jarrod Maidens impressed with 104 points in 57 games with the Hamilton Jr. Bulldogs at the AAA level within the Ontario Minor Hockey Association. The Owen Sound attack liked his potential to the point that they drafted him fourth overall in the 2010 Ontario Hockey League Priority Selection Draft.
At the age of 16 he began his OHL career with the Owen Sound attack but only managed to see action in 47 games while putting up a respectable 21 points. The thrill of his year and quite possibly his entire on ice career to date was when he scored the overtime winner in game seven of the OHL's Championship Series which would also earn the Attack a place in that year's Memorial Cup Tournament.
Unfortunately he was limited to the 47 games total in the regular season due to a nagging hip injury, which was a bad omen for things to come. This injury held him out of playing for Team Ontario in the under 17 World Hockey Challenge.
The beginning of the end?
With a full year of hockey in the OHL and a clutch goal in the OHL Championship series Jarrod Maidens was expected to be a key contributor moving forward. There was also a great deal of buzz surrounding his potential to be a first round pick in the 2012 NHL Entry Draft depending on his performance.
Unfortunately he suffered a severe concussion that limited him to 28 games and he has not played in the OHL again since November 30, 2011. In those 28 games he did put up 23 points, so he was showing development from the year prior.
The Ottawa Senators still accepted the risk of drafting him by using the 82nd overall choice to select Jarrod Maidens. From Hockey's Future:
"There isn't much question about the talent level of Maidens.  He is a hard-working forward with good size who also possesses some offensive ability.  The problem is that Maidens suffered what was thought to be a season-ending concussion in 2011-12 that ended his season after 28 games.  The severity of his injury could leave Maidens vulnerable to more concussions that could inevitably cut short his hockey career.  The Senators have taken the risk in drafting Maidens, but they might be rewarded if he can stay healthy."
At the time of his draft he was projected with the potential to be a solid third line center who could step into the second line spot in a pinch. Essentially a player along the same skill set as Brandon Sutter of the Pittsburgh Penguins.
His 2012 Draft Prospect Profile from The Hockey Writers:
"Analyzing Maidens' hockey skills has become difficult given his limited playing time but drawing off of his strong OHL Championship run and strong Ivan Hlinka tournament it is easy to see what attracts scouts. Maidens is a big pivot, also capable of playing the wing, that possesses strong puck possession skills using his reach and body to shield the puck.

He is a strong positional player that reads the ice well in all three zones. Blessed with a terrific shot that features a hair-trigger release and pin-point accuracy, Maidens has the ability to score from any location. He will need to bulk up his lanky frame but the Grimsby native certainly has a knack for driving the net, a skill that will serve him well at the next level."
Road to recovery
After struggling for over a year it was identified in December 2012 that Jarrod Maiden's neck was the cause of his continuing symptoms. At that time he began exercises to strengthen his neck to the point that he was able to participate in the Ottawa Senators Development Camp in July 2013. This was a tremendous step forward for him.
He then planned a return to the OHL's Owen Sound Attack and attended training camp in September 2013. However not long into his time there his symptoms returned and forced him off the ice again. He once again missed the entire season. Now Jarrod Maidens is essentially three and a half years behind in his development.
What does the future hold?
Scott Radley from the Hamilton Spectator had the chance to discuss his injury and is future.
"It's definitely a hard test at times," Maidens says. "But nobody goes through life without any challenges."
It appears that the Ottawa Senators have decided to move on from Jarrod Maidens and let his rights expire this off season. Unfortunately it does not appear that he will recover to the point to resume his hockey career on the ice.
Many are hoping that he will be able to continue his on ice career. However that does not appear to be in the stars for him. However from all I have read he appears to be a young man with his head on straight. If his playing career is truly over he will find another path.