The New York Rangers have won two consecutive games since Artemi Panarin returned from a lower-body injury. In both games, he was the best forward on the ice and he delivered big plays when the Blueshirts needed someone to step up and produce offensively. In the two games he missed, the Rangers combined to score just two goals and lost both games in regulation.
Panarin's Play Since Returning
The Rangers had lost four consecutive games when Panarin returned to the lineup against the Philadelphia Flyers on Thursday. They were falling into a deep hole in a very tough division and desperately needed to snap their losing streak. Despite losing all three games they played against the Flyers last season, the Rangers played well but struggled to score in their first matchup this season.
Panarin immediately helped create scoring opportunities with his quick hands and great vision. He helped give their lifeless power play some energy but he had bad luck as he hit the post. However, with the score tied at one he made a great backhand pass that set Brendan Smith up for a tap-in goal to give the Rangers a 2-1 lead. The game went to overtime and Panarin once again hit the post. However, he finally broke through with a shootout goal, which lifted New York to a victory.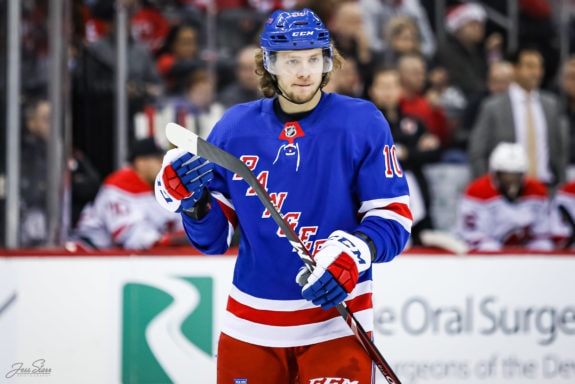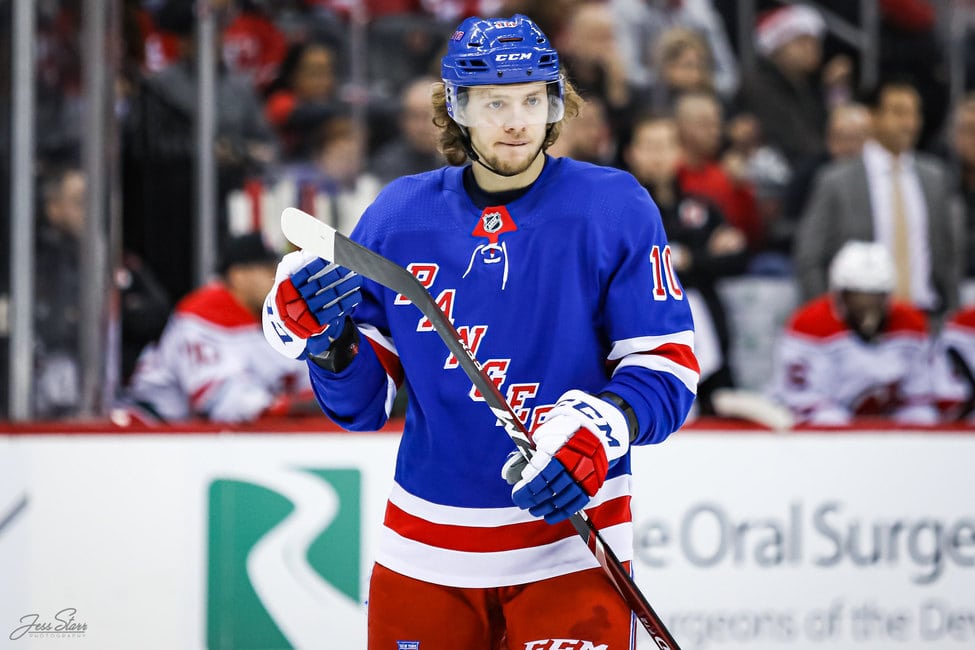 In Panarin's second game back, David Quinn, the Rangers' head coach, decided to play him with Mika Zibanejad and Alexis Lafreniere, who were both struggling. Panarin got the Blueshirts an early lead against the Washington Capitals when he got a shot through traffic on the power play, which created a tap-in goal for Chris Kreider on the rebound. Later in the game, he made a cross-ice pass to set up Lafreniere, who scored to make it 2-0. The Rangers won the game 4-1.
In both games, Panarin made sharp passes, was very strong on the puck and involved in the forecheck. Even though he is known for his skill and had just returned from an injury, he wasn't afraid to go to the front of the net and he won battles for the puck from bigger opponents. The Rangers looked much more confident with him back in the lineup.
Rangers' Offensive Struggles
Despite playing very well in their last two games, the Rangers have struggled to produce offensively and have relied heavily on Panarin, who leads New York in goals with five and in assists with 13. The most glaring issue has been the disappointing play of the team's centers. Through 16 games Mika Zibanejad has just four points and two of them have come on empty-net goals.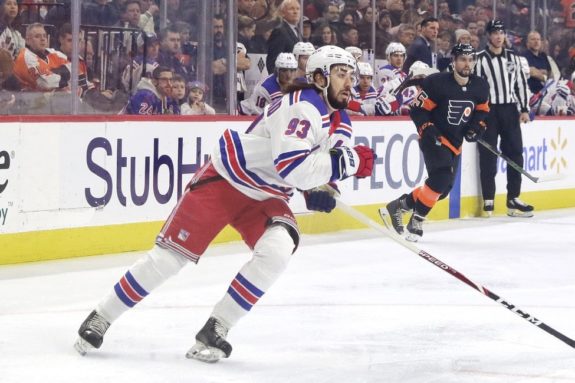 Ryan Strome has nine points but has been helped by spending the majority of the season playing on a line with Panarin. Brett Howden, who had an opportunity to step up with Filip Chytil injured, has no goals and just two assists this season. In addition to their struggles to produce points, the Rangers are second to last in the NHL in faceoff percentage, at 45 percent.
In addition to their issues at center, the Rangers haven't gotten much offense from their defensemen this season. No defenseman has more than one goal and Adam Fox, who has seven points, is the only defenseman on the team with more than four points. Despite producing less offensively than last season, New York's young defensemen (Fox, Ryan Lindgren and K'Andre Miller) have been excellent and the team has played better defensively so far this season.
Moving Forward
Panarin has been brilliant and the Rangers are trending in the right direction offensively, but they need much better play from their centers, especially Zibanejad. His slow start has also hurt wingers Lafreniere and Chris Kreider, who have spent a lot of this season playing on a line with him. Chytil, who has been out since late January with an upper-body injury, could also give the Blueshirts a boost at center. At the time of his injury, the team announced he would be out four to six weeks.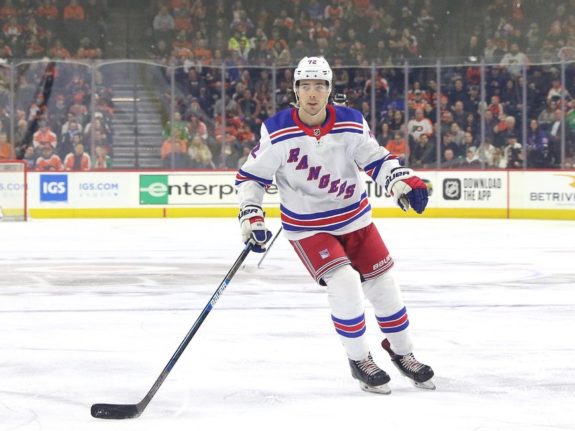 On defense, the Rangers don't have anyone on their roster who will replace the offense Tony DeAngelo provided last season, but overall the team's defensemen have done a nice job this season. In the coming years, their young defensemen should continue to develop and improve offensively. Additionally, the Blueshirts have skilled defensemen like Nils Lundkvist and Zac Jones in their pipeline.
While the future looks bright, right now the Rangers are going through a rough stretch and facing adversity. With the team under pressure, Panarin has stepped up for them and has given the Rangers some momentum. Now the Blueshirts need the players who have been slumping to raise their game to keep that momentum going.
---
---
I grew up in Brooklyn, New York, rooting for the Rangers, Yankees, Giants, and Knicks. When my dream of playing shortstop for the Yankees fell short, I started writing about sports instead. I'm a proud graduate of the Philip Merrill College of Journalism at the University of Maryland.