The New York Rangers got off to a slow start this season, in large part due to the struggles of their centers. While Ryan Strome has started to heat up over the past four games, star center Mika Zibanejad is still struggling to find his game. Due to the team's lack of depth at center, coupled with Filip Chytil's injury, the Rangers have to rely heavily on Zibanejad, and they will not play to their full potential unless he returns to form.
Zibanejad's Excellent 2019-20 Season
Entering this season, the Rangers had high expectations for Zibanejad given his tremendous performance during the 2019-20 season. Since joining the Blueshirts in 2016, he has steadily improved, developing into a star. He finished with 30 goals and 44 assists, playing in all 82 games during the 2018-19 season.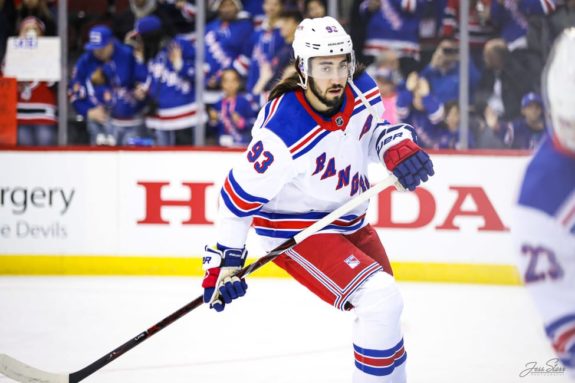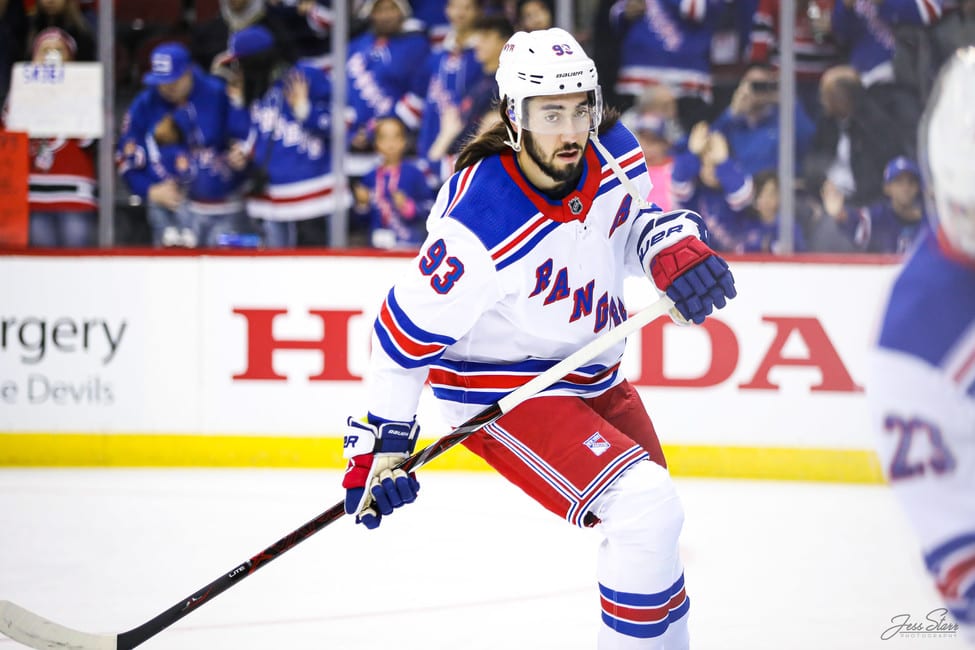 Last season, Zibanejad got off to a hot start, including scoring a hat trick on the road against his former team, the Ottawa Senators. However, he suffered an injury in the Rangers' ninth game of the season, which slowed his momentum and kept him out for a month.
Zibanejad scored in his first game back and didn't show much rust after returning. He helped boost the play of his linemates, Chris Kreider and Pavel Buchnevich, while also excelling on the power play. He used his size, vision and powerful shot to become a threat every time he touched the ice. He was also excellent defensively, playing a key role on the penalty kill.
Starting in February, Zibanejad went on a tear, as he scored 21 goals and added 11 assists in the Blueshirts' final 19 games of the regular season. He put on one of the most spectacular individual performances in franchise history when he scored five goals, including the overtime winner in a game against the Washington Capitals.
No one in the NHL was hotter than Zibanejad when the season was suspended due to the coronavirus pandemic. Overall, he finished with 41 goals and 34 assists in just 57 games last season, as he helped the Rangers make their first playoff appearance in three seasons.
Zibanejad's Slow Start this Season
Prior to this season, Zibanejad tested positive for coronavirus and missed the first week of the Rangers' training camp. He was questionable for the season opener as he tried to ramp up his conditioning but played anyway. The entire team struggled in an ugly loss to the New York Islanders, but while most players found their rhythm soon afterward, their star center has yet to play at the level he did last season. Thus far, he has just one goal and two assists in 10 games.
So far this season, Zibanejad just seems off. He looks a bit slower, less strong on the puck and a little off with the timing and accuracy of his shot. He has also struggled on faceoffs this season, winning 44.3 percent of them, as opposed to 49.2 percent last season. Unfortunately, the Blueshirts don't have many other options to turn to at center. Strome has played well lately, but with Chytil hurt, he is the only other established center on New York's roster.
As a result of his slow start, Zibanejad's linemates have also struggled to produce. Kreider has four goals but no assists, with two of his goals coming on the power play. Alexis Lafreniere also has no assists this season, and his only goal was an overtime winner that he scored while playing alongside Colin Blackwell. Both Kreider and Lafreniere need their star center to heat up quickly.
Moving Forward
Despite Zibanejad's struggles and a few poor goaltending performances, the Rangers have found ways to win games recently. New York's top two defense pairs have been very effective, and Artemi Panarin has stepped up, scoring five goals and adding 10 assists in the first 10 games of the season. Now the Rangers need Zibanejad to do the same.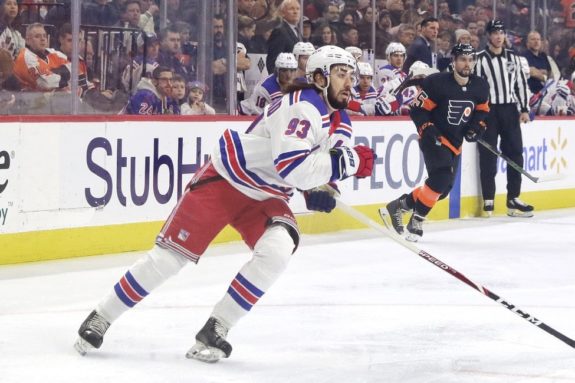 While it's easy to become impatient in a 56-game season, the Rangers have many reasons to remain hopeful that Zibanejad will break out of his slump soon. He got an assist on an empty-net goal by Buchnevich in New York's victory against the Capitals on Thursday. Perhaps that will help boost his confidence. The Rangers also haven't played for a few days, which has given him time to work on his game.
The best sign of all that is Zibanejad's play will improve because of his excellent track record. Last season wasn't a fluke. He has developed into an excellent all-around center with the ability to make those who are his linemates better. However, the shortened season and the tough division the Rangers play in make it difficult to remain patient. What's clear is that New York will need him to step up and contribute more in order for the team to reach its potential.
---
---
I grew up in Brooklyn, New York, rooting for the Rangers, Yankees, Giants, and Knicks. When my dream of playing shortstop for the Yankees fell short, I started writing about sports instead. I'm a proud graduate of the Philip Merrill College of Journalism at the University of Maryland.