The Colorado Avalanche have now spent 25 years playing in the Rocky Mountains.
The organization has had plenty to celebrate in that time, as well as plenty of memories to lament. Upon arrival in 1995, the club could contend and succeeded in winning the Stanley Cup immediately. The good hockey continued from there, culminating in another Cup victory in 2001. Things have been a bit more spotty since then, but now the Avs appear to be on the edge of another golden era. Such is the life of a professional sports franchise.
How familiar are you with the Avalanche? Have you been around since the beginning? Or were you recently drawn in by the hype? How confident are you that you can recall details from the Avalanche's stay in Denver? Take this quiz and see how you do: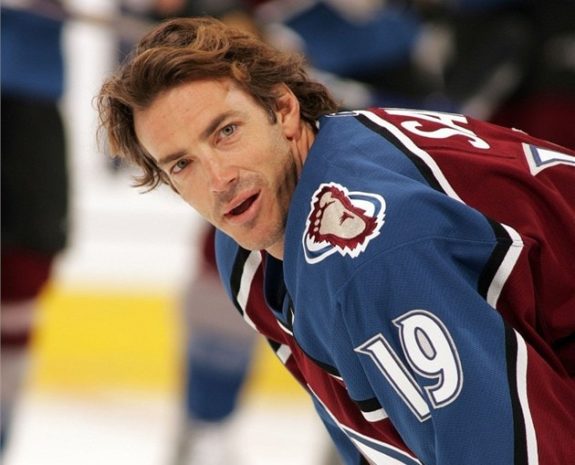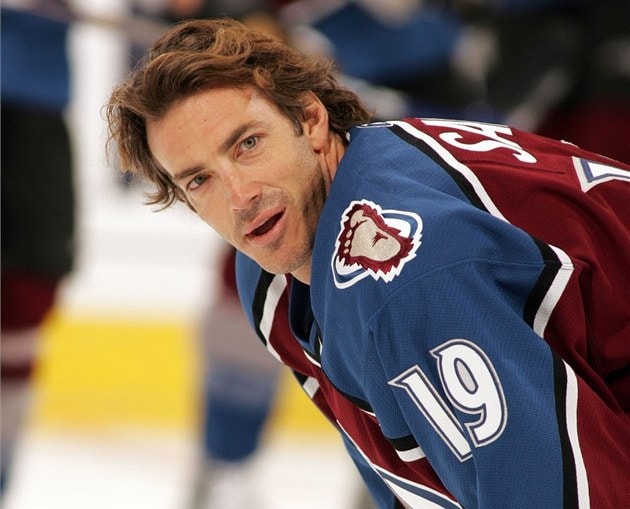 Starting with an easy one: Who scored the 3OT goal in Florida to win the Avalanche the Stanley Cup in 1996?
a) Sandis Ozolinsh
b) Peter Forsberg
c) Uwe Krupp
d) Curtis Leschyshyn
2. What trade deadline pickup scored 17 points for the Avalanche in the 1999 Stanley Cup playoffs?
a) Ray Bourque
b) Theo Fleury
c) Jason Woolley
d) Eric Lindros
3. Who is the only member of the Avalanche to win the Rocket Richard Trophy?
a) Peter Forsberg
b) Chris Drury
c) Nathan MacKinnon
d) Milan Hejduk
4. How many games in a row have the Avalanche earned at least a point while visiting the Boston Bruins?
a) 25
b) 14
c) 8
d) 10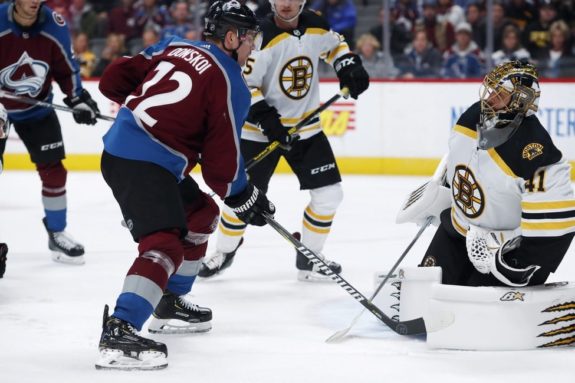 5. Who was the goalie prospect the Avalanche sent back to the Montreal Canadiens in the Patrick Roy trade?
a) Andrei Kovalenko
b) Jose Theodore
c) Jocelyn Thibault
d) Brian Hayward
6. Joe Sakic holds the NHL record for most playoff overtime goals. How many did he score?
a) 6
b) 8
c) 9
d) 43
7. Milan Hejduk, Joe Sakic, Adam Foote, and Gabriel Landeskog have all played over 600 games for the Avalanche. Who is the other player to do so?
a) Matt Duchene
b) Cody McLeod
c) Alex Tanguay
d) Stephane Yelle
8. What was the 2013-14 Avalanche social media slogan?
a) #ColdAsIce
b) #TogetherAsOne
c) #SnowbodyLikeUs
d) #WhyNotUs
9. Who holds the worst +/- record in Avalanche history?
a) Tyson Barrie
b) Fedor Tyutin
c) Matt Duchene
d) David Jones
10. Jarome Iginla scored his 600th NHL goal in 2016 while with the Avalanche. The goal was redirected into the net by which L.A. Kings defenseman's foot?
a) Jake Muzzin
b) Drew Doughty
c) Derek Forbort
d) Alec Martinez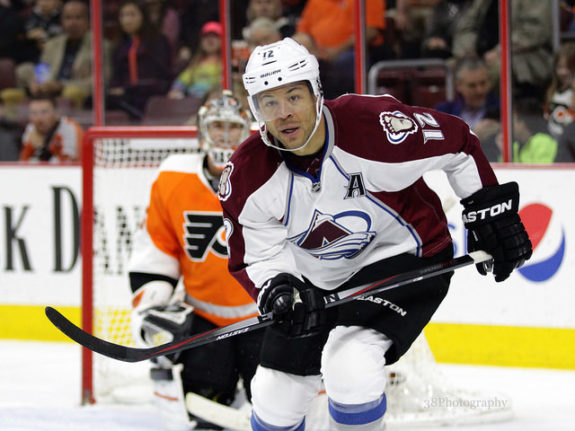 Answers:
1- c) Uwe Krupp
Krupp broke a 0-0 deadlock in Game 4 of the 1996 Stanley Cup Final against the Florida Panthers. Patrick Roy and Florida goalie John Vanbiesbrouck combined to make 118 saves in the contest before Krupp's point shot found its way into the net.
2- b) Theo Fleury
Fleury posted 5 goals and 12 assists in 18 games to help the Avalanche on their 1999 playoff run. Fleury's great play helped Peter Forsberg's game as well, as the Hall-of-Famer scored the most points in the playoffs with 24 despite the Avalanche being eliminated in the conference finals.
3- d) Milan Hejduk
Hejduk played his entire career with the Avalanche and served as the team's captain before Gabriel Landeskog took the reins. His number was retired by the organization, cementing his value as an Av. He earned the Rocket Richard trophy in 2003-04, scoring 50 goals in 82 games to beat out Markus Naslund and Todd Bertuzzi for the award.
4- b) 14
The Avalanche have gone 12-0-2 in their last 14 games in Beantown and haven't lost a regulation game there since the 20th century. March 30th, 1998 stands as the last time Colorado didn't earn a point, which will continue to be the case since the teams will not play each other in the 2020-21 regular season.
5- c) Jocelyn Thibault
Colorado traded Thibault, along with Kovalenko and Martin Rucinsky, to Montreal in exchange for Roy and the Canadiens' captain Mike Keane. Thibault played average hockey for the Habs over the next four seasons but did not quite transform into the team's next Roy.
6- b) 8
Sakic scored eight different OT winners in the playoffs. The first came against the Vancouver Canucks in 1996, and the last occurred 12 years later against the Wild in 2008. Maurice Richard ranks second with six overtime goals, and the closest active players are Patrick Kane and Corey Perry, who each have five.
7- b) Cody McLeod
McLeod played nine seasons in the burgundy and blue as one of the premier enforcers of his generation. In total, McLeod compiled 1359 penalty minutes in 659 games with the Avalanche. He was a fan favorite, a franchise icon, and a leading man in perhaps the last era of purebred fighters.
8- d) #WhyNotUs
Why not them? Well, they weren't very good.
9- c) Matt Duchene
Duchene barely beats out Tyson Barrie, -60 to -59. Both players are regarded for their offensive play or alternatively mocked for their defensive performances. That usually depends on whether their teams are winning or losing.
10- a) Jake Muzzin
Iginla's career was flashy, memorable, and filled with great moments. He was usually able to score all on his own, but on his 600th goal, he got some help from poor Jake Muzzin:
Sometimes it's better to be lucky than good. Iginla was capable of being both.
How'd you do? 10/10? That's what I figured. You sure do know your stuff. Be sure to stay up to date here with us so you're ready for the next trivia quiz.
---
---
Avery is a writer covering the Colorado Avalanche. He is graduating in April with a B.A. in English and Mass Communication. He has previously worked for The Puck Authority covering the Rapid City Rush and for NGU Vision Media as their News Editor. He is a board game enthusiast and enjoys spending time with others.