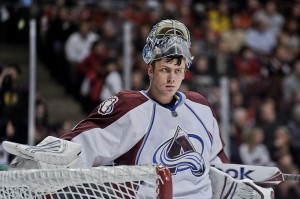 During last night's game in Ottawa Altitude Television commentators Mike Haynes and  Peter McNab joked that if Calvin Pickard would have been injured the only option left for the Colorado Avalanche would be to have Patrick Roy suit up and take the ice. As hilarious as that would be, and I'm sure every hockey fan everywhere was secretly wishing it would happen, another goalie injury would be a serious problem for the Avalanche.
The Avalanche were hit with a double blow in net yesterday when Seymon Varlamov was put on injured reserve early in the day, and just 2 minutes and 46 seconds into the first, backup Reto Berra was knocked out of the game. It's hard to imagine worse luck for a team that hasn't exactly gotten off to the same flying start they did last year. But it's not catastrophic.
A lot of writers have begun suggesting that Colorado hit the free agency market to shore up their goaltending. Martin Brodeur has been the popular name thrown out by quite a few sources. It's almost a hockey romantic's dream to see Brodeur being coached by Patrick Roy, but apart from the fact that there are better free agent goalies available, it's hard to see this actually happening. First any foremost a big name goalie is going to require a salary that the Avalanche just don't have room to accommodate at the moment. There is also the issue that these goalie injuries could be relatively short-lived.
Roy also says Varlamov could have played last night if it were playoffs etc. and Berra injury just bad luck #Avs

— Mike Chambers (@MikeChambers) October 17, 2014
It seems unlikely that Varlamov is going to be out for a long time. When Colorado traded for Varlamov back in 2011, many said he wasn't going to be able to hold up well, and that he would spend a lot of time on injured reserve. In his first three years with Colorado though, he has played 53 games, 35 games (lockout year), and 63 games. He has managed to stay very healthy. But he was bound to pick up an injury at some point. Given Roy's statement that Varlamov would have been in had last night been a playoff game suggests that this trip to the IR is simply a precaution.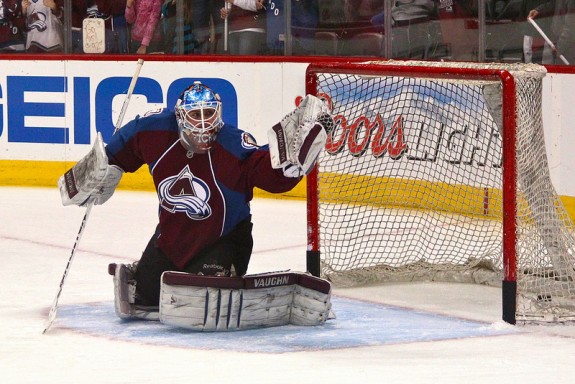 If Varlamov's injury is as minor as Roy thinks it is, then the bigger issue becomes the health of backup Reto Berra. If Berra has a concussion then it's impossible to know just how long he will be out for. Though an encouraging sign, if you can call it that, is Colorado saying Berra has a neck injury. A stiff neck could be a lot better than a concussion, but it's all speculation, and it depends on the severity of the neck injury. If Berra misses significant time, then Colorado should expect Calvin Pickard to stay with the big club for a while. Sami Aittokallio should also be up with the Avalanche for as long as Varlamov is on the IR.
These two young goalies don't have the same NHL experience that Varlamov and Berra do, but nonetheless they can deputize for the time being. As things stand now, playing two rookie goaltenders is a better short-term solution than going out into the free agent market. The best case scenario for Colorado, is that Varlamov is ready to come back into the team shortly after the game against Florida on Tuesday. Ideally, Reto Berra would then come back a few games after that. It should also be noted that Roy hasn't even ruled Berra out for tomorrow's contest in Montreal. So there is a chance that he won't miss any significant time.
All this changes, of course, if the Injuries to Varlamov and Berra become more long-term problems. But as of now, in Denver, pushing the panic button and spending money on a big name goalie, who may very well just play for a brief period is a terrible idea. Protecting the two players who are so important to the success of the team makes sense. Opening the check book at the first sign of an injury, however minor does not. Right now the Avalanche front office needs patience, and a few strong performances from Pickard and maybe Aittokallio.