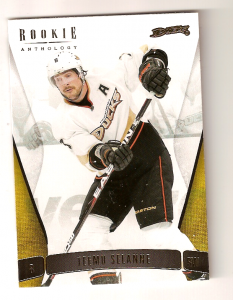 While Panini's hockey season isn't quite done yet, the card company went retrospective for one of their latest releases, Rookie Anthology.
Checking in at 10 packs per box, Anthology offers up (at least in our sample) one rookie card per pack, giving collectors a final shot to pick up prospects before they unleash the big-dollar brands like Prime.
The mix of rookies that come out of these packs continue previous releases, namely Pinnacle which, at least in this box, dominated the output. Other RCs come from Limited, Contenders, Luxury Suite, Certified, Crown Royale. Most of these players had late debuts and thus were not available the first time the various series were issued.
That's not to say that Anthology doesn't have it's own personality. Along with having its own base set, which has a decent design, the product also has its own series of rookie cards, chock full with jersey swatches, autographs and low serial numbering.
Now we talk about all these facets before talking about Rookie Rivalry dual jersey cards, which could end up being a big sleeper set that will be hotly pursued in just a couple years' time. The set pits two freshmen against one another (theoretically of course) in a battle that primarily focuses on team rivalries, such as the card we plucked from our box. For those wanting the more instant gratification, Draft Year Combos looks back at some of the better pairs of picks from a single year. The Alex Ovechkin/Evgeni Malkin card teased in Panini's promo material looks especially appealing.
But even then, you're not done. Panini has also included a special box topper pack, guaranteed to have a memorabilia, autograph or combination card. These have already delivered high praise from collectors who have reported great pulls on trade boards so far.
So with all this said, it's not hard to see why I recommend this product so highly. At worst, you're getting a rookie card in each pack, and with the number of hits coming out of boxes, chances are you're going to get an incredible amount of bang for your buck.
The Hockey Breakers Report
Cards per Pack: 5
Packs per Box: 10 + 1 bonus pack
Stated Hits: 2 memorabilia and 2 autographs/box + 1 bonus autograph, jersey or combo
Our hits: 2 autographs, 1 memorabilia, 2 autograph/memorabilia combos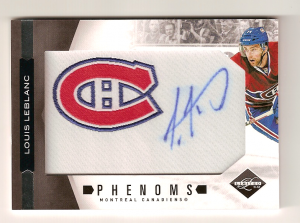 Top Card:2011-12 Limited Phenoms Louis Leblanc Autographed RC #/299 – Leblanc admittedly has a bit more of a personal connection for me, since I saw him get drafted in Montreal in 2009. He's ranking in the top 10 for in-demand rookies this year and should continue to be a hot commodity over the summer.
Our Other Hits: Rookie Rivalries Sean Courtourier/Brian Strait, Certified Freshman Signatures Anton Lander,Rookie Treasures Cam Atkinson dual jersey/autograph, Crown Royale Cade Fairchild, Calder Contenders Andy Meile, Pinnacle Rookies: Jimmy Hayes, Char Rau, Cade Fairchild, Milan Kyntar
Bonus Hit: Limited Game Pucks Patrick Kane puck/autograph #/20