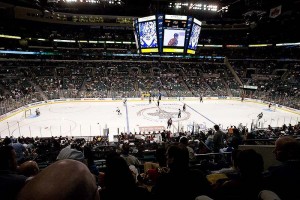 It's hard to describe.  I'm a Panthers fan first, a hockey fan second.  Through the last 12 years, as Florida has failed to make the postseason, I've watched nearly every single playoff overtime hockey game I can.  There's simply nothing like it.  Every rush up ice brings fans to their feet.  Every puck thrown towards the net could result in victory and heartache in one, excruciating, simultaneous moment.  As a Panthers fan, I've had no rooting interest in these overtime games.  I watch for the sheer love of the game, the love of excitement, and the love of drama.  Tuesday night changed everything.
The Florida Panthers were on the verge of winning their first playoff series since winning the 1996 eastern conference final.  To put it in perspective, the last time I witnessed my favorite team win a playoff series, I was in 6th grade.  I am now fast approaching my 28th birthday.  So while year after year, fans like myself endure the constant mocking and belittling from fans from "traditional" markets, (trust me, whatever joke you have about the Panthers, I've heard it), and year after year, the franchise adds numerous losing seasons and top 5 draft picks, in game 6 the Panthers, my Panthers, had a chance.
Admittedly, it wouldn't start out so hot.  New Jersey would jump out to a 2-0 lead, and game 7 seemed inevitable.  The team that's scored first in this series had also held a 3-0 lead in all 5 previous games.  But then Kris Verteeg somehow managed to slide one past the legend, Martin Brodeur.  There would be no 3-0 lead tonight.  Instead, it was suddenly a one goal game.  Then Florida raced in on a 4-on-2 and Tyson Strachan, he who just days prior was playing in the Calder Cup playoffs for AHL San Antonio, unleashed a wrist shot from 20 feet out.  Brodeur made the save, but the puck leaked through his pads and Mr. Playoffs, Sean Bergenheim, made a quick flick of the wrist and slotted home the tying goal.  It was 2-2.  Florida was a goal away from reaching the 2nd round for the first time since Bone Thugs-N-Harmony's Crossroads was a number one song.
And so I was re-introduced to what it meant to have a horse in a playoff overtime hockey game.  It sucks.  A lot.  Granted, Florida's first real venture into playoff overtime since Uwe Krupp's goal in triple overtime ended the 1996 Stanley Cup Final lasted just under 6 minutes, but it was the worst 6 minutes of my life.  Every shot had me screaming at the TV.  Every check had me hoping for a cheap power play.  When Stephen Weiss rushed in on a 2 on 1, I held my breath.  When he missed the net and the Devils rushed the other way, I couldn't breathe.  I saw Travis Zajak get around the Panthers' defenseman, presenting himself for a pass.  I heard myself scream "Noooo" as Zajak received a perfect pass from Ilya Kovalchuk.  I saw Zajak fire a puck between Scott Clemmensen's legs.  I don't remember much else.  How the Chicago Blackhawks and their fans went through seven straight playoff overtime games over the past two seasons is beyond me.  I wouldn't wish that on anyone.  Playoff overtime sucks.
If there's one thing Panther fans can take solace in, it's that Lady Luck has not hung around with one team for too long in this series.  Game 1 saw New Jersey race out to a 3-0 lead, but Florida scored twice and pushed hard for a tying goal late.  Game 2 saw the Panthers claim a 3-0 lead, but then the Devils scored twice in 3 minutes to open the 3rd period.  In game 3, the Devils once again held a 3-0 lead before Florida scored 4 unanswered goals to take a 2-1 series lead.  But then game 4 happened, and New Jersey evened the series with a convincing 4-0 win.  You'd think momentum would favor the Devils, no?  Florida answered with a 3-0 shutout of their own in game 5.  Game 6 was no different.  New Jersey scored twice, both relatively weak goals, and held a 2-0 lead.  But Florida would answer with two equally soft goals to force overtime, where New Jersey would reclaim momentum with the OT winner.
That leads us to game 7.  In a series which has often been overlooked because it doesn't have the physicality or dirty play or the suspensions that has brought attention to other series, we're still left with those two little words whose meaning cannot be denied.  Game Seven.  It's a series where 4 of 6 games have been decided by a goal (game 3 technically ended 4-2 for Florida, but there was an empty net goal scored as time expired).  It's a series where we've seen 4 different goalies, and each one of them has made incredible saves, and allowed mind boggling goals.  It's a series where both team's power play has looked unstoppable and incoherent, often in the same game.  It's a series where nothing has gone as predicted.  The margin for error has disappeared.  Game Seven.  Thursday night.
Karl Selvig was born and raised in south Florida, and was introduced to hockey when the NHL came to Miami in 1993. It was love at first sight. After playing through college, he turned to the media side of the sport and has enjoyed writing about his beloved Panthers since 2007.