As it stands today, the Florida Panthers are one of the top teams in the NHL, but every team has its weaknesses, and they are not exempt from that. With their main needs being bottom-six forwards and bottom-four defensemen, here are some trade options the team should go for.
Dante Fabbro
With many reports coming out saying the Nashville Predators are, at the very least, big sellers at this year's deadline, it has also been noted by Elliotte Friedman on a recent Saturday Headlines that their only untouchables are Pekka Rinne, Roman Josi & Ryan Ellis, stating that they are willing to listen on just about anybody else, including Dante Fabbro. And I believe he would be a great option on the right side for the Panthers.
Fabbro, 22, was the 17th overall pick in 2016 and drew comparisons to Shea Weber. Since then, however, he has been just simply average, with 20 points and a 0.10 goals above replacement (GAR) through 90 games. Along with this, he has a 50.14 expected goals percentage (xG%). He has just been underwhelming — not bad, neither good — just average.
Maybe a move to Florida would do him well. Although the Predators may be hesitant to move the defenseman, I have to think if the Panthers offer Owen Tippett, along with some minor pieces, they would take it. Assuming they do this, Nashville has two prospect options in Spencer Stastney and David Farrance, who both, although left-handed, have the ability to fill the hole on the right side.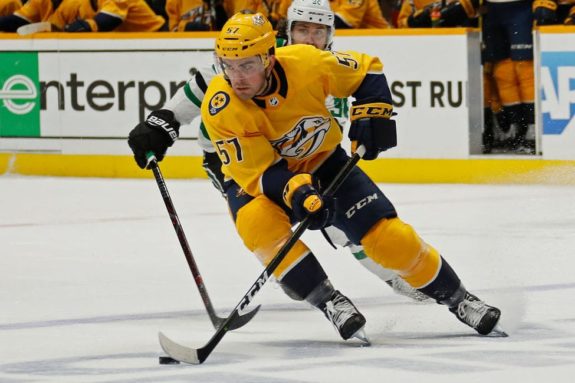 This trade, in my opinion, makes sense. Two guys who had high hopes when drafted but have failed to reach them. Nashville gets a forward prospect which they definitely need, while the Panthers fill in the gap on their right side with Fabbro and hope he can become what he was supposed to be.
Vince Dunn
Vince Dunn has been a great, top-25 defenseman for years with the St. Louis Blues. However, he has struggled a ton this season and has rumours surrounding him suggesting that he may be on his way out of town.
Dunn is having a really tough time offensively, with 8 points through 21 games played, along with a minus-1.80 even-strength offensive GAR (EVO_GAR). Despite these struggles, I believe a trade to send him to Florida would benefit the player and team very well.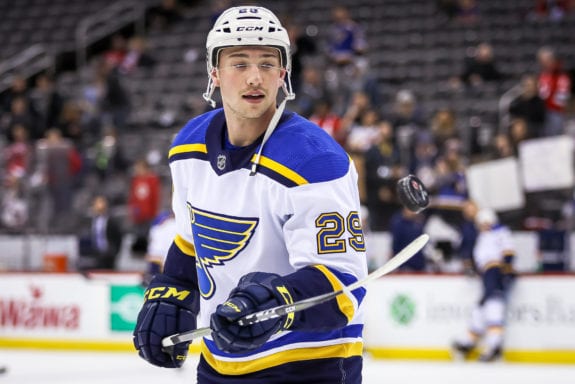 For starters, Dunn can play both the left and right sides, and his elite defensive skill set that he possesses would be a viable piece to a very offensive-centered Panthers team.
If Dunn could find a way to regain his form in Florida, and the team opted to pair him with Aaron Ekblad, it could very well make the Panthers serious contenders, as it would allow him to shut the door on the defensive end of things, while Ekblad takes care of the offense.
If the team doesn't want to take MacKenzie Weegar off of that line, they could also move Dunn to the right side on the second pairing with Keith Yandle for the same type of impact.
Anders Bjork
This is someone I think will be very overlooked in the trade market, but Anders Bjork would be a valuable top-nine forward addition for many teams in the NHL, the Panthers included.
For starters, Bjork is still just 24 years old and has another three or four years to grow his game. He has already discovered the defensive part of his game and can play on a forward line as a shutdown guy against the opposition's top scorers, but he lacks the offensive production.
Bjork has been limited to just one goal and three points through 19 games this season but has maintained a 1.00 GAR due to his defensive game. He ranks seventh in xG% and eighth in expected goals against per 60 (xGA/60) amongst Boston Bruins players, meaning that he allows the eighth least amount of quality scoring chances, or "expected goals" in the league.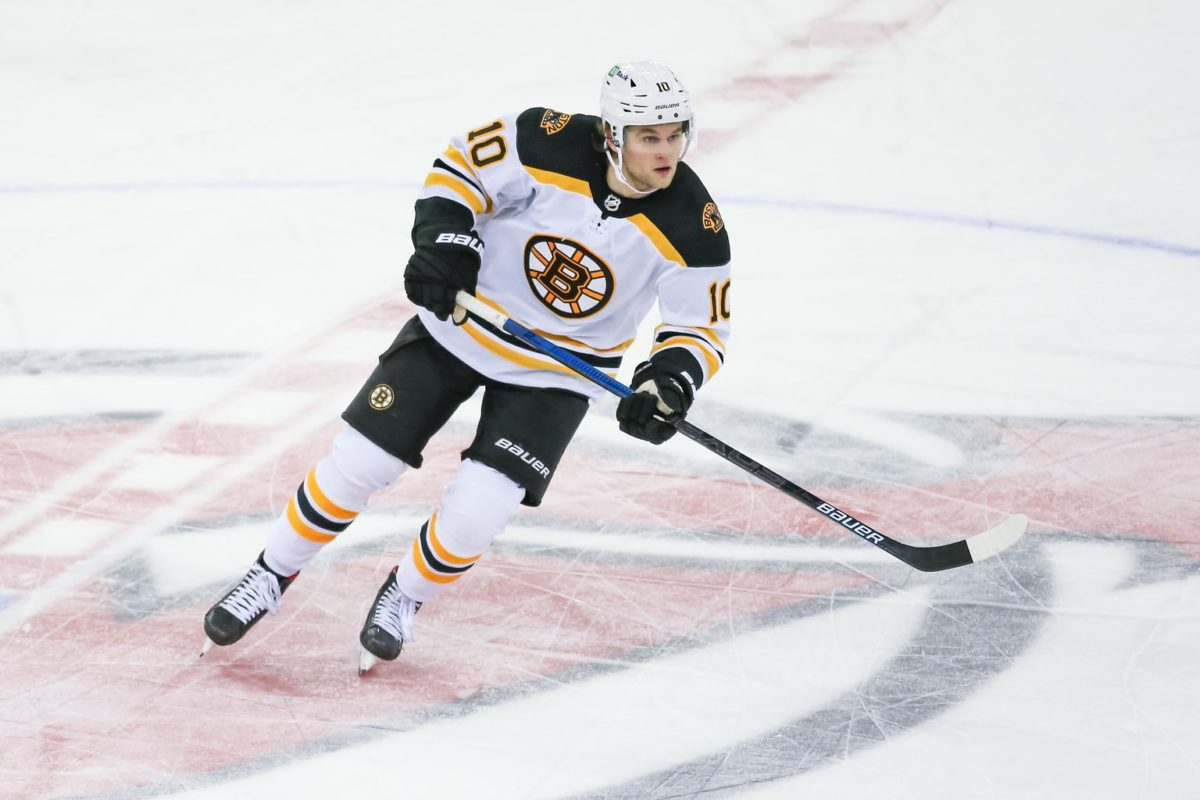 I honestly think that putting Bjork on a line with Eetu Luostarinen and Anthony Duclair has lots of potential, as it would help boost his offensive production while also helping the other two with their defensive game.
He's a guy who the Seattle Kraken could target heavily at this year's expansion draft, and with him gaining attraction on the market, it may be interesting for the Bruins to see what they can gauge for him.
Sam Gagner
Sam Gagner would be an amazing pickup for the Panthers. The 31-year-old is a veteran among the NHL, on a cheap contract that ends this year, and is a very solid two-way player.
Gagner has six points through 17 games, ranks as the 71st most valuable player in the NHL, with a 4.10 GAR, and is 17th most valuable defensively, with a 2.20 even-strength defensive goals above replacement (EVD_GAR).
Gagner ranks third in the entire NHL in xGA/60, sitting behind just Brad Richardson and William Borgen. He would be a great defensive presence for the Panthers' bottom-six, either on the wing or as a fourth-line centre.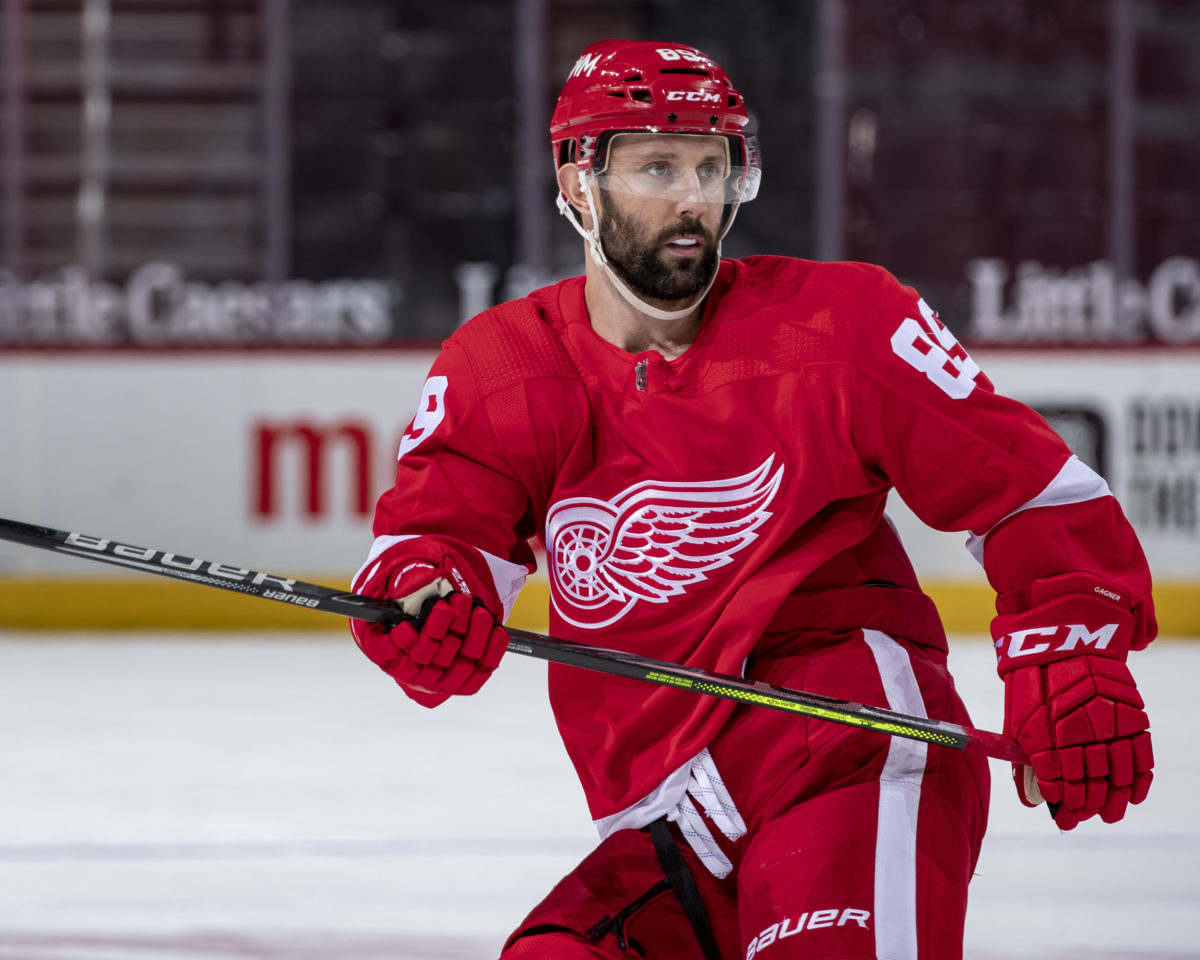 His value would likely cost no more than a third-round pick, which the Panthers can easily part with if it means improving their depth.
Mattias Ekholm
If anyone on this list is getting traded, it's Mattias Ekholm. Elliotte Friedman listed the Swedish defenseman as one of the possible trade candidates on Nashville, along with Filip Forsberg and Viktor Arvidsson, stating that he has been at the top of trade lists amongst the NHL. This is mainly due to complications with the expansion draft, as they don't want to protect four defensemen again.
Ekholm, 30, is signed for $3.75 million until the end of the 2021-22 season. He is a left-handed shot and likely talented enough to take the top-four spot. He has seven points through 15 games this season on a struggling Nashville Predators team.
While he only has a 0.70 GAR this season, his underlying analytics have been impressive over the years, with a 33.10 GAR since 2017-18. His main source of that has been his offensive skillset, with a 16.4 EVO_GAR in that span. He would provide a nice offensive presence on the Panthers' blue line and potentially second power-play unit.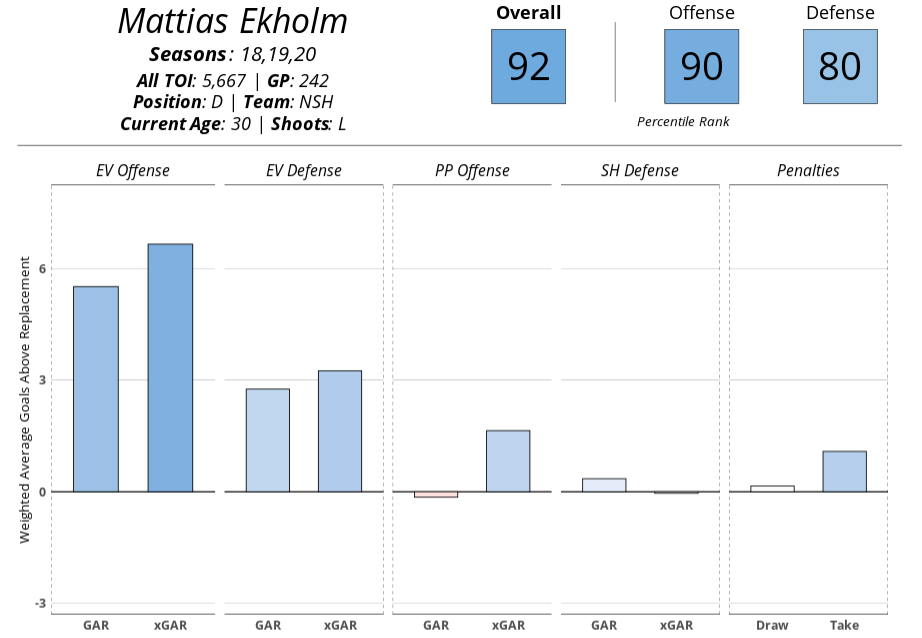 As seen on the card, he has been dynamic at even strength but just needs some more luck on the power play. If the Panthers can find a way to snag him, they have to.
Does it Happen?
Panthers general manager Bill Zito has shown he isn't afraid to make moves to improve the team, so even if he doesn't get one of these guys, I have no doubt he'll make some moves.
The Panthers are a team to watch come April 12.
---
---
PIT Penguins Writer THW. Instagram: puckempire. Formerly a Florida Panthers writer.