The Florida Panthers have been one of the NHL's more active clubs this offseason, but their latest personnel decision has some fans scratching their heads.
In a polarizing move, the Sunrise-based team agreed to a deal with the Arizona Coyotes late Wednesday night, dealing former Chicago Blackhawk Dave Bolland and 2015 first-rounder Lawson Crouse in exchange for two draft picks. According to the Panthers' official announcement Thursday morning, a 2017 third-round selection is guaranteed, with conditional stipulations also rewarding either an additional third-rounder in 2017 or the Coyotes' second-round pick the following year.
"Today's transaction creates significant cap space for us in each of the next three NHL seasons, while simultaneously giving us the ability to add more good, young players to a farm system we know we need to improve," general manager Tom Rowe said in a release. "We plan to use this cap space to continue to aggressively build on the steps we took this summer to construct a championship-caliber roster here in South Florida today and well into the future."
The Offload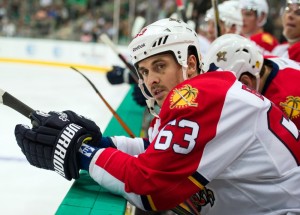 While at a steep cost, the Panthers finally found a way to rid themselves of Bolland's contract — a five-year, $27.5 million deal signed in 2014. The Canadian centerman appeared in 76 games for the squad, scoring 28 points off of 7 goals, in between stretches as a healthy scratch and an eventual AHL assignment. Due to a lingering injury, the Panthers were unable to buy him out — however, the trade affords the Cats an additional buffer, freeing roughly $10 million more than a traditional buy-out would have, according to the Miami Herald's George Richards.
Following the move, Florida — despite a whirlwind offseason that saw numerous contract extensions doled out to members of its young core — now owns the league's third-lowest payroll, giving Rowe approximately $9.829 million in projected cap space to play with. With star winger Jonathan Huberdeau entering the final year of his current contract, that extra wiggle room ought to come in handy.
And, while the trade did net a less-than-favorable return given the stock the Panthers had placed in Crouse, Arizona was one of the team's only viable suitors. Despite tying $13 million in cap space to their two highest-paid skaters — one of which is injured long-term, the other (Pavel Datsyuk) out of the league — the Coyotes still manage to fall outside of the NHL's 10-highest payrolls.
The Prospect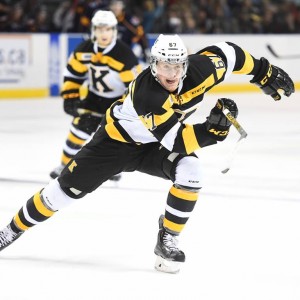 The sticking point, for most Panthers fans, is Crouse. A highly-touted prospect two years removed from being drafted, the London, Ontario-native showed promise as a physically imposing two-way skater with offensive upside. With a handful of bottom-six openings available, the prevailing opinion was that Crouse would once again have a crack at earning a spot on the opening night roster.
Combined with GM Rowe's previous comment on the need to strengthen the farm system, Crouse's inclusion continues to baffle; Hockey's Future ranks Florida's farm system 19th in the league, having yet to account for the departures of Crouse and diminutive forward Rocco Grimaldi, and notes a particular lack of depth on the wings.
However, questions swirled around this particular prospect.
In his draft year, more stock seemed to be placed on Crouse's size than his scoring.  Totalling 51 points in 56 games throughout his sophomore campaign, the hulking winger failed to produce at a clip comparable to other top prospects. And although he bumped his offensive output by 11 points during his last major junior season, his goal scoring dipped, finding the twine on six fewer occasions.
Crouse's impact, though, isn't simply quantified on a scoresheet. He is sound in his own end, and the 6-foot-4, 213-pound forward willingly throws his weight around, unafraid to bang bodies.
"I love to hit," he said in a 2015 article. "I'm a very physical player and I don't mind a fight either."
Whether or not Crouse will achieve his potential remains to be seen.
One thing, however, is clear: The Cats want to win. And they want to win now.