Friday night (April 28), the Florida Panthers did what was seen as unthinkable a couple of weeks ago. With the odds stacked against them, they managed to force a Game 7 against the Boston Bruins in Boston with a massive 7-5 victory in Game 6. Their grit and tenacity got them to this point in the series and now they have a chance to advance to the second round in back-to-back seasons.
Related: Panthers' Barkov Not Doing Enough vs. Bruins in 2023 Playoffs
---
Latest News & Highlights
---
Earlier this season, Panthers fans and some hockey analysts thought that Paul Maurice was not the man for the job due to inconsistency this season and his losing history. He nearly cost the team a playoff spot. But with his recent push during these playoffs, he has earned himself a chance to win over the fans once again in Sunrise.
Maurice Made Adjustments Both Pre-Game and Mid-Game
One of the biggest reasons that former interim head coach Andrew Brunette was let go was because of his lack of adjustments. Despite getting the Panthers their first series win since 1996, and being a Jack Adams finalist, his inability to make changes is what ultimately sent him packing.
Maurice was nearly the opposite of that. Not only has he made changes within the lineup, but he also took a chance on replacing Alex Lyon in net with their original starting goalie in Sergei Bobrovsky. In addition, as a result of a struggling Aleksander Barkov, he switched up the line he was on or threw him on a completely different line. He's trying to find that recipe for success, even if it means making a drastic decision that raises a few eyebrows.
Maurice's Power Play is Actually Converting
The Panthers had one of the worst power plays in the 2022 Playoffs. They only scored one goal on 26 chances with their only one coming in their Game 3 defeat against the Tampa Bay Lightning.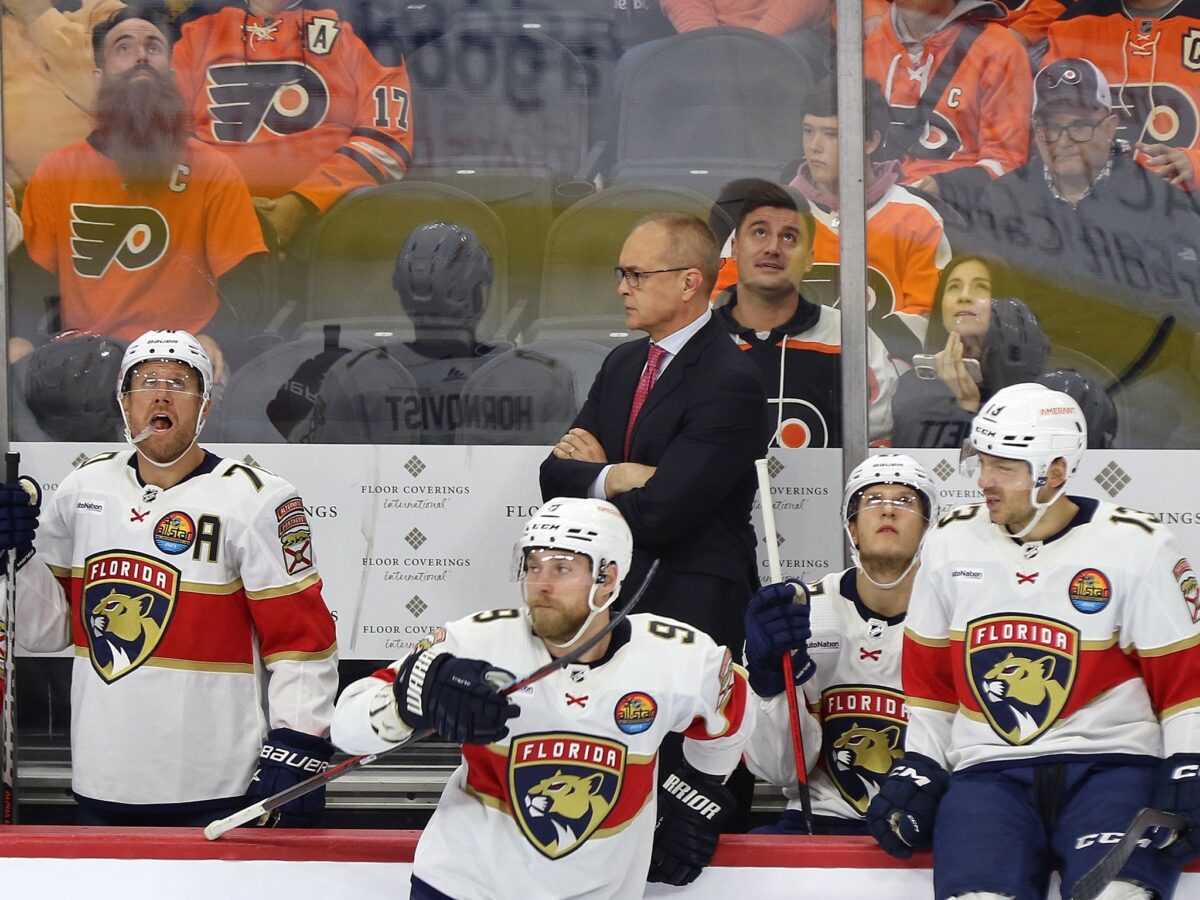 While it's not the best by any means, their power play is converting at a better rate than last year's. Starting with Game 4, the Cats have scored at least once a game on the man advantage. In the series, they have scored four times on 13 power plays. Now if they can fix their penalty kill, which has allowed a power play goal in all but one game, they'll be in business.
The Team is Finally Buying In
While it was tricky at first, the team is seemingly buying into what Maurice has brought to the table.
"The truest confidence is earned. It's not a guy pumping tires, it's not a participation ribbon, it's truly earned."

Paul Maurice
The Cats have a chance to pull off one of the biggest upsets in NHL history, despite the entire league saying it couldn't be done.
What's Next for the Cats and Maurice?
Isn't it obvious? The one thing on the locker room's mind is their winner-take-all game on Sunday in Beantown. Maurice knows exactly what that atmosphere is like, and he feels that his boys have earned it.
"The learning experience, the pressure and the joy of Game 7, they've earned."

Paul Maurice on the Panthers forcing a Game 7 with a 7-5 victory in Game 6 on April 28
The last Game 7 the Panthers were involved in was in the first round against the New Jersey Devils back in 2012. They ultimately lost that game in overtime by a score of 4-3 despite leading the series 3-2.
Related: Panthers' Alex Lyon Deserves a Roster Spot Next Season
Now there's only one question facing the Panthers: Can this team handle the Game 7 pressure this time around? Or will they crumble at the hands of the record-setting Bruins? Regardless of how it turns out, Maurice has done a lot to keep his team alive this postseason. As a result, he should be given a second chance by the fans.
---
---