After producing a three-year stretch of some of the best postseason play in NHL history, the Tampa Bay Lightning saw their streak of Stanley Cup Final appearances end on Saturday when they lost Game 6 to the Toronto Maple Leafs and were eliminated in Round 1 of the 2023 Playoffs. There's no shame in losing to a team as talented as the Maple Leafs, especially with injuries stacking up for the Lightning, but it's still tough seeing this squad leaving the ice for the last time so early in the schedule.
---
Latest News & Highlight
---
Now, the Lightning will get something they haven't experienced in years… time to rest. While this isn't ideal, it might be coming at a good time for a worn-down Tampa Bay franchise that has played 140 playoff games since the 2013-14 season, which is 50 more games than the next closest team in that same timeframe. All of that extra hockey takes a toll on players, as shown by the number of nagging injuries and general disappointing play that the team displayed in Round 1.
However, I'm not going to look toward the future of the Lightning right now. For the first time in years, fans of the franchise will be passengers in the playoffs, with no horse in the race to cheer for. While this is obviously disappointing, it does present a new question… which bandwagon should Tampa Bay fans jump on?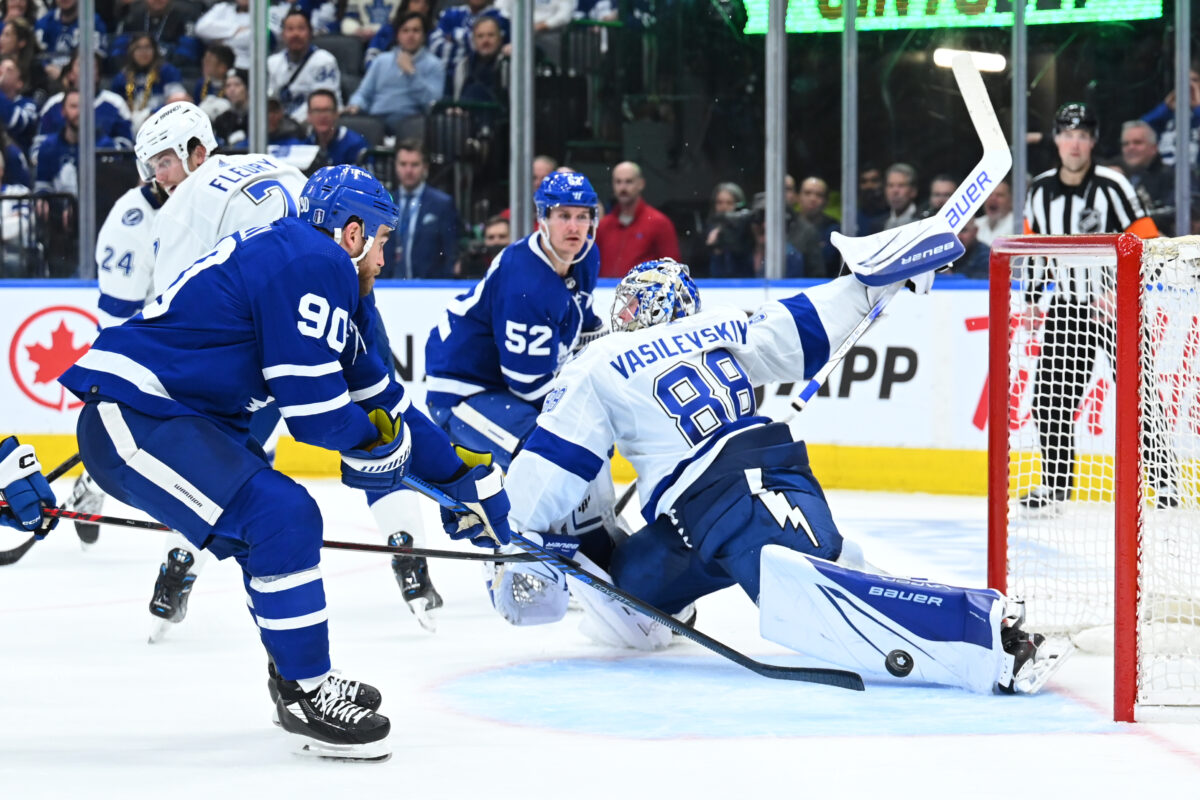 This is always a difficult question, and it can have a multitude of answers that are all right. Some people will gravitate towards the best story, others from a minor family connection, and even a few will decide who next to cheer for based on nothing other than spite.
For Lightning fans, I'm going to propose something that may sound blasphemous in the waning moments of the season, but I think the best team to cheer for moving forward is none other than the Maple Leafs
Maple Leafs Are a Team Worth Cheering For
I know, I know, right now the idea of cheering for the Maple Leafs sounds wrong, but once you get past the pain of them knocking out the Lightning, you'll be reminded that this opponent has an exciting roster filled with talent that represents some of the best players in the league. However, due to decades of coming up short in make-or-break games, Toronto became a joke within the sporting world, where disappointment was more synonymous with the franchise than their storied history.

In many ways, I see the 2020 Lightning in the 2023 Maple Leafs, just on a much grander scale. When Tampa Bay was swept out of the 2019 playoffs in Round 1, I distinctly remember a feeling of dread at the idea of this team never being able to take that next step to win the Stanley Cup. When Tampa Bay eventually claimed the Cup in 2020 and 2021, it felt like a weight had been lifted off the franchise, and that the years of coming up short wasn't wasted time but part of the development cycle for those moments.
Related: Even Off the Ice, Maple Leafs' Jake Muzzin Plays Key Playoff Role
Now, I can only imagine what it has felt like to be a Maple Leafs fan over the last 20-plus years. The Lightning had bad games, bad series, and historic collapses, but even at their most devastating, it doesn't compare to the meltdowns that Toronto has experienced during their streak of ineptitude. Seeing that fanbase finally having a reason to cheer with their full heart and soul for their beloved team is something that any fan of sports can recognize, respect, and appreciate.
Lightning Fans Can Respect the Maple Leafs
It's important to note that I'm not saying that fans of the Lightning should be swapping their blue and white jerseys for those other blue and white jerseys, just that I believe Toronto is a team worth investing in as a neutral third party. There are a number of players on their roster that I legitimately enjoy watching play hockey, and seeing those players raise the Stanley Cup would be exciting regardless of the crest on their jersey.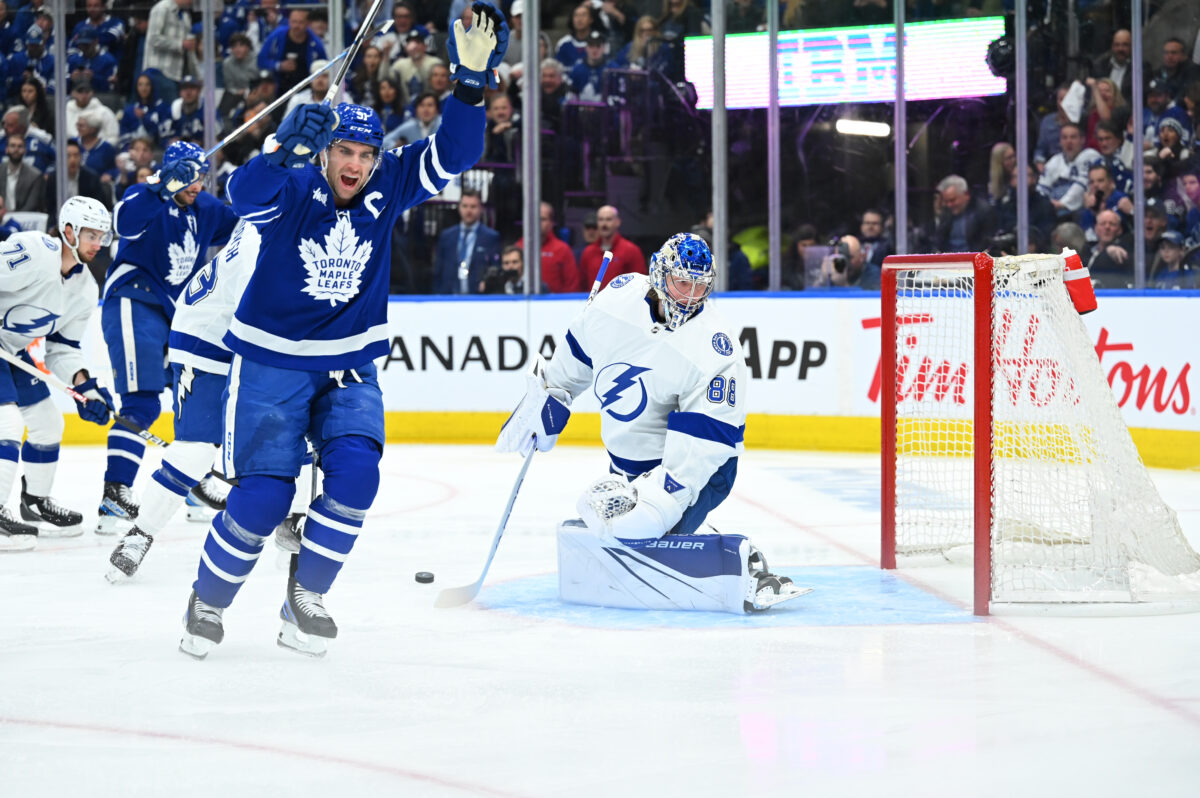 Plus, as a bit of a bonus, if Toronto were to go on and win it all, that would mean that they had to eliminate either the Boston Bruins, who took the record for most wins in the regular season from the Lightning this season and are a team no one likes rooting for, or the Florida Panthers, who are cross-state rivals that I simply can't get behind. Also, it would be nice to see the "No Canadian Stanley Cup Championships in X years" streak broken just so we can find new talking points as that storyline is wearing a bit thin as the years drag on.
So, once the dissapointment of a Round 1 elimination wears off and it is time to tune back in for hockey once again, I think Lightning fans should be willing to give the Maple Leafs a chance for the remainder of the 2023 Playoffs. Yes, rooting for a divisional rival might feel wrong, but given other options available, they are a franchise that would be fun to see make a run now that Tampa Bay no longer has a horse in the race.