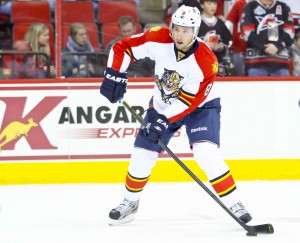 On Sunday, I commented on how an upcoming 4 game homestand would be crucial for the Panthers trying to play their first playoff game since April of 2000.  Now 3 of the 4 games are behind them, and Florida has played 3 of their most complete games of the year, outscoring their opponents 13-4, and climbing to just 2 points behind 2nd seed Boston.  Yes, the 6 points are big for the team, but what may be more important is the sense of team play Florida is demonstrating.
When Kris Versteeg went down to injury on February 26th, an already low powered offense became an even bigger area of concern.  In the eastern conference, only the New York Islanders have scored fewer goals than the Panthers this season.  But the Panthers have gone 5-3-2 since losing Versteeg, and the biggest part of that is their depth players are finally stepping up.  On this current 3 game swing, 9 different scorers have accounted for their 13 goals, and only 2 of those have come from their top point getters Stephen Weiss and Tomas Fleishmann.  Coach Kevin Dineen is comfortable rolling all 4 lines, and all 4 are chipping in.
Perhaps no player on the team has stepped up more than Sean Bergenheim.  Going back to last season's playoff run while he was with the Lightning, Bergenheim has amassed 25 goals in just 66 games.  This is the same Sean Bergenheim who analysts and experts like Mike Milbury called a flash in the pan, that the 9 goal playoff outburst was a fluke and he wouldn't be able to score 9 goals this season in total.  But Bergenheim has blossomed in Florida, already breaking his career best season totals.  When you couple him with Shawn Matthias and Marcel Goc, both of whom have 10 goals this season, and you're getting consistent performances from players like Mikael Samuelsson (9 goals), Mike Santorelli (9 goals), newcomer Wojtek Wolski (3 goals in 11 games since joining Florida), and Tomas Kopecky (2 goals in last 2 games), you're starting to see the depth that can be the difference in being a good team to being a dangerous one.
Florida still has one game left on this homestand, coming Saturday night against the rising Buffalo Sabres.  With just 12 games left in the season, Panthers fans are finally starting to believe that this might be the year that ends the drought.  Sure, they're only 3 points clear of 2nd place in the division Washington, and just 6 points ahead of 9th place in the conference Winnipeg.  But the Cats are starting to play some of their best hockey of the season at the most opportune time of the year.  And with Kris Versteeg scheduled to make his return Saturday, the depth just gets deeper.