The Florida Panthers are familiar with drafting in the top-15, which they've done in eight of the last ten years. To say a prospect is untouchable is not taken lightly, which means a team believes its prospects will make a significant impact in the NHL.
The Panthers are in a tough spot, as they have plenty of established talent on their roster, but former general manager Dale Tallon passed over many prospects and delayed their entry into the NHL, which in turn stunted their development. What new GM Bill Zito and the organization needs to do is start incorporating their highly ranked youth into the lineup, especially the following players who should be considered 'untouchable'.
Anton Lundell – 2020
Anton Lundell is a 19-year-old centre/left-wing currently with HIFK Helsinki in Finland's SM-Liiga. In 2019, he played for Team Finland at the World Junior Championships (WJC) and managed a solid four points in seven games. In 2019-20, he produced a respectable 28 points in 44 games in his second season in the league. In comparison, future teammate Aleksander Barkov, who also played in the SM-Liiga, scored 48 points in 53 games as an 18-year-old in the 2012-13 season. He was drafted second overall by the Panthers in the 2013 NHL Draft. Lundell, like Barkov, has a good two-way game.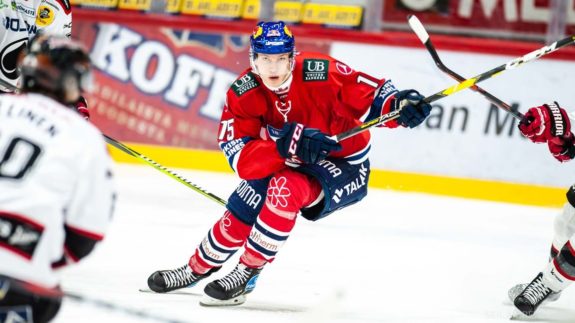 I would say his style is really high-end two-way centre. And that's the thing — he doesn't do flashy moves. He doesn't catch your eye, but when you really look at him and how he plays, then you start seeing how good he actually is," said Jussi Ahokas. "His decisions that he makes, they affect positive things on the ice — it doesn't have to be flashy.

— Jussi Ahokas, Lundell's head coach at the WJC
Lundell is still playing with HIFK Helsinki, and he's on pace to crush his point totals from last season with 11 goals — a career high — and eight assists in only 14 games so far. If he continues to put up numbers like this, expect him to reach the NHL a lot sooner than the organization may have thought.
Spencer Knight – 2019
Spencer Knight was drafted 13th overall by the Panthers in 2019. He is one of the most skilled young goaltenders in the world. After posting an impressive 1.97 goals-against average (GAA) and a .931 save percentage SV% in 33 games with Boston College last year, he will be Florida's goalie of the future. It's hard to say when he will make his jump to the NHL, as the Panthers have Sergei Bobrovsky's monster $10 million contract for another six years. If he continues on his upward trend, I predict he will reach the NHL no later than 2023-24.
Knight is known for his agility in the crease and to contain rebounds, which is important for a smooth transition to the NHL. If he can maintain his skills and keep a calm attitude in goal, he could be one of the best goaltenders in the NHL for years to come. Watch out for Knight and Team USA at the 2021 WJC.
Owen Tippett – 2017
Owen Tippett will soon be a full-time right-winger for the Panthers. The electric goal-scorer will be an incredible addition to an already tough offensive team. He was drafted 10th overall in the 2017 NHL Draft, and finally seems ready for the next step. Tallon's development strategy had Tippett jumping from league to league instead of letting him play in the Ontario Hockey League (OHL) and becoming the dominant goal-scorer that he is destined to be.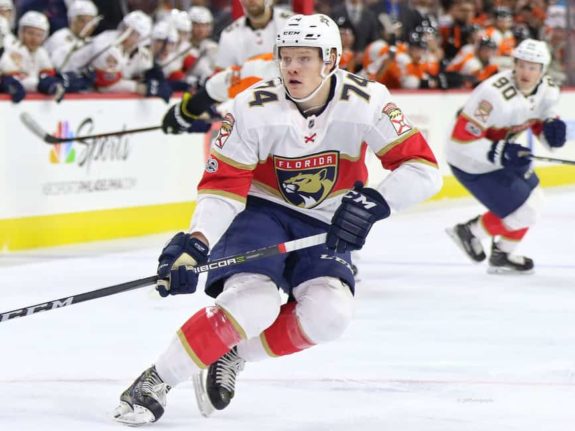 Tippett finally found his home in the American Hockey League (AHL) last season and dominated, leading the Springfield Thunderbirds with 40 points and earning his first All-Star selection. If the 21-year-old can play in the NHL full time, expect his success to propel the Panthers to a deep playoff run in 2021.
What Makes Them 'Untouchable'
These three players have very different styles, but they're similar because of their high-end potential. The Panthers have many more great prospects in the organization, including Logan Hutsko, Serron Noel, Grigori Denisenko, and countless more. The big difference between them and the players listed here is their potential up to this point.
When the NHL trade deadline comes around, the Panthers' 'B-level' prospects will be in jeopardy of changing teams. Florida's success will depend on these untouchables contributing to the team in the future. The team has had great luck and success in the last few drafts that will be a key part of this transitional-era in the franchise's history.
---
---