For the third and final installment of AHL players to keep an eye on during the NHL lockout (there seems to be no light at the end of this tunnel) I have found another talented group of up-and-comers. When (and if) the next NHL season starts the majority, if not all, of these youngsters will likely add some type of contribution for their NHL squads.
For now though the next 20 players in my list will be honing their craft in the AHL and with that season already underway some of these NHL-ready players are already off to flying starts.
I figure after this list a total of 60 players should be enough, and also I don't want to over-saturate the topic. But in a few weeks I will revisit these talented puck-heads and we can evaluate who looks like a world-class star and who has disappointed or gotten injured.
Forwards:
Cory Conacher (Tampa Bay Lightning/Syracuse Crunch) Conacher is currently in a three-way tie for the AHL scoring lead with 9 points through five games. The undrafted, Canisus College product could vie for a spot with Tampa, who could use scoring help; he's small (5'8") ala Martin St. Louis, but seems to have a scoring touch.
Roman Horak (Calgary Flames/Abbotsford Heat) Horak is off to a hot start with the Heat: 4 goals in 4 games. Originally a 5th round pick of the Rangers, he could turn into a nice find for the Flames, where he saw action in 61 games last year.
Jordan Caron (Boston Bruins/Providence Bruins) Caron was a 1st round pick in 2009 and has split time between Boston & Providence the last two seasons. He needs to be a bit more consistent to secure a permanent spot in Beantown.
Nino Niederreiter (New York Islanders/Bridgeport Sound Tigers) Niederreiter struggled mightily last year on the Island, with only one goal/point in 55 appearances. He seems to have found his touch in the AHL this year though, already racking up 5 points (3g) in 3 games.
Watch the quick hands of El Nino on his first NHL goal:
Marcus Kruger (Chicago Blackhawks/Rockford Ice Hogs) Kruger, like some of the above mentioned, is off to a nice start in Rockford with 5 points in 5 games. The Hawks will need him & that scoring to solidify their lineup, which was decimated by free agent defection after their Stanley Cup victory in 2010.
Mika Zibanejad (Ottawa Senators/Binghamton Senators) Zibanejad, the 6th overall pick in 2011 is off to a slow start (2 helpers in 5 games), but don't fret Sens' fans. He is a high-end talent, as evidenced by his performance in the 2012 World Junior Championships.
Remember the Golden Goal that Zibanejad scored:
Zack Kassian (Vancouver Canucks/Chicago Wolves) Kassian has already shown that he can light up the AHL, but the Canucks need him to light up the NHL when play resumes. He will always be compared against Cody Hodgson, whom the 'Nucks traded to Buffalo for him.
Magnus Paajarvi (Edmonton Oilers/Oklahoma City Barons) Paajarvi already has 121 games of NHL experience, but has yet to find a secured spot in the Oilers lineup like some of their other young guns. Another disappointing season could make him trade bait as Edmonton tries to solidify their blueline.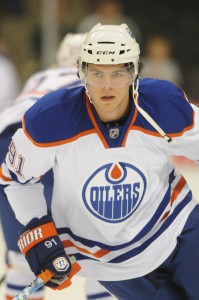 Tomas Tatar (Detroit Red Wings/Grand Rapids Griffins) Tatar has already had three great AHL seasons. The Wings, unlike most other NHL teams, like to allow their prospects to fully develop before making them regulars. For more info on Tatar read Ian Dunham's story: https://thehockeywriters.com/tomas-tatar-excels-in-grand-rapids/
Andrew Shaw (Chicago Blackhawks/Rockford Ice Hogs) Shaw had a nice season between the AHL & NHL last year, notching 23 points in each league. Like Kruger, the Hawks need him to produce to get them back to the level of the NHL's elite clubs.
Marcus Foligno (Buffalo Sabres/Rochester Americans) Foligno is the son of Mike and the brother of Nick, so expectations are high. They are even higher after his 13 points in 14 NHL games last year. He's currently tied for the AHL scoring lead with 9 points in 6 games.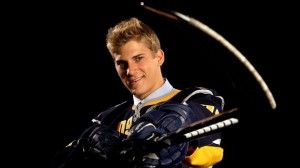 Bobby Butler (New Jersey Devils/Albany Devils) Butler was inked by New Jersey during the offseason with expectations of helping to offset the loss of Zach Parise. He only put up 16 points in 56 NHL games last year, but he could be a nice fit on the Devils third or fourth line.
Defense:
Jarred Tinordi (Montreal Canadiens/Hamilton Bulldogs) Tinordi is entering his first pro season, after two nice seasons with the OHL's London Knights. If he becomes anything like his dad Mark was — keep your head-up forwards!
Ian Cole (St. Louis Blues/Peoria Rivermen) Cole is still trying to find his niche after a solid college career at Notre Dame. The Blues defense really excelled under the tutelage of Ken Hitchcock last season, and he could turn Cole into a stud. More on Cole here via Jeffrey Ponder: https://thehockeywriters.com/blues-prospects-making-best-of-nhl-lockout/
Justin Schultz (Edmonton Oilers/Oklahoma City Barons) Schultz opted to sign with the Oilers during the summer and with no NHL season in sight, he has wrecked havoc on the AHL. He is one of 4 co-leaders with 9 points through the first two weeks.
No audio, but here is Schultz's second AHL goal; a nice shot through traffic.
Jonas Brodin (Minnesota Wild/Houston Aeros) Brodin is a player I honestly never heard of, but one of my readers (Dakota Case) broke it down for me: "He was kind of an unknown quantity to Wild fans when he was drafted, but he's definitely climbed up the prospect ladder over the course of last season and is arguably the #2 prospect behind Mikael Granlund, pushing Charlie Coyle to 3rd & Matt Dumba to 4th."
Chris Summers (Phoenix Coyotes/Portland Pirates) Summers isn't flashy like Schultz, but he's effective. After a solid four seasons at the University of Michigan, he is still trying to find his way into a regular line-up spot in the desert.
Jordie Benn (Dallas Stars/Texas Stars) Benn's brother Jamie is already an All-Star in the NHL, and you can bet Dallas is hoping Jordie follows suit. His resume only has 3 NHL games of experience, but he did notch 2 assists. A spot will be waiting for him once the NHL returns.
Goalie:
Dustin Tokarski (Tampa Bay Lighning/Syracuse Crunch) Tokarski could turn into the goalie that the Lightning have been waiting for since Nikolai Khabibulin left town. He will have to wrestle that job away from the recently acquired Anders Lindback though; through the first two weeks of AHL play, he has had a nice start.
Calvin Pickard (Colorado Avalanche/Lake Erie Monsters) Pickard has put up really nice numbers so far in Lake Erie (1.76 GA/.948 save %) through four games. In a perfect world, the Avs hope he will challenge/push/form a nice tandem with Semyon Varlamov in the Colorado crease.
Dan Rice can be reached via Twitter: @DRdiabloTHW or email: drdiablo321@yahoo.com.