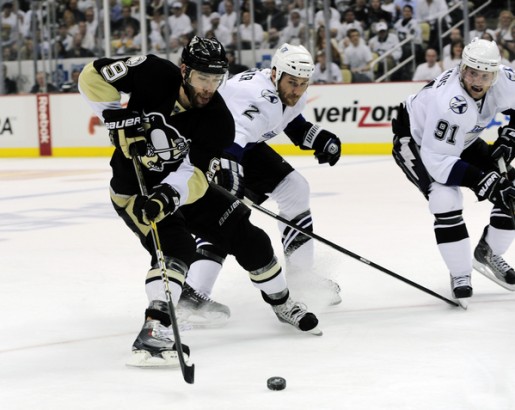 A while back I speculated that Pascal Dupuis could be moved at the deadline to help fill some gaps in the Penguins lineup. Little did I know at the time that Ray Shero would be able to run roughshod over the league and practically turn the Pens into an Olympic team without sacrificing a single roster player. My mistake, and lesson learned.
In Shero we trust.
But what does that mean for Pascal Dupuis going forward? The reason I suggested that he might be moved is that he's going to be set for a fat raise in the offseason, and that hasn't changed. Ray Shero has never been known to give long term, high dollar contracts to players of Dupuis' age. And with his performance the last two seasons, I'm sure someone will. Especially considering what's happened in the last 10 games.
No Fluke
The biggest knock against Dupuis has been that he was producing at a high level because he had the luxury of playing with Sidney Crosby, the best player in the world. But since Sid went down with a broken jaw, Dupuis hasn't missed a beat. He's maintained his torrid scoring pace, and showed that he is dangerous playing with anyone. In the last 10 games, Dupuis has put up 11 points while being paired with almost everyone on the roster, playing both winger and center.
He is also one of the Pens' top penalty killers logging more icetime than any forwards not named Cooke or Adams. Oh, and he's been playing on the powerplay too.
Looking back at the past two seasons, Dupuis is in truly select company. He's averaged more than 0.7 points per game in both seasons, a feat accomplished by only 15 other players over the age of 30.
Take a look at this list: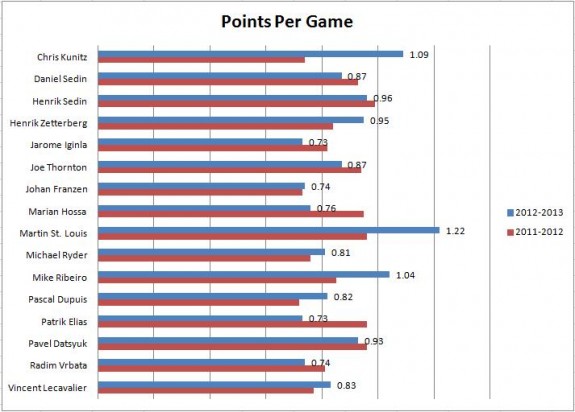 The average cap hit for Dupuis' peer group is a staggering $5.3 million per year, and Dupuis is far and away the lowest compensated of the group. His $1.5 million is an absolute steal. Radim Vrbata, the second lowest paid of the group makes double what Dupes does.
So what does this mean for the Pens? It's possible that Shero could break from his tendencies and offer Dupuis what he deserves. But the Penguins aren't exactly going to be rolling in cash after giving out raises to Kris Letang and Evgeni Malkin. It's also possible that Dupuis could take a hometown discount and stick with the team. He's been in Pittsburgh since 2007, and there are few teams in the league that give a player the option to compete for a Stanley Cup year in and year out like the Pens. But for a player like Dupuis, coming toward the end of his career, the opportunity to cash in has to be tempting. It's very likely he might not get another opportunity. Just ask Ryan Malone.
It's also possible, that despite what he's shown playing without Sid, that GMs around the league will still be cautious. To be fair, Dupuis' production both this year and last year has been ballooned by a higher than average shooting percentage, and as we all know, that's a number that tends to regress to the mean. But considering the fact that these are the same GMs that don't know how an offer sheet works and allowed Shero to build the team he's built without sending away anything of great value, it's probably a bit much to ask them to be that in touch with a stat as esoteric as shooting percentage.
Billy Nauman is a Pittsburgh Penguins contributor for The Hockey Writers. He also runs his own hockey blog at backtothefoundry.com. Follow him on Twitter @punchbroadbent