When Thrasher forward Patrice Cormier sat down and answered questions for over an hour in Downtown Columbus, on the morning of the 1st round of the 2007 National Hockey League Entry Draft, he was as poised as ever. Knowing that the likes of Patrick Kane, Kyle Turris, Sam Gagne and Keaton Ellerby were all prepared to be drafted that evening, Cormier looked on to a room full of media members and addressed questions pertaining to a year down the road, when his opportunity to be drafted into the National Hockey League would become a reality.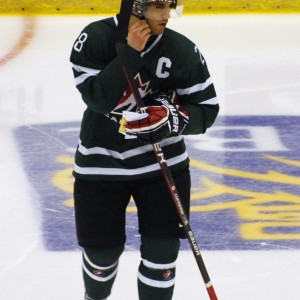 Go back six years and that's where you would find Patrice Cormier working on his skills and overall game in the Maritime Junior Hockey League. A two year stay with the Moncton Gagnon Beavers playing in 74 games, Cormier contributed to the score sheet 60 times, 25 goals and 35 assists. While most scouts had him pegged early on as a potential power forward, the 6'2 215 Moncton, New Brunswick native needed time to develop size and strength and apply that to his game on the ice.
In the 2006 Quebec Major Junior Hockey League Entry Draft, Rimouski Oceanic selected Cormier with their 1st round selection, 5th overall. Welcome to the next step in Cormier's path to the NHL. Cormier began his career in the QMJHL with 11 goals and 10 assists in 53 games his rookie season. Following his rookie campaign, several shoulder injuries and a concussion interfered with his on ice performance, but his positioning in a future NHL draft  was slightly in jeopardy. Cormier was still able to increase his point production in 2007-08, piling up 41 points. His physical game continued to get better adding 84 penalty minutes.
The 2008 National Hockey League Entry from Ottawa, Ontario arrived, and forward Patrice Cormier was ready to go and ranked 61st overall as a North American skater, by the NHL's central scouting bureau. Cormier made it through 53 picks until hearing his named called by the New Jersey Devils. Sooner then anticipated, but an incredible feeling and a dream come true nonetheless. Cormier would join his brother Kevin, who was a member of the Devils system.
Following the draft, Cormier prepared for the upcoming season, his 3rd as an Oceanic. He reached career high in points with 51, scoring 23 goals and adding 28 helpers in a total of 54 games played. Cormier won a gold medal that year as well, playing a prominent role on team Canada. He was a top player on the team. Talk about a bounce back year. At this point, Devils General Manager Lou Lamorello was realizing by the day, that he had himself a true power forward, that in time would put on the Devils sweater.
Hold everything. Life works in crazy ways, but in Cormier's case, it was a tough dose of reality that he would eventually have to face. After skating four seasons with Rimouski Oceanic, Patrice Cormier learned he had been dealt to the Rouyn-Noranda Huskies as part of a blockbuster trade. Not long after the deal was orchestrated, Cormier severely injured an opponent. Mikael Tam of the Quebec Remparts. His elbow to Tam, led to an indefinite suspension which would in turn end his regular and post season action.
Teammates of Cormier will tell it like it is. Hockey aside, Cormier is a great kid with tons of character. This was not his game, and the best way to go about things, was to face the suspension head on, and prepare to keep chasing his dream, the National Hockey League.
On February 4th, 2010 Cormier was again a part of a major blockbuster trade, only this time, the Atlanta Thrashers was his final destination. A change of organizations, fresh faces and an exciting organization going through a retooling process, was exactly what Cormier needed. Ilya Kovalchuk was New Jersey bound, Cormier joined fellow teammates Niclas Bergfors and Johnny Oduya in Atlanta.
Cormier had laced the skates with the Chicago Wolves of the American Hockey League into December of 2010, but his dream became reality when Thrasher General Manager Rick Dudley phoned Cormier to let him know, that he would be joining the parent club.
On January 7th 2011, Cormier scored his first NHL goal against the Toronto Maple Leafs. It will be the first of many for the power forward. Cormier is in a great spot with the Atlanta Thrashers. A road was well traveled to the NHL, road blocks and all.