Joining the Elite
San Jose Sharks forward Patrick Marleau is approaching a milestone that will secure him as one of the greatest players in hockey. Only 82 skaters in history have done it, and even fewer have done it with just one team. Achieving this goal is practically a ticket into the Hockey Hall of Fame. In time, No. 12 will join a club that consists of members like Wayne Gretzky, Mark Messier and Gordie Howe.
That club is the 1,000 point club.
Marleau sits just nine points away from 1,000 after getting on the score sheet three times in the last two game. Given his typical scoring rate and practically perfect attendance record, he will certainly hit this mark soon, showing fans something they have wanted to see since 1997.
There are only five active players to ever reach this level: Jaromir Jagr, Jarome Iginla, Marian Hossa, Patrick Elias and teammate Joe Thornton. In addition to this, only three people have ever hit 1,000 in a Sharks uniform, and only one other Sharks draft pick has done it. The elite group that Marleau will join gets more and more exclusive with every passing detail.
An Unlikely Beginning
The former Sharks captain has established himself as one of the best in the game, but few would have picked him out as a star player when he was born.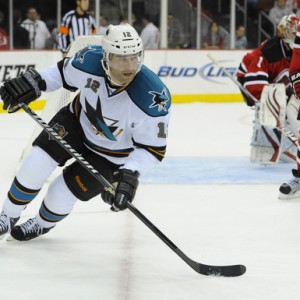 Marleau was born in the town of Aneroid, Saskatchewan, located 70 km away from Swift Current. Aneroid is incredibly small and has a population of just 45 people. For comparison purposes, SAP Center holds 17,562 people, meaning No. 12 plays in front of a crowd 390 times larger than his home town every night.
Being from such a small place would certainly work against the current veteran, but that never stopped him from pursuing his goal.
At the age of 14, Marleau joined the Swift Current Legionnaires and lit up  the SMHL. He earned 167 points in 53 games in his rookie season and followed it up with a 52-points-in-31-games campaign. He didn't stop there though as he continued his dominance with the Seattle Thunderbirds in the WHL as a 16-year-old. This set him up to be a top draft pick in 1997.
The San Jose Sharks selected Marleau second overall in the 1997 NHL Entry Draft and gave him a roster spot immediately; he didn't play in the AHL like most draft picks. Rather, he jumped straight into the big league. Since then, he has played over 1,300 games for the Sharks, been a team captain and average nearly .75 points per game. His legacy is incredible given his circumstances.
His Claim to Fame
From Aneroid, Saskatchewan to San Jose, California, Marleau has made a name for himself. He will be recognized as one of the greatest players in NHL history once he hits the 1,000 point mark, even though he has not won a Stanley Cup. This could be his strongest argument for him to be voted into the Hockey Hall of Fame once he is eligible.
Mediocre players do not earn 1,000 points, great ones do. He has been a vital part to the Sharks since he entered the league and is a large reason why San Jose has such a strong fanbase. He may be heavily criticized around North America, but he is an important person in Bay Area hockey. Once he reaches this milestone, his greatness will be recognized around North America.
The 36-year-old is moments away from reaching hockey immortality, where he belongs.