We're going to talk about Patrick Sharp.
In the United Center, a message is shown on the jumbotron early in each Blackhawks tilt to text your "first star of the game" prediction to some number that few people ever manage to remember. If you guess right, you have a chance to win a team jersey.
The situation: Blackhawks/Avalanche, 12/27/13, currently a 0-0 game. That same message shows up on the big screen for the entire crowd of 22,000+ to see.
Below is the subsequent conversation between my brother and I:
Me: "Hey, you should text '10' to that number. Sharp's been nuts lately."
Him: "Okay."
He gets out his phone, all prepared…
And then the hitch.
Him: "I can't remember the number."
Damn it.
NOBODY EVER REMEMBERS THAT NUMBER.
Sharp went on to play his best game in several seasons, notching a hat trick to go with an assist as well as engendering mass migration out of Colorado.
That clairvoyance, though. You might say that I'm… pretty sharp.
SO IT BEGINS.
Sharp Converts Deluge of Snow to Deluge of Tears
Actually, the Avs fans nearby weren't crying; they seemed interested in purchasing ridiculous quantities of liquor more than anything else. "Deluge of alcohol," then – I'm not picky.
We need more Sharp highlights.

Pretty sharp play on that goal, huh?
That pun just qualified me to work for nhl.com.
What a great audience. I'll be here all day.
NEEDS MORE SHARP HIGHLIGHTS.

Ahem.
PATRICK SHARP.
Red font. No reason.
The goal wasn't complete until the nasty celebration that nearly caused a faceplant – which would have been hysterical. Not so sharp after all, eh? Haaaaaaa.
Just got an email from nhl.com, they want to hire me retroactive to seven years ago.

SHARP!!!
Blue! Get it? Because, because, because that's how the Avalanche are feeling right now, because…
Hey, awesome, nhl.com just promoted me to site administrator.
Nice goal for the hat trick. I was disappointed with the UC crowd, though – not many people actually threw their hats. What can you do? We Chicago fans aren't always the sharpest.
Admit it, that one wasn't bad.
Kidding – these are terrible. More to come.
SHARP GOING FULL SHARP:

Giguere just gave up. Poor guy. It was a guaranteed goal the moment Sharp touched the puck. The Blackhawks were just operating so sharply that night, you know?
Heh. Are you even noticing these anymore?
Being serious for a second now: That was the best goal of Chicago's season so far. The transition and finish were both stupidly smooth. When I saw it, I recidivated to my days as an infant and began to bawl and drool everywhere.
Well, not quite. But this is a reasonable approximation of my facial expression at the time.
Patrick Sharp's Goal Celebrations: A Guide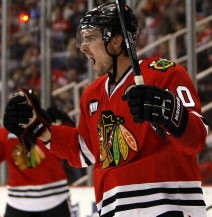 "YEAHHHHH STANLEY CUP FINAL GOAL WOOOOOO oh oops, heh, okay, back on my feet now YEAHHH GOAL, AWESOME."
If you're feeling more laid back and would prefer to avoid your feet violently exploding, try this one:

Simple. Elegant. Classy.
You'll also look sharp (hehe) with any of these additional Sharp celebrations:
1. Head slightly bowed downward, one arm raised vertically, eyes closed, face expressionless.
2. PUNCH AIR WILDLY WITH RIGHT ARM. SIMULTANEOUS SCREAMING OPTIONAL.
3. PUNCH AIR WILDLY WITH LEFT ARM. SIMULTANEOUS SCREAMING OPTIONAL.
4. PUNCH AIR WILDLY WITH BOTH ARMS. SIMULTANEOUS SCREAMING MANDATORY.
5. The Julio.
Godspeed.
New Hockey School Christened "Sharp University"
No, this isn't actually true.
But we'll act like it is.
Sharp University teaches young players to play just like Patrick Sharp.
In other words, all classes on campus stress the vital importance of bombing the puck twenty feet over the net as often as possible.
I've also heard rumors of a hockey school founded by Duncan Keith, designated "Keith Kollege." Students are instructed personally by Keith in two legendary arts:
1. Blasting the puck five meters wide, and…
2. Shooting into opponents' shinpads (shooting into chest protector also acceptable).
Send in your applications today. We all have much to learn.
Stay sharp, everyone!
Follow Sean Sarcu on Twitter: @seansarcu