Dan Bylsma announced on Friday, "Pascal Dupuis will be going for ACL knee surgery in a couple of weeks and is out indefinitely.  And knowing the timetable, likely out for the remainder of the season. But we'll see more after the surgery in a couple of weeks."
While Dupuis wasn't on the career pace of his last two seasons, he'll be severely missed. Dupuis is a vital leader within the Pens' locker room, and one of the most versatile players on the team. Most importantly, he plays well with Crosby. Over the years we've learned being Crosby's winger is no easy task.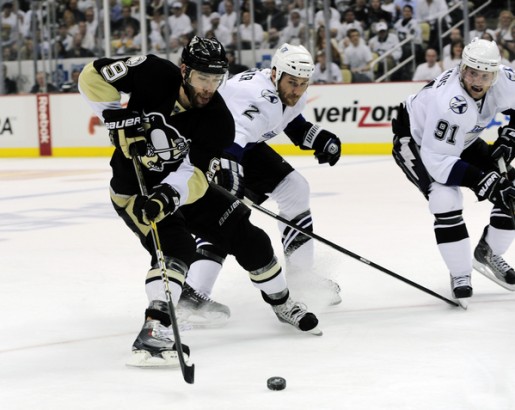 Dupuis' absence will have a significant impact on the rest of the organization moving forward. His loss increases the likelihood of the Pens making a few trades. Due to their thinness at the forward position, the Pens had to insert many AHL players from Wilkes-Barre Scranton into their line-up. At least five forwards have been called up from the minors solidifying the Pens' need for depth up front at the NHL level. There is a vacancy on the first line and the Pens need to find another NHL-caliber winger to play on the third line.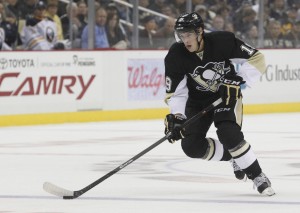 Beau Bennett Return
Beau Bennett will play a major role in these decisions. Bennett is predicted to return from his wrist injury in about five weeks. It wouldn't be a surprise if he didn't comeback until after the 2014 Sochi Winter Olympics. Upon his return, Bennett's performance could determine who Shero goes after in a trade. The opportunity to play on the top line will be there for Bennett to seize. If he can stick on the first line, Shero may only go after a third-line winger. But if Bennett fails to produce, Shero will look to acquire an accomplished winger to play on Crosby's line. A sniper may be brought in, or the Pens may search for a player who is the most comparable to Dupuis to play on the top line.
Penguins' Trades
If Shero is forced to acquire a top-tier winger, he will likely deal one of the defensemen. Depending on what a team is searching for, don't rule Brooks Orpik out of the equation. If a team on the trade market needs a veteran defenseman to shore up their blue line, Orpik would be a candidate as he's in the final year of his contract. If the Pens attempted to deal Orpik, he has a no trade clause where he could choose to block a trade to up to eight teams. Depending on which teams Orpik has chosen, this may make things too complicated. But history has proven that Shero tends to lock up core players one year prior to them hitting free agency. This hasn't been the case with Orpik. His fate with the team this season and next remains in question.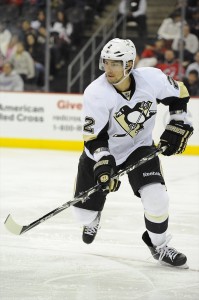 Another name that's been mentioned in trade rumors since the beginning of the season is Matt Niskanen. He's been the healthiest of defensemen who were expected to play on a nightly basis coming into this season. By far, Niskanen is having his best campaign in a Pens' uniform. He's a +18 on the season, better than any other Pens' defenseman by a large margin (Orpik +3). Considering Niskanen's last few years versus the season he is currently having, his trade value is at an all-time high. While Niskanen (27 years old) is still young, the Pens have the pieces to get younger and more talented on defense. The Pens believe prospects like Derrick Pouliot and Scott Harrington have more upside than Niskenen. This why a trade involving Niskanen for a forward is very much in play.
A more viable trade option would be Simon Despres. He is by no means one of the favorite prospects in the organization. Despres was anointed a top-four defenseman by Bylsma in the off-season, but Despres killed this hype by showing up to training camp out of shape. He didn't start the season at the NHL level after falling in the bad graces of the coaching staff. The Pens' were in no hurry to call him up either.
With Olli Maatta now a proven and trusted commodity, he's possibly paved the way for Despres' trade out of town. The Pens' don't have much faith in Despres' hockey IQ. At times, Despres' on-ice decision making can be questionable at best. He's played great lately, but the beginning of this season was pivotal for Despres.  By not coming to camp in game shape, he may have taken advantage of the opportunity too late. Who could blame the Pens for dealing him for a much needed forward? There are other defenseman within the organization ready to step in for Despres right now.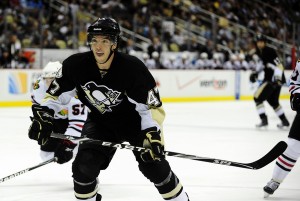 Bylsma will have to continue the impressive juggling act with his forward line combinations until Shero decides to pull the trigger on a deal. At one point during the season, the Pens were only in need of a third-line winger. The loss of Dupuis leaves the Pens' without one of the best penalty killers in the league and about 15 goals less than they would have with him in the line-up. With Dupuis more than likely out until next season, Shero will be searching for a penalty killer, locker room leader, and possibly a winger for Crosby's line. That's a lot to expect from one hockey player, but that proves how valuable Dupuis is to the Pens.