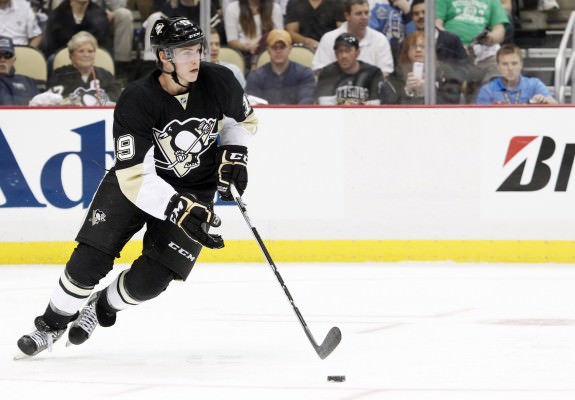 Beau Bennett underwent wrist surgery and will miss 8-10 weeks. This is the second time Bennett has been injured this season. He missed 11 games to begin the year with a lower-body injury, and was placed on injured reserve Sunday because of wrist/hand injury. On Monday, Bennett had surgery to repair his wrist/hand just days after stating that he finally felt healthy from his lower-body ailment.
Bennett is prone to injury. This is Bennett's second wrist/hand surgery in three years. He missed most of his final season (sophomore year) at the University of Denver when he ruptured a tendon in his wrist. He's not very large in stature and the Pittsburgh Penguins' made it known to Bennett that he needs to gain weight. He put in the off-season work to gain muscle, but two wrist surgeries in three years are very concerning.
Bennett still doesn't know his role on the team and missing time won't help the youngster figure it out. This could very well stunt his potential. As a first-round pick, Pens' management is expecting Bennett to be a valuable forward on the team for years to come. The Pens' have depth at defense, but what other forward prospect do the Pens expect more from than Bennett?  He is the Pens' only young forward with superstar aspirations. He's expected to eventually fill a top-six forward role in the next year or two. This all depends on Bennett staying healthy which he's yet to prove.
The most delicate component to a young prospect like Bennett is his confidence. The Pens must be careful to nurture him in the correct manner.  Due to the Pens going cold in the goal-scoring department, he was given an opportunity to play on Sidney Crosby's line. He eventually broke a 16-game goal-scoring drought by scoring a goal against the Washington Capitals last week. One goal in 12 games had Bennett feeling the pressure to contribute.
"Yea it was weighing on me a little bit. Too much," said Bennett. "More so than I ever put pressure on myself. It was nice to get that one."
This scenario is going to present itself all over again in two or three months. Bennett will have to work his way back into game shape for the second time this season. While he'll be on the bike in the weight room once he receives a release from his doctors, there isn't anything Bennett can do to get back into hockey game shape than play in regular season games.
Bennett admitted he was pressing to score his first goal of the 2013-14 campaign. The tighter a player grips the stick, the harder it becomes to score a goal. The harder and longer it takes for Bennett to get his second goal of the season, the more this task will weigh on his confidence.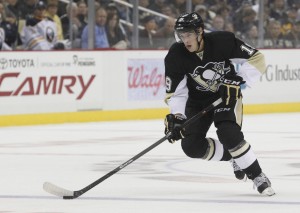 When Bennett does return, unless the Pens are truly struggling to score goals, he will more than likely find himself on the third line. This will make scoring goals even tougher. If Bennett loses his confidence, his future as a 20 or 30 goal-scorer may be in jeopardy. Look back on what happened to Alexei Morozov.
If Dan Bylsma and the Pens' coaching staff don't handle this delicate situation properly, they may ruin the unlimited potential of their highest-rated prospect at the forward position. The mishandling of Bennett could cost the team in the near future. The days of Pascal Dupuis and Jussi Jokinen, two top-six forwards, are numbered. The Pens will depend on Bennett to fill some big shoes once these players are unable to fulfill their roles on the team.
Justin Glock has covered the Pittsburgh Penguins for The Hockey Writers since 2011. As a lead writer, his Penguins knowledge traces back over two decades. For any requests, please feel free to contact Justin via email: JGlock10@gmail.com.