Patrik Laine is just 18-years-old, but the Winnipeg Jets prospect cracked Finland's roster for the 2016 World Cup of Hockey (WCOH) and has already taken on a crucial role with the team.
The 6 foot 4, 206 pound Finnish right-wing was a force to be reckoned with all year-long playing in Finland's top professional league (SM-Liiga), catching the eye of just about every member in the front office of Finland's national team as well as hockey scouts world-wide. Playing with men was great for his development, and now the Winnipeg Jets (who drafted Laine second overall in the 2016 Entry Draft) get to see how he transitions that experience to a smaller ice surface in North America playing against the world's best players before the NHL's regular season commences in October.
Laine's Success with Finland So Far
Laine's accolades with Finland this year date back to the 2016 World Junior Championship, where he helped the team capture a gold medal playing on the top line with fellow Finns Sebastian Aho and Jesse Puljujarvi. He was also named MVP of the 2016 IIHF World Championship this spring, helping Finland capture a silver medal after losing in the finals to Canada. He led the tournament with seven goals and finished fourth in scoring with 12 points in 10 games, being recognized as Finland's top player on a team that featured many NHLers and other pro players who were much older than him. As the World Cup of Hockey comes to a start, Finland will look at Laine to shoulder a top-line role once again to ignite a fast, Finnish offense.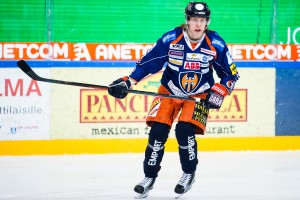 Laine will continue to play a top-six role with either Aleksander Barkov or Mikko Koivu centering his line, two shifty playmakers that can get Laine the puck whenever a scoring opportunity arises, as he remains Finland's bonafide sniper. Laine will also be playing the left side on Finland's top power play unit, utilizing his booming right hand shot to generate scoring chances. Finland realizes their success will rely heavily on the play of Laine and his offensive prowess, just as it has this past year in other international competitions.
The Winnipeg Jets will use Finland to see first hand how Laine responds in certain situations and where he's comfortable playing, getting a feel for how they may want to utilize him this upcoming year. Laine's getting a taste of what it will be like playing against top competition before he even gets to the NHL, a rare accomplishment that only a few players in the history of hockey have been able to reach.
Laine's Start to the WCoH
Laine got off to a slow start in the WCOH's preliminary games, having to adjust his game to the smaller North American-sized ice surface while playing against some of the world's best players, a majority of whom already play in the NHL where he's more than likely to be playing this upcoming year. The Winnipeg Jets prospect and No. 2 overall pick in the 2016 NHL Draft finally seemed to have found his groove in Finland's third game of the prelims against the United States, where he had a goal and four shots on net.
"If you compare [Wednesday's] game to the first game it's day and night," Laine said while speaking to the media after Wednesday's game. "It was so much easier to play. I'm just now getting better at the smaller rink and the faster game. I think I'm on a good level now."
Winnipeg should be excited that Laine is getting a taste of the world's best players now before having to compete against them once the NHL season commences. Finland, however, is just happy he found his game before the real tournament became underway. Laine also seems to have accepted the challenge, gaining his confidence and appearing ready to battle with the best of the best.
"It's a good way to start, in the world's best tournament and play against the top players in the world before any NHL games," Laine said. "Now I can see what's the maximum level that these players can play."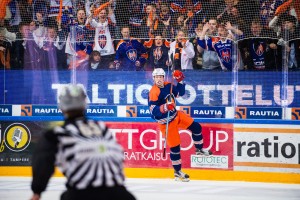 Finnish goaltender Pekka Rinne has praised Laine for picking up his play as the tournament has progressed, but he also had a lot to say about the young gun's shooting abilities. Speaking to the media, Rinne wanted everyone to know just how well this kid could shoot the puck, saying, "I guess if somebody has a natural shot, this guy has it. It doesn't matter where he gets the puck he gets it off and hits the corners really well."
The Winnipeg Jets knew they were getting a natural goal scorer when they drafted Laine back in June, but it has to be reassuring hearing praise for your top prospect when it's coming from one of the NHL's most respected goalies. The WCoH is letting Laine and the Jets show off to the world what they can expect to see on a nightly basis this upcoming season, and it's looking quite exciting so far.
Moving Forward in the Tournament
Finland played the speedy North American team last night and though they collectively got outplayed as a team, Laine himself had a strong game given the team the Finns ran into. Laine had two shots on net in the 4-1 loss, but it was his physical play that made him stand out from the rest of the Finnish team. Midway through the third period Laine delivered a crushing hit on Dylan Larkin behind the Finn's net, drawing Larkin into a penalty for roughing which put Finland on the power play, even though they failed to convert with the man-advantage. Laine's "bull in a China shop" style of play was on full display last night, looking to prove that he's not just a scoring threat out on the ice, but a physical threat as well.
The Jets must be impressed with how much more Laine's using his size to his advantage on a smaller ice surface, an element to his game that they knew he possessed, but now are getting to see more with the environment being tighter and puck possession being so crucial. With Laine using his large frame to shake players off the puck, the Jets hope this can result in more puck possession and scoring opportunities this coming year.
Patrik Laine hopes the rest of the tournament will be a little more kind to him in terms of production as he continues to adjust his game to the North American ice. The Jets will continue to keep a close eye on his transition, but everything is progressing well the way things stand.
Laine's experience in the World Cup of Hockey will undoubtedly be beneficial in the long-run, not only to his development, but the Jets' success as well.