When Sharks forward Logan Couture fractured his fibula during practice in New Jersey, the prevailing thought was that San Jose had the forward depth to overcome the loss. The following game against the Devils wasn't pretty but the Sharks managed to win in a shootout and were able to score three goals the following night against a tough New York Islanders team. Unfortunately, the Sharks gave up six goals to the Islanders (one empty netter) and four goals against Monday night against the Rangers. These two games not only were played without Couture but key defenseman Paul Martin missed both New York games with an undisclosed lower body injury.
While Couture's loss up front is a big blow and Martin's injury thought to be much less severe, the latter's absence from the lineup is arguably more crushing.  As Fear the Fin's Jon Wold put it:
@CHolton14 yeah, losing Martin kind of takes out him and Burns

— Jon Wold (@jonathanwold) October 20, 2015
Granted the Sharks have only scored four goals in three games without Couture but his linemates Joel Ward and Patrick Marleau have still managed to look good without him, each scoring since his injury. Furthermore, while the Sharks only managed 22 shots towards Antti Raanta in the 4-0 loss on Monday, they had more than their fair share of Grade-A scoring chances. There is no doubt the Sharks will miss Couture offensively, but they should be able to survive in the few weeks without him. Couture is one really good forward where Martin is a top-notch defenseman that played over 30 minutes against the Devils. Granted Martin probably played more than he should have but the fact of the matter is his presence next to Burns had turned those two into a rock solid top-four pairing. In fact, you could argue they played that much against the Devils because they have been playing even better than the Marc-Edouard Vlasic and Justin Braun pairing.
Martin Missing Means Tough Times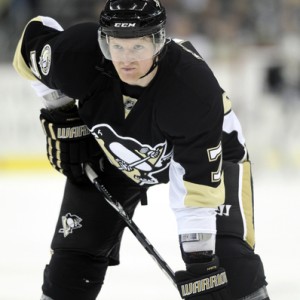 Unfortunately without Martin in the lineup, Burns has not looked like the same player. These last two games Burns has gone a combined minus-4 while turning the puck over much more frequently. Without his usual partner Burns has been trying to do too much. Talk about a player having a calming influence, that is exactly what Martin brings to the table. When paired with Martin, Burns has looked cool, calm and collected. In these last two games he has looked very frantic with the puck, trying to take on three Rangers at one point at the offensive blue line instead of passing to an open Joe Pavelski a few seconds earlier. The resulting turnover fed the transition breakaway opportunity for Rick Nash.
The Sharks no doubt miss Couture, he is a dynamite two-way center that plays top unit power play. But without Martin, the Sharks have essentially lost their best defensive pairing with Burns still not yet back to where he was as a defenseman in 2011-12. That year Burns was good enough to carry bad partners like Douglas Murray and Colin White. After spending nearly two years away from the defense position, Burns is still having trouble finding his game defensively when not paired with a shut-down stud next to him. Against the Rangers, Burns and the Sharks gave up far too many odd man rushes against, a problem that cost them big time in their epic playoff collapse in 2014. Essentially Martin is the guy the 2013-14 and 2014-15 Sharks were desperately missing. Early on this season Martin has been a huge key to the Sharks' success. Without him, the team defense just isn't the same.