Undoubtedly, every fan of the Pittsburgh Penguins has their opinion of the current situation facing the team in terms of it's goaltending.
Some feel that Marc-Andre Fleury should be the starter come Saturday night in Game One of the Eastern Conference Final against the Boston Bruins. The argument for Fleury to start is that he is the franchise goalie. The Penguins used the number one overall pick in the 2003 NHL Entry Draft on him. He has won The Stanley Cup once already. He's more athletic than Tomas Vokoun. The list goes on.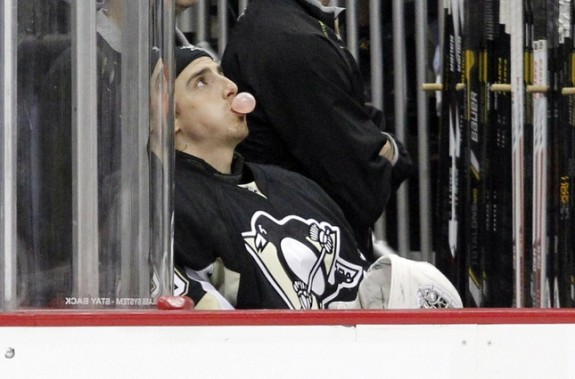 Yet others feel (myself included) that Vokoun has earned the right to be the Penguins netminder until he strings together multiple pathetic showings (such as Fleury did in games 2-4 of the Islanders' series). He is third in the league in GAA (goals against average) at 1.85, and second (behind L.A.'s Jonathan Quick) in save percentage at .941. He has a 6-1 record so far in these playoffs, by virtue of starting the final two games against the Islanders, and all five games against the Ottawa Senators in the conference semifinal round.
The argument against Vokoun goes something like this: he's too old (36) to lead the Penguins to The Cup; he's not as athletic as Fleury, he's never been this far in the playoffs; he wasn't brought to the Penguins to be "the man;" and so on.
And nowhere is this argument debated and perpetuated more than within the Pittsburgh media itself.
All one needs to do is turn on Pittsburgh's local sports-talk radio station 93.7 The Fan and listen to any of the local guys (from 2am-5:40am it goes to CBS' national radio programming) banter back and forth on the issue. Ron Cook, of the Vinnie & Cook Show, who is also a columnist for the Pittsburgh Post-Gazette, had this to say after the game six victory of the Islanders:
"The guess here is Bylsma will go with Vokoun again in Game 1 against the Senators and ride him until he loses or has a bad game, although I wouldn't have any problem if he went right back to Fleury. It has to be back to Fleury at some point. Vokoun was acquired in a trade with Washington before the season to rescue the Penguins in case Fleury had a bad game or was injured. But Fleury is the man who has to play the majority of games if the team is going to compete for the Cup. The franchise has bet millions that he is their guy."
In the afternoons, with Starkey, Miller & Mueller, the debate rages on. Although these three don't ever really back one or the other, they simply pose the question to the audience that: at some point, doesn't Fleury have to go back in net?
And on and on it goes.
Darren Dreger, one of the most respected hockey writers in North America, gave Vokoun his "props" when interviewed by Colin Dunlap, Andrew Filliponi and Eric Hagman on Memorial Day:
"Everybody's sitting there expecting something bad to happen to this guy. I'm not sure that's fair to him. He was very good in the regular season, he's been very good for the Penguins in the postseason in relief, so he's hit his stride. I suppose maybe it speaks to, you know, we just don't know a lot about him this time of year. Inexperience, particularly in goal, can hurt you. But I like to measure the body of the work and what I see in Tomas Vokoun. I don't think there should be a great deal of overall concern."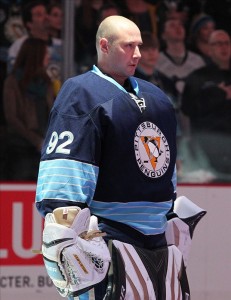 But I promise it doesn't end there.
All over the hockey world people are asking when will Fleury be given his shot a redemption? And as much as I despise, when asking a question of someone, I am answered with a question in return, my response would be "does he deserve one? And why?"
Look, it's simple: Dan Bylsma and Ray Shero are in the business of winning The Stanley Cup multiple times. Not pandering to egos, or making sure that the "franchise guy" is getting his playing time. When the Cup is raised at the end of June, and if it's NOT Sidney Crosby being the first to raise it, I assure you that Bylsma and Shero will not look at each other and say: "Well, at least we got Fleury back in there and helped him save face." I can all but promise you that, right now, in the Penguins locker room, there is ZERO controversy on who the goalie is going forward.
Professional sports are about winning. And this is NOT the NFL or the NBA that I'm writing about here (those guys are ego-maniacs, and I'm sure that if they could have their faces on the field/court, the goal posts/hoops, the seats, heck even the ball itself, they'd demand it in their next contracts). This is hockey, and hockey players (most of them) get it.
I'm not saying that Fleury is fine riding the pine. I'm sure that his pride is a little hurt right now. But I'm also sure that he fully understands the situation. He has looked rather unorthodox at times, and let in some pretty suspect goals at key moments in key games this postseason. Furthermore, he has seen what Vokoun has done in his seven games thus far, and the stats speak for themselves. Fleury is a professional, and although it pains him to be in this position, The Stanley Cup his is ultimate goal. One way or the other.
So if there is one thing that I could say to the various media who continuously ache for Fleury's return to the crease, for no other reason than simply "he's the franchise goalie," I say thank you. Thank you for simply talking about hockey, and not actually coaching it. There is no goalie controversy in Pittsburgh other than the one that you, the collective Pittsburgh sports media, have created via your own outlets.
As always, the best way to keep up with all of my work is by following me on Twitter. If you're not already, then shame on you for six weeks. Please do so here.
Pittsburgh, Pa. Class of 2000 graduate from Robert Morris University with a B.A. in Mass Communications. Full-time objective sports fan.