Between the beginning of the 2015 regular season and the time they were finally eliminated by the Washington Capitals in 2018, the Pittsburgh Penguins played the most hockey of any team in the NHL. Between 61 postseason games, two full regular seasons and the World Cup of Hockey, most Penguins could find a silver lining in taking a break when their two-year streak as Stanley Cup champions finally ended.
Most Penguins, that is, except Patric Hornqvist, who immediately left Pittsburgh after the team's elimination to join Sweden in the 2018 International Ice Hockey Federation World Championship.
Hornqvist's First Gold
Hornqvist played three games leading up to the finals, where only Switzerland stood between Team Sweden and their second gold in two years. The Swiss, fighting for a historic first tournament victory, struck early, scoring with under four minutes left in the first to put them up 1-0. It looked like the defending IIHF champions might be in trouble. But Hornqvist, who last year scored the Cup-winning goal for the Penguins in an opportunistic chip off Nashville goaltender Pekka Rinne's back, was once again in the right place at the right time.
As Hornqvist battled at the net front to screen Sweden's goaltender, teammate Mattias Ekholm slipped one past them both to tie the score at 1-1. Sweden would eventually take the match 3-2 in a shootout. Although he couldn't help carry the Penguins to the three-peat they were looking for, Hornqvist's net-front presence, as well as his two goals in four games, helped guide Sweden to back-to-back gold medals in the tournament.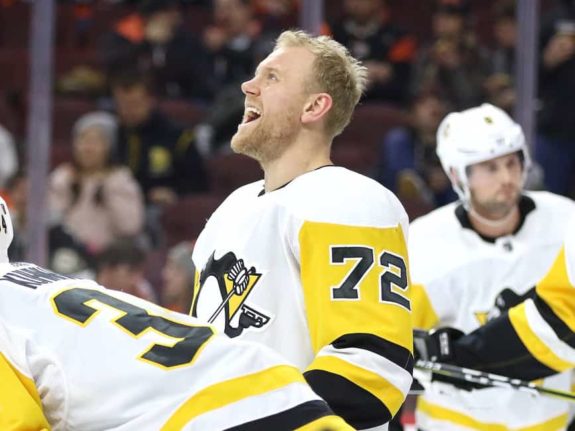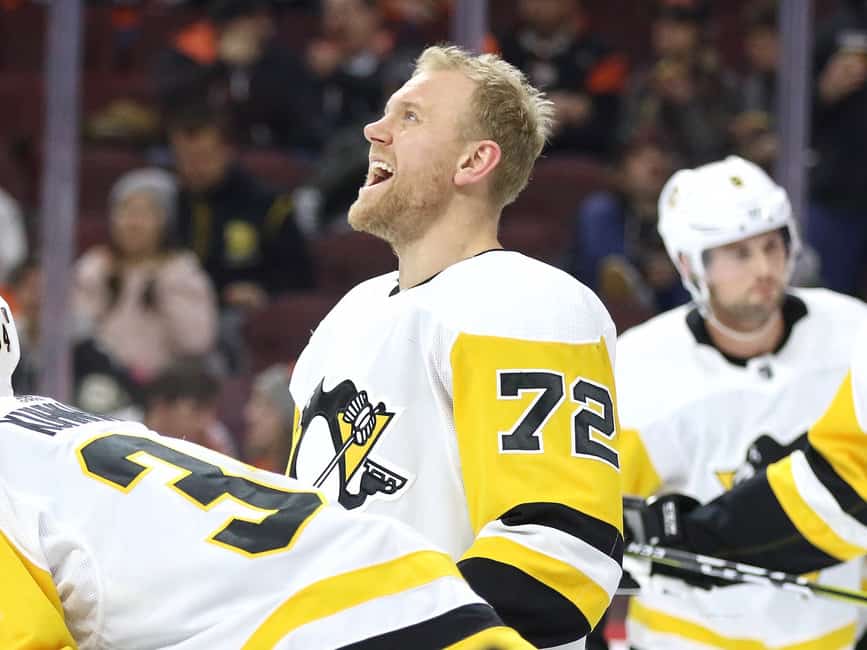 In the 2016 and 2017 World Championships, the two IIHF tournaments Hornqvist participated in prior to the 2018 win, Sweden did not medal. Although he's helped earn medals for his country before (a bronze in World Juniors in 2005, as well as another third-place honor in the World Cup of Hockey in 2016) this victory marks the first gold of Hornqvist's career.
Related: The Sneaky Value of Patric Hornqvist
Hornqvist's Future with the Penguins
Hornqvist inked a contract extension this past season to lock him with the Penguins through the 2022-23 season. That's longer than Evgeni Malkin's and Phil Kessel's tenures. In fact, it's longer than that of any other player in Pittsburgh other than Sidney Crosby and Brian Dumoulin. Hornqvist's five year deal indicates that the general manager and coach see him as an important part of the team's core.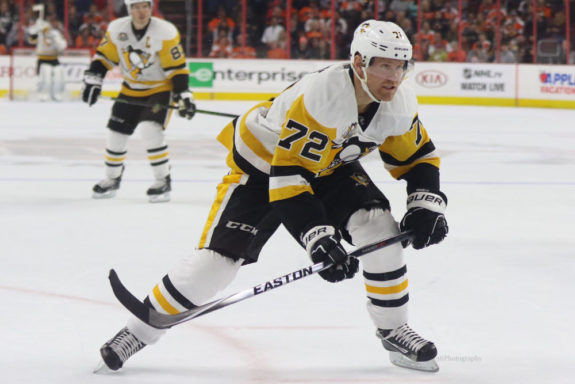 It's been buried under other ledes from the Penguins' shortened 2018 playoff run—Crosby and Jake Guentzel's domination, Kessel's relative slump, Malkin's injury, Matt Murray's underperformance— but Hornqvist very quietly had one of the best playoff runs of his career in 2018. With 11 points in 10 games, he came just two points short of tying his 2016 postseason points total—a career high—in 14 fewer games. These were the first playoffs of his career where Hornqvist maintained a production rate of over one point per game. His five goals sat behind only Guentzel and Crosby's totals in the team scoring race.
Related: How Hornqvist Extension Affects Penguins Cap
Signing a 31-year-old player for five more years can be a risky endeavor, especially when said player has made a career out of brutal, physical play that more often than not involves standing in the goal crease and withstanding a flurry of abuse from irritated goaltenders and defenders. But Hornqvist's quietly impressive 2018 playoffs, followed by two goals in four games en route to a gold medal with Sweden, shows the tenacity that the organization sees in him. He hasn't scored under 20 goals— or under 40 points— since his first regular season in the NHL in 2009 (excluding the lockout-shortened 2012-13 season). His postseason, both at home and abroad, shows the Penguins can expect the same energy from him going forward that makes him a consistently effective top-six forward.