You can't blame Pittsburgh Penguins defenseman Kris Letang for a slow start to the 2017-18 season. When he stepped on the ice on Oct. 4 against the St. Louis Blues it was his first game action since last February, during which time he underwent major neck surgery to repair a herniated disk. He was watching from the sidelines when the Penguins won their second straight Stanley Cup.
Against the Blues, Letang was pointless in an overtime loss with a minus-2 rating. He didn't have quite the same jump in his stride and appeared a bit tentative with the puck. But he was on the ice and playing in a meaningful game with no apparent lingering side effects from the surgery. Still, questions about his play and health remained unanswered. In some regards, many still haven't been answered.
Inconsistency Plagues Letang's Return
If a slow season debut was expected, you certainly can't fault Letang for his performance less than 24 hours later when he finished a minus-5 in a 10-1 drubbing at the hands of the Chicago Blackhawks. Every Penguin was horrid in every aspect of the game, uninspired even. For his part, Letang had five shots on goal, matching Phil Kessel and Chicago's Brandon Saad for the game high.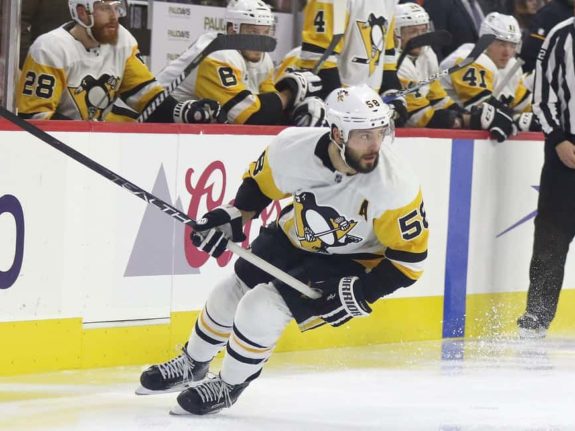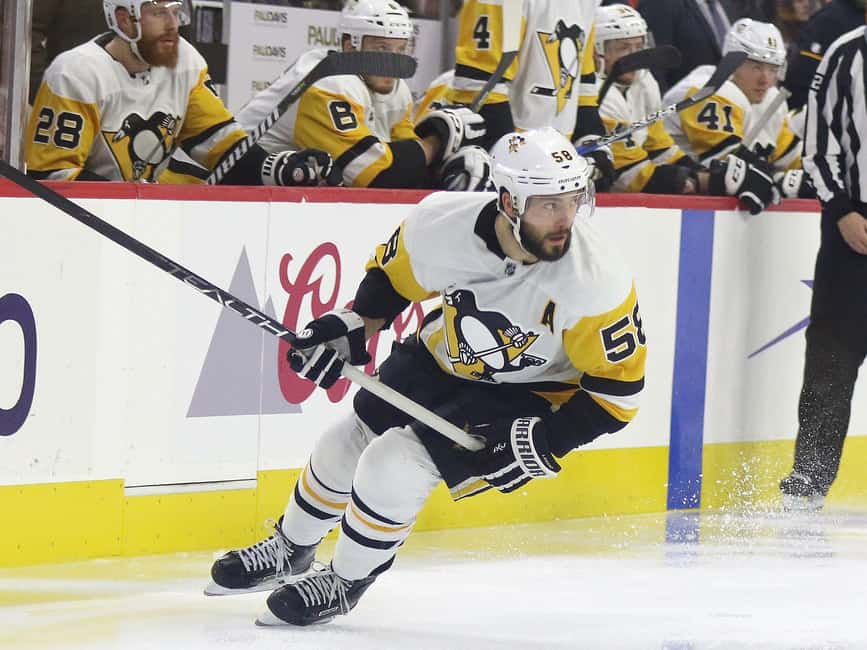 But as October turned to November, Letang's play remained shaky. He finished the month with a minus-14 with a shocking amount of hesitant decisions highlighted by passive pressure, blown coverage, ill-timed defensive zone penalties, and costly giveaways. There were times when he seemed like a different player in the same uniform.
Offensively, while he wasn't scoring goals his playmaking remained comparable with his career averages, finishing the calendar year with 25 assists in 37 games. But he regressed in January with the onset of an out-of-character slump. In the eleven games before the All-Star break, Letang had just a goal and two assists and was riding a five-game pointless streak. As the quarterback of the league's top-ranked power play, he needs to score on the man advantage but didn't have a hand in any of Pittsburgh's five power play goals during that stretch.
As a defenseman, his contributions must be measured by more than just goals and assists, and to be fair, he's not having a ridiculously awful statistical season. But for a player with the ability to skate as the fourth forward, like P.K. Subban and Drew Doughty both of whom are outpacing Letang in goals, his scoresheet never goes unnoticed. If anything, Letang's sporadic offensive production might make his defensive mistakes even more glaring.
Can Letang Heat Up Like Penguins Other Stars?
A consistent theme throughout Pittsburgh's season, both in the highs and in the lows, has been survival. Every player has had to learn the tendencies of new linemates, make up for lost productivity, and manage a starting goaltender carousel. Not to mention the nightly mental drain of being the two-time defending champions.
As an alternate captain, Letang shoulders more of that burden than others. He's also dealing with a body that has betrayed him too often in recent years. But the Penguins' season is reaching a now-or-never point. Sidney Crosby, Evgeni Malkin, and Kessel have elevated their game of late and he seems to be healthy. But the success of Pittsburgh's season is still a work in progress. It's time for Letang to rebound.
This is why the All-Star Game and the first game after the break were so crucial for him. By all accounts, he knows he's having an off season and admitted as much during the All-Star media day. He also vowed to right the ship. And as inconsequential, and silly, as the All-Star Game may be, a first-period goal that put the Metropolitan Division ahead 4-3 in their semifinal tilt against the Atlantic Division could be significant.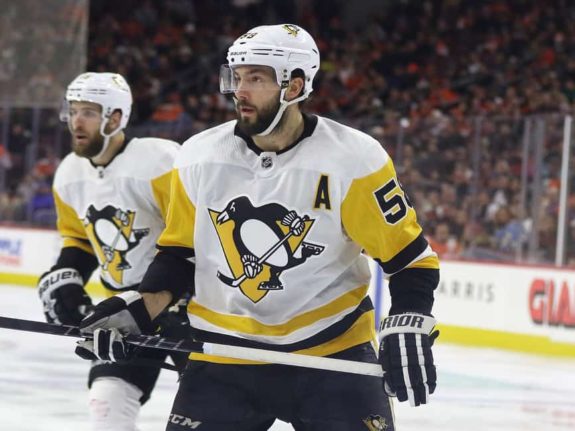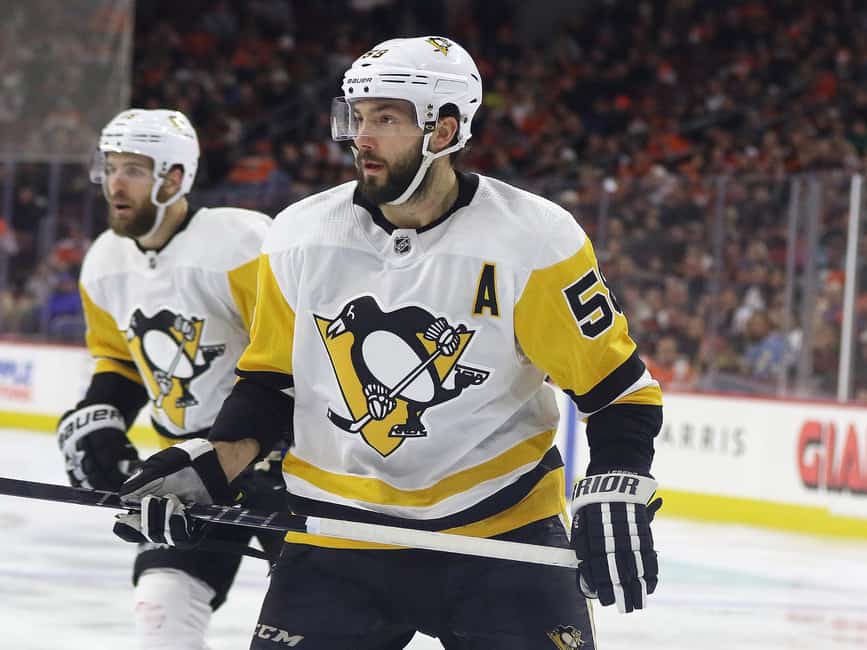 Sure, they lost 7-4 and Letang finished with a minus-2. And yes, the 3-on-3 allowed for open ice and not a lot of defense.  it was the first time Letang lit the lamp in exactly three weeks, a goal that broke a month's drought. Above all, Letang looked like he was healthy, having fun, sharing smiles with Crosby on the bench and catching up with Marc-Andre Fleury during the Skills Competition.
Tuesday night's home game against the San Jose Sharks carried even more significance and not just because it was a game that actually counted. It was also the last head-to-head matchup of the season with Sharks superstar defenseman Brent Burns, a player who is often compared and contrasted to Letang.
In either case or maybe because of a different motivating factor, Letang rose to the occasion. He registered Pittsburgh's first two shots and his third attempt rang off the crossbar. Another wicked shot was headed for the net but ran into the chest of Jake Guentzel first. In the third period, he danced deep into the zone, curving behind the net to create a scoring chance and later added an assist on Brian Rust's insurance goal that put the Penguins up 4-2.
He finished with a team-high five shots on goal, blocked a shot, registered four hits and, most importantly, didn't give the puck away. Burns scored his eighth goal of the season on three shots but was also a minus-3 and looked out of sorts and even careless at the point.
Letang was by no means perfect, taking an awful interference penalty with Pittsburgh on the power play in the third period, but for a night, at least, he looked like himself.
Letang Can Still Be a Star
It's easy, if not unfair, to expect great things from great players all the time and Letang is just that, a great player. Every mistake or uncharacteristic play widens the magnifying glass. Even when a star doesn't do something they're at fault for not doing enough. But it's a long season and Letang is on pace to play in 79 of 82 games after playing just 37 last year, that's a victory.
And for all of his tribulations, Letang is still the core of Pittsburgh's defense. He's a four-time All-Star and a three-time Stanley Cup winner. He's still just ahead of Crosby down the runway after games and he's still only 30-years old.
What happened to Kris Letang? Nothing.
Shawn Nicholls covers the Pittsburgh Penguins for The Hockey Writers and is a veteran of the book publishing industry and a former staff writer and hockey correspondent for Sports Illustrated for Kids. Shawn resides with his family in Brooklyn, New York.