While a handful of consecutive wins can hardly be considered a resurgence and season-defining stretch, the Pittsburgh Penguins appear to be rounding into shape at the right time. Sidney Crosby, Evgeni Malkin and Phil Kessel have become a dominant three-headed offensive monster, with the trio accounting for 32 points in January as the Penguins have won five of six and four in a row to climb back into one of the two wild card spots. Crosby and Malkin are looking like they could turn in great seasons, not statistically awful ones.
Of course, they haven't always clicked at the same time, each going through their share of slumps since Kessel joined the mix in 2015. But the Penguins have still won back-to-back Stanley Cups, which means others have contributed and the lineup has been deep. But then why have the early season struggles of their superstars put Pittsburgh in need of a strong final stretch just to make the postseason?
Because the deepest parts of their lineup are playing for other teams.
Penguins Offseason Roster Shuffle
Stanley Cup champion forwards Nick Bonino, Matt Cullen and Chris Kunitz signed elsewhere this past summer. It made sense on paper for Pittsburgh in the cases of Cullen and Kunitz, who were on the other side of their peak years and perhaps not worth the financial investment. It even appeared Cullen was headed into retirement if he didn't re-sign with the Penguins. At age 29, Bonino was the one who got away when he signed a four-year contract with the Nashville Predators. But there was only so much the Penguins could afford given their salary cap space and significant investments in Malkin and Crosby.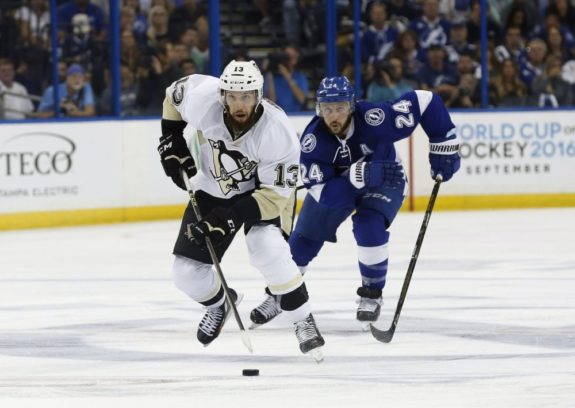 With the departure of all three the Penguins lost plenty of points, but also intangibles not found in the box score like grit and consistency. In Bonino, they lost a fan favorite underdog, as well as a do everything player who consistently played through injuries. Cullen provided the veteran leadership in the locker room, was a mainstay on the penalty kill and never seemed to lose an important face off.
From a fan standpoint, the toughest departure was Kunitz. Not only had the assistant captain skated alongside Crosby for so many years and ignited comebacks with his tenacious play, but most recently sent the Penguins to the Stanley Cup Finals with a double overtime goal against the Ottawa Senators.
Early in the season Pittsburgh didn't seem prepared to replace any or all of these contributions. Daniel Sprong and Dominik Simon have shown glimpses of rising to the occasion of late, but they're still a long way from reaching the levels of their predecessors — Simon in fact just scored his first NHL goal on Sunday. There is, of course, the trade deadline looming and if the Penguins are going to sustain their sudden offensive domination they'll need to find help somewhere.
Related: Is Daniel Sprong Sidney Crosby's Next Jake Guentzel
Former Stars Struggle with New Teams
Statistically, these offseason moves aren't working for anyone. Pittsburgh continues to struggle with its offensive consistency at even strength while Bonino, Cullen and Kunitz struggle to just show up in the box score. In playing over 70 regular season games each last year, the three players combined for 97 points. This season the trio are each headed for personal statistical lows and, at their current pace, they will combine for only 57 points.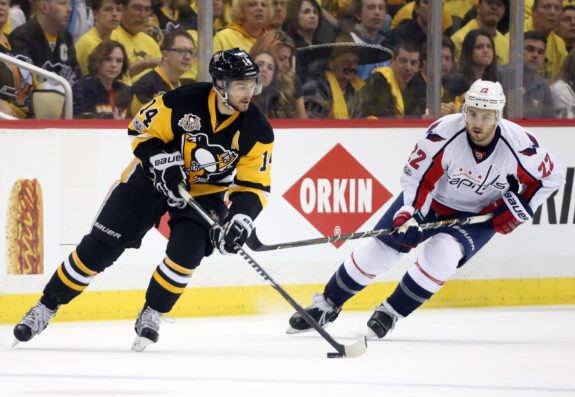 Kunitz's output isn't entirely shocking. While he is projected to register the fewest points of his career when playing at least 30 games, it will only eclipse the career-low he set last year. His career is nearing an end but clearly a change of scenery didn't help.
Bonino's performance is a surprise. He has just six goals and two assists in 32 games and is on pace for 18 points on the season. When the Penguins skated to their fourth Stanley Cup in the 2015-16 season, Bonino had 18 points in 24 postseason games. While he's been slowed by injuries, he hasn't exactly lived up to Nashville's lofty expectations.
And, at the age of 41, it's hard to fault Cullen for registering just 10 points in 45 games — and it's impossible to gauge his impact in the locker room.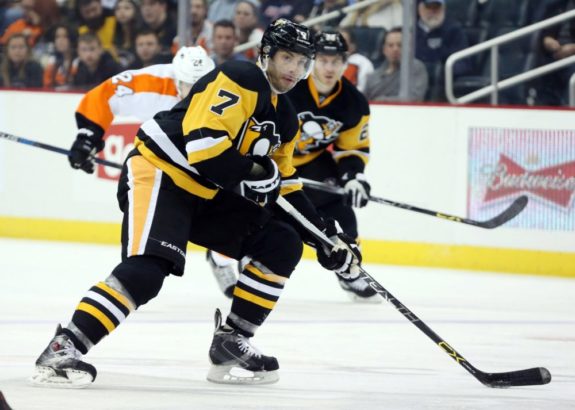 It's still very early, and some of the most memorable contributions from each of these three players came in the playoffs, so they still have time to make their marks with their new teams. But everyone's roles are still very much a work in progress and you can't help but wonder what their stat sheets would look like if they were still in one place.
Related: Is Sidney Crosby Heating Up?
Who Is in a Better Place?
With each former contributor struggling and the Penguins just two defeats shy of matching their 2016-17 loss total, it begs the question: does the team make the player or does the player make the team? Pittsburgh loses that debate from a standings perspective.
Kunitz's Tampa Bay Lightning are running away with the Eastern Conference while Cullen's Minnesota Wild and Bonino's Nashville Predators are in more favorable positions for making postseason runs of their own than the Penguins.
As video tributes and standing ovations await not just these three but all of the key pieces of past championship teams, it only stands to further highlight some of the holes in Pittsburgh's lineup. Players will come and go. But who goes, and more importantly who stays, define seasons.