It's been a long time since Adam McQuaid has suited up in a Boston Bruins' uniform. No. 54 broke his right fibula on Oct. 19 in a game against the Vancouver Canucks and has been sidelined ever since following his surgery on Oct. 23. Given a recovery time of approximately two months (or eight weeks), McQuaid has been working hard to get back to full health and remain in game shape for his eventual return to the lineup. Unfortunately, that return was put on hold due to the Bruins' excellent stretch of play that has seen the team go 9-0-4 in their last 13 games.
#NHLBruins pregame updates, per Bruce Cassidy.

Kevan Miller is still under the weather and a game-time decision, but "very doubtful for tonight."

If Miller can't go, Adam McQuaid would make his return.

Jake DeBrusk and Noel Acciari are good to go. pic.twitter.com/zDg2HwPWZe

— Boston Bruins (@NHLBruins) January 17, 2018
Nothing has changed in terms of performance as all six Bruins' defenders have played well enough to keep their spots secured in the lineup. The same goes for the forward group as well, limiting the team from running a lineup of 11 forwards and seven defenders. Due to an illness to Kevan Miller, however, the door is now open for McQuaid to finally find his way back into a game; something that's essential for both him and the Bruins for a variety of reasons.
McQuaid Needs to Remain in Game Shape
While it's important to keep a winning and resilient team rolling, the Bruins were in a tough spot by keeping McQuaid out despite being healthy. Considering the fact that he hasn't played in a game since the end of October, some three months ago, it's anybody's guess as to how well McQuaid will play in his first game back. He may have been skating and keeping himself ready just in case his number was called, but nothing can replicate an NHL game quite like an NHL game.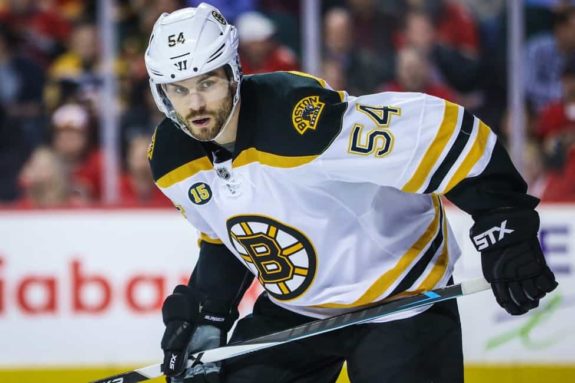 Not only will McQuaid be returning to the Bruins lineup in the midst of such a successful stretch of play, he'll also be doing so against the rivaled Montreal Canadiens in the second game of a three-game stretch. It'll also be his former head coach Claude Julien's return to Boston – the city that Julien called home for nearly a decade, becoming the winningest coach in franchise history.
Needless to say, the Bruins will need to be at their best in this one if they want to win. Even though McQuaid hasn't played a game in so long, he'll need to do his best to not make mistakes in this one as the Bruins look to come out on top for the second time in four days.
Even if McQuaid finds himself back out of the lineup once Miller is healthy enough to return, the fact that he's getting any game action at all is crucial. If he's going to be the seventh defenseman for a playoff run with the Bruins this year, he'll need to keep his legs fresh. He's a veteran defender who brings heart, character and physicality like no other and that makes him the ideal extra blueliner for a long run. It also makes him a candidate to be traded as well.
McQuaid's Trade Value
If the Bruins feel confident in their six defenders in Zdeno Chara, Charlie McAvoy, Torey Krug, Brandon Carlo, Matt Grzelcyk and Miller with the complements of Rob O'Gara and Paul Postma as extra defenders, the team could look to move McQuaid at the trade deadline if the return is suitable enough. While the best option for the team is to keep McQuaid due to a potential injury in the postseason (given the fact that he's more reliable than O'Gara and Postma), there's still a distinct possibility that the team could at least listen to trade offers.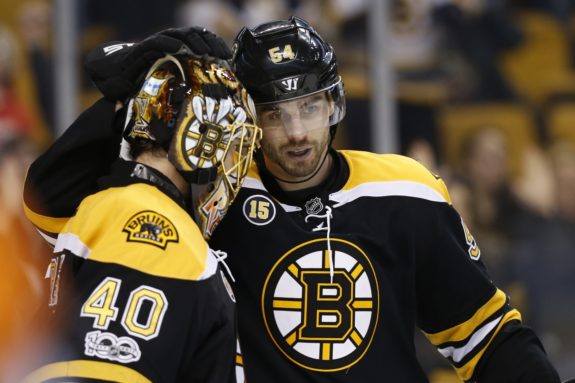 If the Bruins want to capitalize on a trade for the veteran defenseman, they can't have him sitting out every single game between October and February. For that reason, getting McQuaid playing time is good for getting him back in the lineup and letting him stay fresh in case he's needed, but also in case a team calls and inquires about a trade to acquire him for a postseason run.
Still, it seems unlikely that the Bruins will look to move McQuaid this season at the deadline as they'll likely be deep in a playoff race themselves and they can use him as an internal deadline addition rather than making a trade.
McQuaid could find himself traded in the offseason due to the Bruins depth on defense, however, and his value will only go up if he proves he can still perform well at his age following a broken leg. With one year remaining on his contract beyond this season, McQuaid's value may best be suited as an extra defender this season and as a trade chip in the offseason. Only time will tell what will ultimately happen with the 6-foot-4 defenseman, but for now, it'll be nice to see him back in the lineup.