When Phil Housley took to the podium for his inaugural press conference, he promised a fast-paced, high octane offensive approach, the likes of which the fans in Buffalo hadn't seen in over a decade. Fresh off of a deep playoff run with the Nashville Predators, he was the odds-on favorite to return to coach the team that drafted him in 1982. As an assistant in Nashville, Housley helped coordinate an offensive attack centered around puck-moving defensemen – a style he intended to bring with him to Western New York.
Gone were the days of watching Sabres defenders hopelessly attempt to thread 100-foot passes through the neutral zone. No longer would their young roster flounder in obscurity, shackled by the incessantly dull strategies set forth by Dan Bylsma. Fans rejoiced with a newfound confidence that their team would finally enter the playoff conversation.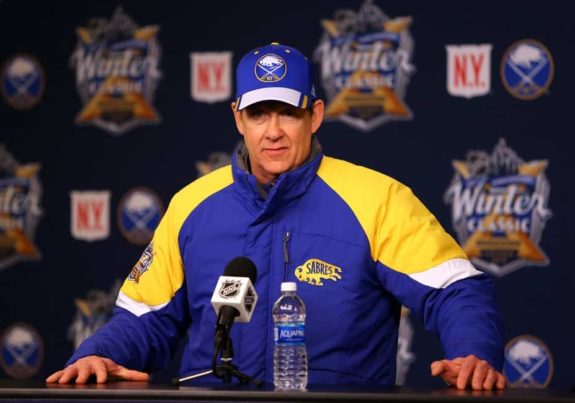 Seven months later, supporters of the blue and gold couldn't be more disappointed. With 11 wins in their first 44 games, the Sabres are on pace to finish the season with 57 points. In a year where Buffalo was supposed to emerge from the league basement, they find themselves trapped deeper than ever.
Though a step backward was always a possibility, especially when implementing a completely revamped style of attack, nobody expected another last-place finish. With a roster that is, on paper, significantly improved from last season, some fans have started to question Housley's effectiveness behind the bench, begging the question – how much time will the Sabres give him to right the ship?
A Toxic Locker Room
Discord within the Sabres dressing room began well before Housley arrived on the scene. After two frustrating, uninspired seasons under Bylsma, reports of complacency and poor communication began to emerge.
A frustrated Jack Eichel seethed during his locker room clean out interview at the end of last season.
"I'm here to win. I think guys want to win," said Eichel. "There's a difference between saying you want to win and actually wanting to win and putting the work in and dedicating your life to it."
Soon after, rumors of a rift between Eichel and Bylsma began to surface. Tim Murray added fuel to the fire during his end-of-the-year press conference, stating that the coaches should "put a coffee in their hand once in a while and do two hours of video instead of three and get out and get to know our players and talk to our players."
Nobody will fault a coach for being detail-oriented, but Bylsma's downfall stemmed from a lack of time spent communicating with players and a failure to maintain control of his roster.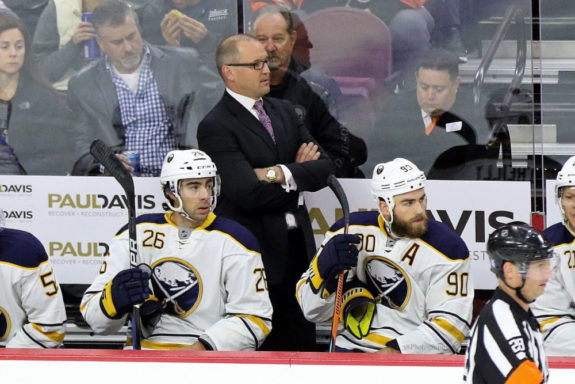 Mid-way through his first season with the Sabres, Housley has run into the same issues. A deep-rooted losing culture began to fester long before his arrival in Western New York, and his hands-off approach to managing his team hasn't helped matters.
Right off the bat, it became abundantly clear that a lack of consistent in-game effort remained an ongoing problem. While players like Ryan O'Reilly lamented poor execution during postgame interviews, Housley remained sanguine to a fault, focusing on the few things his team did well, versus the myriad of inadequacies evident to even the most casual spectator.
As the losses have piled up, his upbeat demeanor has shifted, expressing disappointment in his team's inability to execute his gameplans. This critical approach has been long overdue. On a squad without a defined captain, the onus is on the coaches to provide leadership and guidance, especially when the core of the roster features several young players who have yet to experience sustained success at the NHL level.
Housley is lauded as an expert tactician, however, it is yet to be seen whether or not he can inspire a culture shift in Buffalo.
Related: Sabres Culture of Losing Persists
Lack of Depth on the Sabres Roster
In his first offseason as general manager, Jason Botterill went to work overhauling the Sabres depth, particularly on defense. With the addition of players like Victor Antipin, Nathan Beaulieu and Marco Scandella, the blue line appeared much more formidable entering the 2017-18 season. Not only were these acquisitions low-risk, high-reward investments, but they perfectly reflected Housley's puck-carrying defensive prototype.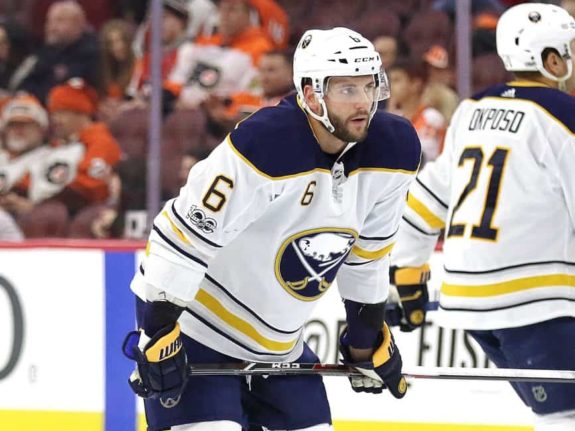 Early on, injuries on the back end began to pile up, forcing certain players into roles that required heavier workloads. As the team has regained its health, Antipin and Beaulieu have failed to maintain their places on the roster, often being scratched in favor of more conservative, veteran players who do not fit the Housley mold.
Underachievers left over from the last regime have also struggled to grasp the new-look strategy, causing uncertainty as to whether the problem lies with the players or the coaching staff.
At the end of last season, a vast majority of the blame fell on Bylsma's shoulders. With players like Sam Reinhart, Ryan O'Reilly and Kyle Okposo on the roster, fans felt that that poor coaching was the biggest reason that the Sabres missed the playoffs for the seventh straight season. That tune has changed, though, as the same cast of characters have performed equally poorly under a brand new staff.
Rome wasn't built in a day, and nobody will fault Botterill for not purging the entire roster in just one offseason. On the same token, Housley cannot bear the blame for failing to maximize production from a core of players that have become content with the complacent atmosphere left behind by the last regime.
Talent Influx on the Horizon
Last week, fans got a taste of things to come as they watched Linus Ullmark and Brendan Guhle get their first opportunity with the big club this season.
Ullmark was absolutely sensational, stopping 44 shots in a 3-1 win over the Columbus Blue Jackets. At no point did the 24-year-old netminder appear out of place as he impressed spectators with elite positional awareness and rebound control. Though he will likely finish the season in Rochester as the Amerks continue their quest for the Calder Cup, his performance inspired confidence regarding his viability as a long-term starter. With Robin Lehner on the trade block, fans can expect to see Ullmark in blue and gold full-time next season.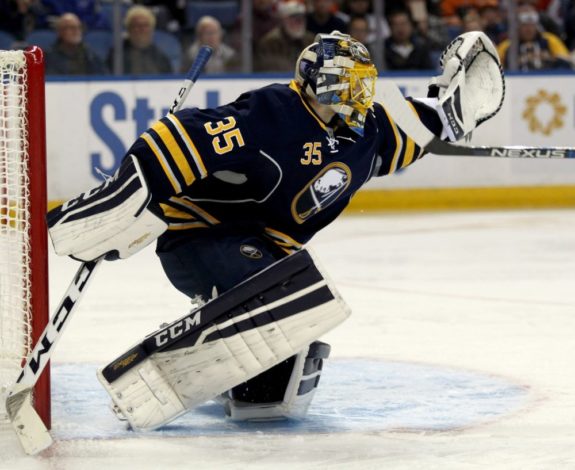 As impressive as Ullmark's debut was, Guhle took center stage. For what seems like ages, Sabres supporters have anxiously waited to see him in action, and to their assurance, he performed exactly as advertised.
His ability to carry the puck into the offensive zone and generate chances from the back end is something the team has severely lacked this season. Though he only registered a secondary assist during his two-game call-up, Guhle orchestrated several impressive scoring opportunities and showed that he is ready for NHL action.
Like Ullmark, Guhle will finish out the season in the minors. With the Sabres' season all but lost, Botterill sees little value placing him on a roster that has shown no signs of improvement. Not only will he be a permanent fixture in Buffalo next season, he could very well end up being the best defenseman on the roster.
Another Roster Purge
It has been widely reported that the Sabres will be big sellers at the trade deadline. Last month, Elliotte Friedman reported that the team is willing to listen to offers on just about anyone.
"There's a sense from other teams that the Sabres are sending signals that they are open for business," said Friedman. "You can ask about anybody whose name is not Jack Eichel."
With a potential mass exodus set to take place in the not-too-distant future, Botterill will look to add high-potential futures in exchange for current roster players. After a year of evaluation, his willingness to part with most of his current lineup is very telling. He recognizes that the root of the Sabres' poor performance stems from Murray's leftover core, most of whom have little to no playoff experience. Botterill has attempted to remedy this problem with the addition of Stanley Cup winners in Jordan Nolan and Scott Wilson, but he knows sweeping changes are necessary.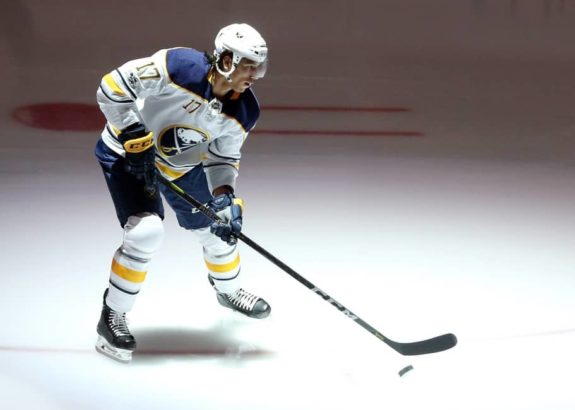 In less than a calendar year, it has become clear to the Sabres management that another rebuild needs to take place before sustained success can be achieved. As it becomes more and more likely that sweeping roster changes will take place this summer, Housley will no doubt get another opportunity to coach a full season in 2018-19. If his team can show marked improvement with a new cast of characters, then his job will be safe. If the Sabres continue to wallow at the bottom of the standings, he may not get a third kick at the can.