It's a fitting story that while the Penguins are just a win away from a trip back to the Stanley Cup Final, it isn't Crosby or Malkin that we're highlighting. Crosby has returned to form and is playing amazing hockey. Evgeni Malkin is flying around the offensive zone and creating plays while continuing to lead the NHL in playoff points. Yet, these aren't the guys who ultimately propelled Pittsburgh to a Game 5 blowout. You'll have to look further down into the lineup to see who's responsible.
Depth in Pittsburgh Comes in Different Waves
A year ago during the Penguins' run to their first Stanley Cup win since 2009, it was the HBK line that became famous over night. Carl Hagelin, Nick Bonino, and Phil Kessel were the Heart-Break-Kids and gave Pittsburgh great depth scoring, combining for 56 playoff points and numerous big goals that gave Pittsburgh an edge over playoff opponents.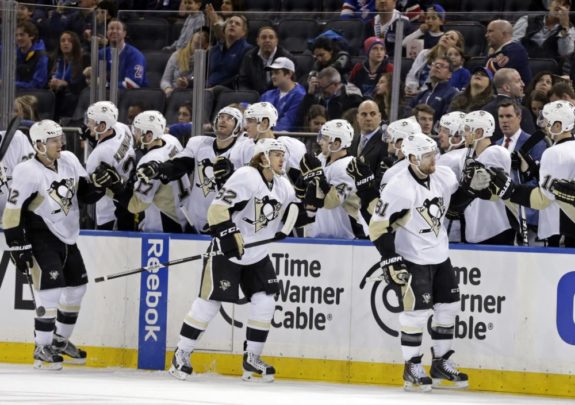 The HBK line didn't last long after the Stanley Cup was hoisted, and those three players are playing separately in these playoffs. Kessel is skating alongside Malkin and scoring goals on the power-play unit better than anyone else in the playoffs. Hagelin is still trying to get healthy and playing on the fourth line, but is starting to look faster as the Penguins play deeper into May. Bonino, despite recent car trouble that required assistance from his old buddy Kessel, has found himself centering two younger wingers that have him a part of a new Pittsburgh favorite line.
Rowney Exemplifies 2017 Penguins' Depth
Carter Rowney has played exceptionally well since being inserted back into the lineup for Game 7 of the Washington Capitals series. Rowney doesn't overwhelm spectators with his offensive ability or his great playmaking; he simply outworks the opponent. He plays hard, he plays smart, and he doesn't take penalties. He does the things that don't show up on the stat sheet, and although most people don't notice it, his teammates and his coaches do.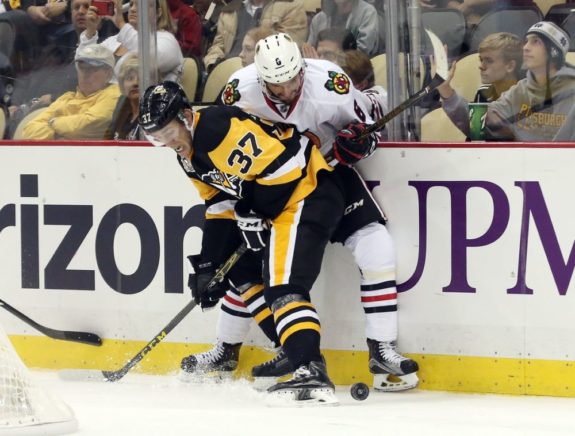 Rowney hadn't tallied a point since April 9 and had only one career multi-point game. He's a blue-collar hockey player and in Game 5, he was rewarded for his effort with three assists and the No. 1 star of the game.
To be able to contribute on the scoreboard was surreal, something I've been working hard for. –Rowney after Game 5
Rowney isn't the only depth player who came up big for the Penguins in Game 6; Bryan Rust also returned to the lineup as well as to the scoresheet. Rust, who in his previous nine playoffs games had just 1 point (a Game 7 goal versus Washington), played his best game of the 2017 playoffs and registered two points and looked healthy after coming back from injury.
Scott Wilson also tallied a goal, his first in over a month, and continued to play well. And although I wouldn't call Matt Cullen a depth player, he too played exceptionally well and was rewarded with a goal during Pittsburgh's onslaught.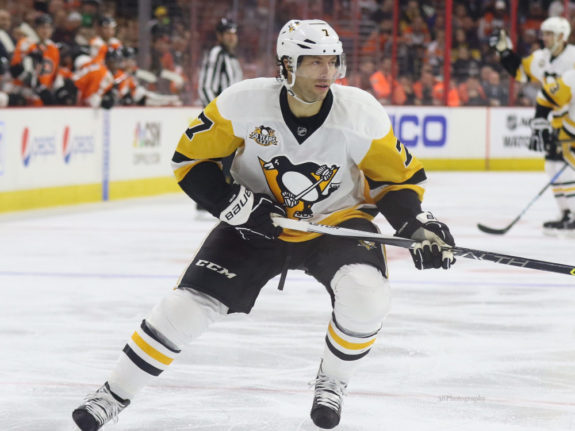 And last but not least, Bonino played his best game during the series and set up two goals for his Penguins. Since his game-winning goal versus Washington, Bonino hadn't been playing well. Coach Mike Sullivan seems to have found two wingers for him that brought the best out of number 13.
The third and fourth lines in Game 5 combined for nine points for Pittsburgh, three goals, and played the large portion of the third period to give rest to their top lines.
Depth Players Win Stanley Cups
It certainly seems like Pittsburgh's stars have found their game. Crosby has scored goals in three straight games while Malkin is flying around the ice and leads the playoffs with 20 points. Matt Murray doesn't seem to have any rust after missing over a month due to injury; he's looked great in five periods of hockey including a shutout in his first start.
2016-17 is different for the Penguins. Their leadership on offense is playing at a high level which is to be expected. However, Kris Letang is sitting in the owner's suite with the likes of Mario Lemieux, which means he's not leading his team on the ice. In fact, there isn't much leadership on defense for Pittsburgh which means experience and depth are what the Penguins will have to rely on.
The HBK line was so important for the Penguins because it added an element of scoring that previous teams didn't have. In Game 5 versus Ottawa, spectators got a glimpse of what that depth scoring could look like for the Penguins if they can win one more game and advance to play for a second consecutive Stanley Cup.
'The High Point Guys'
The famous Doc Emrick referred to the Penguins' Game 5 third line as 'The High Point Guys.' Seven points to be exact, after Rowney set up three goals, Bonino added two assists, and Rust with a goal and an assist. It's hard to tell whether the nickname will stick but rest assured, Mike Sullivan will keep this line together.
Coach Sullivan on the importance of depth scoring: "It makes our team hard to play against. We had seven different goal scorers." pic.twitter.com/a2ZM5XRk2A

— Pittsburgh Penguins (@penguins) May 21, 2017
---
The lines for Pittsburgh have constantly been shuffled, especially the bottom lines. With such success in Game 5, Sullivan has no reasons to change things up. Rowney has played solid hockey during these playoffs and with Rust now healthy, his speed will be on display. Bonino's experience mixed with his playmaking ability gives the new third line for the Penguins everything they need to have a positive impact on the game.
The Depth Effect on a Hurt and Exhausted Team
After winning a Stanley Cup a year ago, the Penguins have played more hockey games in the previous 12 months than any other team. They've also lost more collective man-games due to injury than any other team. Pittsburgh has had concussion scares with some of its best players. And somehow, the team just keeps finding ways to win.
Good teams depend on their stars to win them games. They provide just enough ice time to give their big guns a rest but they don't provide much of an edge to help their team win; they're just placeholders.
Great teams have depth. Great teams have guys from top to bottom that put their team in position to win and they allow their best players time to rest. Great teams have penalty killers who sacrifice everything to return to even strength with no goals against. And the greatest aspect of a team with depth is this: belief.
Belief that no matter who's on the ice, your team is the better team. Belief that if one guy goes down, another is waiting in the wings ready to replace him. Belief that even if your stars have an off night, there will be playmakers in the lineup who give your team a chance to win. The Penguins have belief, and that is why they will win the Eastern Conference, again.
The Penguins are playing inspired and they are playing well. The Senators can't say the same. They will be playing in their first elimination game of the playoffs in Game 6, they are the less talented team, they are the less experienced team, and without Erik Karlsson, they are the team that will lose.
Smith works full time with Rise Against Hunger, a non-profit set on ending world hunger by 2030. He's a hockey enthusiast living in Pittsburgh, PA and formerly covered the Pittsburgh Penguins for THW.
Follow him on twitter @BSmithWV