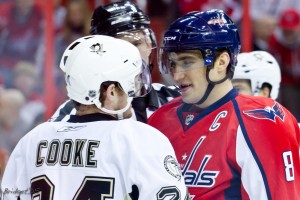 PITTSBURGH – For the second time this week Matt Cooke finds himself at the center of attention for a questionable hit on an opponent.
After Cooke clipped the leg of Washington's Alex Ovechkin in the final minutes of a Sunday afternoon battle, Capitals coach Bruce Boudreau had harsh words for the Penguins' agitator:
"It's Matt Cooke, need we say more?  It's not like it's his first rodeo. He's done it to everybody and then he goes to the ref and says, 'What did I do?' He knows damn well what he did. There's no doubt in my mind that he's good at it and he knows how to pick this stuff. And we, as a League, buy into this like it's an accidental thing."
Cooke didn't receive supplementary discipline for the incident with Ovechkin, but on Tuesday Cooke was back in the spotlight for this hit on Columbus Blue Jackets defenseman Fedor Tyutin:
Cooke received a 5-minute major penalty for charging on the play, but learned Wednesday that wasn't his only punishment.  The NHL announced that after a disciplinary hearing via telephone with Cooke they decided to suspend him an additional four games for the hit.
The suspension begins immediately and Cooke will be eligible to return to the lineup February 20 when the Penguins face the Chicago Blackhawks at 3:30pm ET on NBC as part of the inaugural 'Hockey Day in America'.
This won't be the first time the 5-foot-11 forward is suspended for a dangerous play.
In January 2009 Cooke delivered a headshot to Carolina's Scott Walker that earned him a two-game suspension.  Eleven months later Cooke nailed Artem Anisimov of the New York Rangers and received another two-game penalty.
Cooke's most memorable (and dangerous) hit came last March when he caught Marc Savard with his head down and left the Boston forward unconscious on the ice.  Just days ago Savard held a press conference to announce that another concussion and the accompanying symptoms will force him to miss the rest of the 2010-11 season.
NHL Senior Executive Vice President of Hockey Operations Colin Campbell said via statement that Cooke's history definitely played a role in the suspension:
"Two factors were considered in reaching this decision: Cooke delivered a forceful hit from behind on an unsuspecting opponent; also, he is considered a repeat offender under the League's supplemental discipline rules.
A four-game suspension means Cooke will forfeit $87,804.88 in salary to the Players' Emergency Assistance Fund, but it could prove even more costly for a Pittsburgh squad devastated by injuries.  Already without Sidney Crosby, Evgeni Malkin, Mike Comrie, Mark Letestu, Arron Asham, and Chris Kunitz, the Penguins will need to piece together a line up capable of handling Los Angeles, NY Rangers, Colorado, Chicago, Washington, and San Jose over the next two weeks.
The major penalty and suspension is also further proof that Cooke's reputation is starting to turn up noses around the league.  In HBO's 24/7 series, a microphone on Cooke revealed that even his complaints get under the skin of the NHL's referees from time to time.
Coach Dan Bylsma predictably defended his player after the game on Tuesday and said Tyutin needs to share part of the blame as well:
"[Cooke] was on a forecheck, he's not moving his feet as to get a charge [penalty].  The player looks him right in the eye and knows he's coming and turns his numbers towards him, but Matt does hit him there and sends him into the boards."
There's no excuse for running a player from behind into the boards like Cooke did, but I can see where Bylsma is coming from.  In recent years players have started to shield the puck and turn their backs to opponents knowing full well that they can't get hit in that position.  It's not only dangerous but also something that will be tough for the league to eliminate.
It's also tough for me to fully criticize Cooke for engaging in a style of hockey that he's encouraged to play.  Players in the mold of Matt Cooke are paid over and above their skillsets because they find ways to blur the line between irritating and illegal.  In a league where incentives are aligned with this style of hockey it's tough to lay all the blame on Cooke when he crosses that line.
THW's Jim Neveau also had an excellent take on the Cooke hit in his feature last night.
Another issue that might come to the forefront in coming weeks is the Penguins' lack of discipline this season.  Pittsburgh's top-ranked penalty kill unit shadows the fact that the team also leads the NHL in times shorthanded at 227 (#2 – Montreal at 215).  As goals get hard to come by, brainless penalties will start to become the difference between winning and losing.
_________________________________
With Cooke suspended and a number of other players nursing injuries, the Penguins were forced to recall four forwards from Wilkes-Barre of the AHL:
~ Nick Johnson, 25, leads WBS with 20 goals while placing second (tied) with 39 points in 48 games. He also has a team-high 10 power-play goals.
Johnson got six games with the big club in the 2009-10 season, scoring one goal and one assist.  Bylsma will be looking for him to pick up the scoring slack for a team that's found the back of the net just once in the past two games.  Johnson will become a restricted free agent when his one-year, two-way ($500k) deal expires this summer.
Jesse Marshall of Faceoff-Factor.com tells me that Johnson was told by coaches that he needs to become more of a power-forward that's willing to fight through traffic and use his physicality.  His stickhandling abilities work great at the AHL level but predictably don't translate well to the pro game.  He looked impressive in his call-up last season and is definitely one to watch.
~ Brett Sterling, 26, is also tied for second in scoring on WBS with 39 points through 46 contests. He's posted 18 goals, 21 assists, six power-play goals and a plus-12 rating.
Sterling scored 55 goals at the AHL level as a rookie in 2006-07, but wasn't able to secure a spot on the Atlanta Thrashers before moving on to Pittsburgh this offseason for a fresh start.
The 5-foot-7 winger is expected to make his Penguins debut tonight and in this feature we did on Sterling back in training camp, Bylsma said his size isn't really an issue:
"Sterling is a guy who scores goals. He said it himself. He scores on his shot but he also scores a lot around the paint. His second goal in the scrimmage [yesterday] when he's standing right in the blue paint with big guys standing all around him and he puts in a goal.  No one cared how big he was when he was standing right there digging and scoring that goal."
~ Ryan Craig ranks fourth on WBS with 33 points on 13 goals and 20 assists in 49 games.  If size has kept Sterling from the NHL, the injury bug has been what's derailed Ryan Craig.
The 29-year-old was drafted in the 8th round of the 2002 draft by the Tampa Bay Lightning but has a medical report a mile long: fractured toe, groin pull, herniated disk, knee injury, broken wrist, etc.
Heading into training camp this year Craig said "I'm as healthy right now as I've been since I was 19 or 20 years old so I'm real excited and it's a fresh start with the Pittsburgh organization."
He was one of the last men standing until another groin injury cost him a job:
Ryan Craig was having a great camp and has shown he's willing to outwork everyone on the ice, especially when it comes to killing penalties.  Unfortunately Craig suffered a groin strain against Columbus and it's unknown when he'll return to practice or games.  A tough a break for a guy who's struggled with injuries his entire career and was really looking forward to a healthy training camp.
The Wilkes-Barre captain Craig has 184 NHL games under his belt already and should look right at home in the Penguins lineup.
For Craig and Sterling this is a big opportunity – and possibly their last.
~ Joe Vitale, 25, has appeared in 50 games this season for WBS, recording eight goals, 27 points, a plus-12 rating and two shorthanded tallies.  He is highly regarded by the Penguins' scouts and front office as a hard-working young star rising through the ranks.  Vitale is the only one of today's call-ups with another year remaining on his contract, but he'll be making his NHL debut to give the team a look at where he really stands in his development.
The next week or two will serve as an open tryouts for the Penguins as they battle through injuries and adversity.  If any of today's call-ups can make an immediate impact, it could allow Shero to move a veteran at the trade deadline as we suggested yesterday.
*Salary note: The long-term injuries to Crosby, Malkin, and Comrie allow the Penguins to spend against their collective $17.9m in salaries, making salary cap space a non-issue.
The lines at this morning's skate were as follows:
Pascal Dupuis – Jordan Staal – Tyler Kennedy
Brett Sterling – Dustin Jeffrey – Nick Johnson
Mike Rupp – Max Talbot – Chris Conner
Ryan Craig – Joe Vitale – Craig Adams
Likely scratch: Eric Godard
Marc-Andre Fleury expected to make the start in goal
_________________________________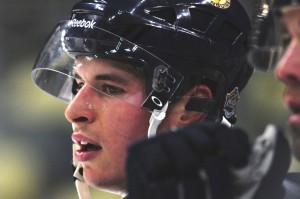 Sidney Crosby also took time to speak with the media today and squash any wild rumors that have been going around in recent days:
"I'm getting better, it's just slow.  That's the tough part.  The progression and everything is improving, it's just at a slower rate than I want it to be.  It's out of my control. You just hope with time the quicker the better.  There's no timetable whatsoever. It's impossible to gauge or put a number of days or a timetable. There's nothing you can do but give yourself a chance to heal. I hope that happens sooner rather than later."
Crosby said he hopes he plays this year, but admits that with concussions "you don't know."
He said it was also the suggestion of the team doctors that he get away form the team for a few days and take his mind off hockey and the frustrations of trying to come back.  A few days ago Bylsma said that he's been putting highlight films together for Crosby that the captain breaks down and gives his feedback on.
The important thing to remember with Crosby is that his entire life revolves around hockey.  Even in the offseason he's at the rink every day obsessively trying to improve.  After he missed an extended period of time with a high-ankle sprain two seasons ago, Crosby admitted it was one of the toughest things he's ever had to deal with.  Watching the team lose games and not having the ability to add anything was a helpless feeling.  It's safe to assume that Crosby feels even more frustrated with an unpredictable injury like this concussion.
_________________________________
More notes…
*Evgeni Malkin underwent successful knee surgery this morning GM Ray Shero says his recovery will take about six months. Shero expects the Russian star back in time for training camp in September.
If the Penguins are smart, they'll let Malkin take an extra month or two to get as close to 100% as he can before returning. As we've learned this year, losing a few games in October is relatively meaningless in the big picture.
*The Penguins will wear their Winter Classic jerseys for the first time in a normal game tonight against Los Angeles.
*Bylsma said Chris Kunitz will miss 4-6 days "hopefully" with a lower-body injury. Details surrounding his injury have been hard to come by, but Bylsma said 80 minutes before Tuesday's game Kunitz was "looking great and ready to go." When the time came for warm-ups Kunitz was injured and scratched.
He was added to IR this morning and will not be eligible to return until Feb. 20 against Colorado.
*No update was given on Arron Asham (upper body) and he remains day-to-day. He is still on IR and eligible to return any time.
UPDATE (3:30pm): According to Shawn Rine at the Wheeling News-Register, the Penguins made a minor trade this afternoon shipping forward Casey Pierro-Zabotel to Cincinnati of the ECHL (Nashville/Florida affiliate) for rookies Christiaan Minella and Sam D'Agostino.
Zabotel was a third-round pick of Pittsburgh in the 2008 draft but his impressive offensive abilities haven't been enough to earn him a solid roster spot at the American Hockey League level.  He had 34 points in 42 games with the Wheeling Nailers (Penguins' ECHL affiliate) this year prior to the deal.
The newly-acquired Minella is a native of Peters Township, PA and played his college hockey at the University of Notre Dame.  He's a 6-foot-2 fowrward with 18 points in 41 games this season.