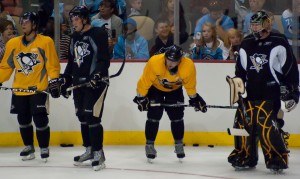 By Mike Colligan
Notes and thoughts from the Pittsburgh Penguins' first week of training camp:
Eric Tangradi had his strongest effort of the preseason in Saturday's win over Columbus.  Even prior to the Jordan Staal setback I've felt Tangradi was in line for a spot in the opening day lineup, but his play in training camp hadn't made it a slam dunk.  Against the Blue Jackets he was the best player on the ice.  He created opportunities offensively and used his body to open up chances for his linemates.  Bylsma said after the game on Saturday, "The best you can do as a player in Eric's spot is to demand ice time, demand situations, and prove you can play in this league.  And every game he's done that to this point."  Tangradi has a stranglehold on Evgeni Malkin's wing and he won't be letting go.
Simon Despres (1st Round – 2009), has shown great raw ability in training camp action so far, but mentally he still needs time to get comfortable with the higher speed at the NHL level. Some have called for Despres to get a trial run with the Penguins, but there's serious competition for the #6 spot on defense and it wouldn't make sense to force-feed the 19-year-old into the lineup at this point.
Unfortunately Despres isn't eligible to play for Wilkes-Barre of the AHL due to his age and will be forced to return to the Saint John Sea Dogs (QMJHL).  Another season at the junior level will only allow him to fine-tune aspects of his game and he'll need at least half a season at the AHL next year to get the experience and confidence to make the jump for good.  At that point his skillset could deem Alex Goligoski (who has two years remaining on his contract) expendable.  Despres will be very good, but patience is needed.
Brett Sterling continues to relish the opportunity to play alongside Evgeni Malkin and Sidney Crosby and has a confidence about him that matches his play on the ice. "I think there's opportunity.  If I didn't think there was opportunity I wouldn't have signed here," Sterling said a few nights ago.  "There's a lot of competition but I've said this before: If you don't want competition why are you going to an NHL training camp?"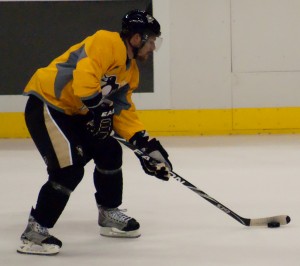 Sterling's determination has stood out to coach Dan Bylsma in camp, but I've been more impressed with his ability to get the puck to Crosby and then find the open areas behind the defense and in front of the net.  Crosby can buy time and command the attention of opponents allowing the 5-7 forward to slip in undetected.  Sterling knows he won't be beating many defensemen with individual efforts and understands his role on a top scoring line.  "A guy like Sid wants to have the puck and makes great plays.  Get him the puck and get open.  That's my philosophy.  Drive the net, create chances for him, and if I'm there and my stick's open he's going to hit it."
The Powerplay has certainly looked different under Bylsma's direction.  The most interesting setup Saturday night featured a diamond with Letang at the blueline, Crosby (right) and Malkin (left) flanking each side, Tangradi in front, and Sterling in the middle.  Malkin's focus was finding Sterling for an open shot while Crosby slipped behind the defense on the right side.  Bylsma likes players who can contribute in multiple game situations and Sterling's future with the team may hinge entirely on his ability to score on the powerplay.
Ryan Craig was having a great camp and has shown he's willing to outwork everyone on the ice, especially when it comes to killing penalties.  Unfortunately Craig suffered a groin strain against Columbus and it's unknown when he'll return to practice or games.  A tough a break for a guy who's struggled with injuries his entire career and was really looking forward to a healthy training camp.
Marc-Andre Fleury has looked strong and Bylsma plans to play him one more full game this preseason.  The Penguins host the Chicago Blackhawks Tuesday night, but expect Fleury to face the defending champs on the road October 1.
[Later this week on THW we'll have an update on Jordan Staal's injury and an in-depth look at the battle for the final spot on defense.]